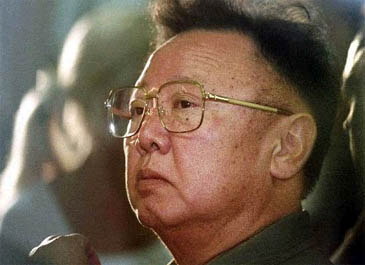 North Korean leader Kim Jong-Il
After weeks of reports from North Korea of defecting generals, antigovernment posters and the disappearance of portraits of the country's ruler, the leader of Japan's governing party warned Sunday of the prospects of "regime change" in North Korea."As long as Chairman Kim Jong-Il controls the government, we have to negotiate with him, but it is becoming more doubtful whether we will be able to achieve anything with this government," said Shinzo Abe, acting secretary general of the Liberal Democratic Party, on Fuji TV, referring to talks on North Korea's abductions of Japanese in the 1970's. "I think we should consider the possibility that a regime change will occur, and we need to start simulations of what we should do at that time."By breaking an unspoken taboo on talking publicly about "regime change" in North Korea, the powerful Japanese politician underlined a feeling spreading in the region that cracks are starting to show in the Kim family's control over North Korea after nearly 60 years.Hard intelligence is difficult to come by in North Korea, one of the world's most tightly controlled societies, where people are barred from sending letters abroad, making international telephone calls, emigrating or talking to foreigners without supervision. To dissuade defections, the government routinely imprisons relatives left behind.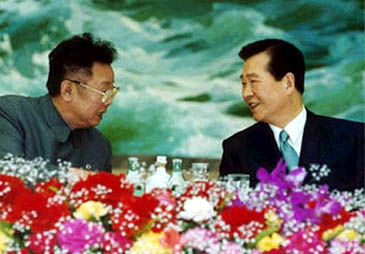 North Korean leader Kim Jong-Il (left) talks with South Korean President Kim Dae-Jung in Pyongyang June 15, 2000 when the latter Kim visited the North Korean capital for the historic summit talks.
But in recent months, there have been signs of fissures in these walls. There are indications that news is leaking out of North Korea by cellphone and that criticisms of the government are being posted in public places. Those developments and the angry response to recent legislation in the United States intended to flood the country with radios that can pick up foreign broadcasts suggest that the leadership realizes its one great achievement — near total information control — is threatened. With the reports of Mr. Kim's portraits being removed from some public buildings and news of military defections, outside analysts are speculating that the personality cult around "Dear Leader" is being curbed, either to advance painful economic reforms or to head off a military coup fomented by China. Persistent reports that anti-Kim leaflets and posters have recently appeared gained more credibility with the publication last Thursday in Sankei Shimbun, a conservative Tokyo newspaper, of what was described as a photograph of a hand-printed flyer smuggled out of North Korea."Juche philosophy made people slaves," it read, referring to the nationalist ideology of self-reliance created by Mr. Kim's father, Kim Il-Sung, who died in 1994. "Juche philosophy created an absolutist hereditary kingdom, rather than one where the people are the main players." "The Kims, father and son, made our people miserably poor and this country a world dropout that is far away from the situation of meat soup, a tile-roofed house and silk clothes that Kim Il-Sung promised by 1957," it continued.Douglas Shin, a Korean-American pastor who helps North Korean refugees flee through China, said his contacts told him that posters opposed to Kim Jong-Il had appeared in three northern cities this fall. On Sunday, the Kyodo news agency of Japan reported that North Korea was cracking down on people in border cities who helped pass letters to foreigners or used cellphones to communicate with the outside world.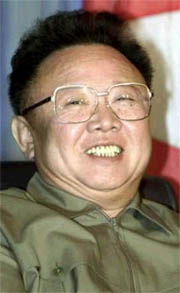 Kim Jong-Il
"Some residents have contacts with people in neighboring countries by hiding mobile phones in places with good reception, like tall buildings and hilltops," warns a North Korean document photographed by a Japanese aid group, Rescue the North Korean People Urgent Action Network. The group said the directive was published by the governing Workers Party of North Korea in November 2003. Last spring, after a huge explosion narrowly missed Mr. Kim's armored train, the North Korean authorities banned most cellphones. "Mobile phones have become a weapon in antigovernment movements," Lee Young-Hwa, an assistant professor at Kansai University and a leader of the Japanese aid group, told Kyodo. Analysts also say they have seen more high-level defections of late, possibly a result of more permeable borders and greater dissatisfaction. In Seoul, an editor at Monthly Chosun, a magazine that closely follows North Korean affairs, said in an interview that when he was in northern China earlier this year, Chinese officials showed him North Korean wanted posters for generals who had managed to reach China with their families. The editor, who asked not to be identified, estimated that in recent years, 130 North Korean generals had defected to China, about 10 percent of the military elite.Of this group, the most significant, he said, are four who have been integrated into active duty with the Chinese military in the Shenyang district, along the Korean border.Last May, Lt. Gen. O Se Ok, a rising member of the military elite, left the North Korean port of Chongjin by boat, met a Japanese boat in the Sea of Japan and eventually made his way to the United States, according to NHK television of Japan and Kazuhiro Araki, a professor of Korean politics at Takushoku University in Japan. The general's 73-year-old father, O Kuk Ryol, ranked second on the Central Military Commission at the time, after Kim Jong-Il. "The defection of such a person was a great shock to the North Korean establishment," Professor Araki said.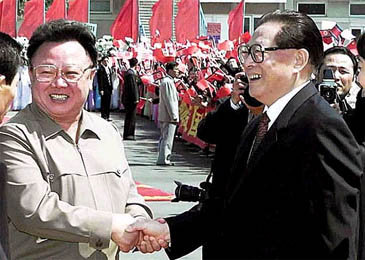 North Korean leader Kim Jong-Il (left), welcomes Chinese President Jiang Zemin during an official visit to North Korea in 2001. Kim Jong-Il succeeded his father, Kim Il-Sung, as leader of North Korea in 1994. Courtesy AFP
During World War II, the Soviet Union armed a group of Korean exiles in Khabarovsk, just across the Amur River from what was then Japanese-controlled Manchuria. Among them was Kim Il-Sung, who in 1945 was installed as the leader of Soviet-occupied northern Korea.Now, the South Korean editor speculated, China may be forming a fallback plan should Kim Jong-Il prove incapable of reforming or holding on to power. "The scenario the Chinese are looking into is to make a buffer regime through such North Korean general defectors," he said. And then there is the mystery of the portraits, which disappeared this fall from some hotels, meeting halls and government buildings. In a country where mishandling the ruler's portrait has resulted in prison sentences, the change is believed to have required high-level authorization.A North Korean diplomat who defected last year told the South Korean news agency Yonhap last Thursday that the embassy where he was posted received an order in early 2003 to remove the pictures."It was a direct order from Kim Jong-Il, but no one, not even high-ranking officials had the nerve to follow the order, so the portraits continued to hang," Yonhap quoted the defector as saying.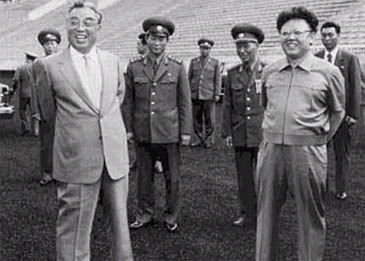 North Korean leader Kim Jong-Il (right) with his late father Kim Il-Sung (left)
Rüdiger Frank, who teaches East Asian political economy at the University of Vienna, wrote last week of his visit to North Korea in September. He said he "found no picture of any leader in my hotel room, as well as only Kim Il-Sung's portrait in a conference room where just a few months before images of both father and son could be seen.""An estimated 50 percent of all slogans in the capital read 'The Great Leader Kim Il-Sung will always be with us,' hinting at a strong emphasis on the deceased founder" of North Korea "at the expense of his successor," he wrote in an essay posted on the Internet."Kim Jong-Il might be resolving one of the most pressing issues in North Korean domestic politics: his succession," he continued. "We might be witnessing the first step out of many, which will eventually lead to the establishment of some kind of collective leadership in the D.P.R.K., in the name of Kim Il-Sung," using the initials for North Korea's official name, the Democratic People's Republic of Korea. Bradley K. Martin, author of a biography of Kim Jong-Il, speculated that Mr. Kim might want to adopt a lower profile to avoid blame at home for North Korea's economic failures and to avoid "coming into the cross hairs of U.S. hawks, who were demonizing him the way they had demonized Saddam Hussein."
| | |
| --- | --- |
| | The photo, taken in 1981, shows Kim Jong-Il with his oldest son Kim Jong-Nam (front row). Three others (second row) Kim's sister in law Sung Hye-Rang and her daughter Lee Nam-Ock and son Lee Han-Young. Sung and her children defected to South Korea later. Sun Hye-Lim, Kim's wife, was in Moscow for medical treatment when this photo was taken. |
"Sooner or later, large numbers of North Koreans would hear that he was an object of derision to outsiders, would hear that the official version of his birth in a log cabin on Mount Paektu was false," Mr. Martin, wrote in an essay last week, alluding to the end of North Korea's information monopoly. "His admiring references to the Thai and Swedish systems in recent years suggested that Kim Jong-Il was looking to transform the country into something like a limited monarchy rather than the absolute dictatorship it had become." Meanwhile, North Korean officials insist that no change is under way.Li Sang Su, an official with the Korea News Service, which distributes reports of the North Korean news agency in Japan, said the portrait change was merely a routine updating of images."They change the portraits after some years to new ones because the portraits get worn and the person gets older," he said. On Friday, China's official New China News Agency carried an interview with a North Korean Foreign Ministry official, Ri Gyong Son, who attributed reports about the disappearing portraits to the United States and its allies who "want to overthrow" Mr. Kim.
The above article is from The New York Times.