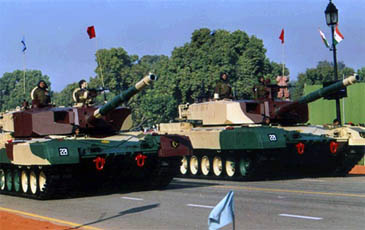 Indian Army tanks
Perhaps, the most significant event this century will be the rise of China and India. Experts believe that this will happen quite soon. Given the differences in their conditions, China and India will obviously seek unrelated methods and routes to achieve economic superpower status. The question that now exercises minds both within and outside these two countries is whether they will compete with each other or cooperate to meet their respective aims. At the moment, China certainly leads. While Indian and Chinese economies were more or less of the same size in the 1950s and the 1960s, Beijing's impressive market reforms since the beginning of the 1970s pushed it ahead of New Delhi. China has had remarkable success with its exports, which in turn fetched for it large foreign direct investments. In 2003, China got ten times more FDI ($54 billion), inspite of the fact that India has a more predictable legal system and uses English more extensively. What is more, India is a democracy, has been consistently one since it got independence from the British in 1947.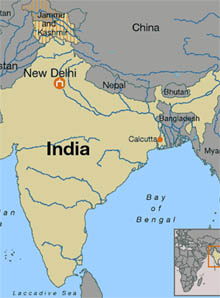 Courtesy CNN
Yet, China is the second largest economy in the world when it comes to purchasing power; India is number four. China's economy — $1.4 trillion — is three times the size of India's. How did China achieve this? It is widely believed that its success story is firmly based on FDI, government reforms, increases in real wages and poverty reduction. Real wages doubled during the past 25 years, the GDP grew at nine percent, the private sector doubled employment opportunities during the past decade and 300 million people came out of poverty. Although there are fears as well that Beijing is good at botching figures to impress investors and seek political mileage (clinching the 2008 Olympics is a case in point), it will be farfetched to deny, despite China's known and hardly hidden pockets of depressing poverty and want, that the nation has made formidable strides. In contrast, India woke up to the very concept of market reforms as late as 1990-91. The men behind it were the then Prime Minister, Narasimha Rao, and Ministers Manmohan Singh and Chidambaram. Today Singh is India's Prime Minister, and Chidambaram is his Finance Minister, and the possibilities seem endless. To begin with, India has a definite advantage over China with its massive default in the banking system. India scores well on macro-economic conditions: inflation is not very high. China is notoriously known for its price fluctuations, which have pushed inflation to an uncomfortable height. India is also toying actively with labor market reforms that will let companies with less than 1000 employees to hire and fire without seeking government permission. According to some analysts this may well be the most important step after the "licence-raj" was abolished.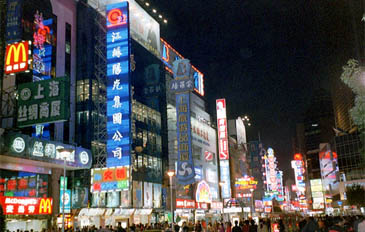 A Shanghai street in China
However, one cannot forget here India's glaring shortcomings: the nation cannot leapfrog from being an agrarian economy to a service economy by ignoring the manufacturing sector. India has a fairly decent services side, but is not backed by manufacturing finesse. This is one core area that India ought to concentrate on and improve significantly to be able to compete with China in the world market, now being flooded with Chinese goods. On my recent visit to Australia, just about anything I touched in the shopping malls had the made in China tags, and what is more, their excellent quality matched their competitive prices. Even at home in India, there is a growing Chinese presence in the market, which is unfortunately being swamped by rather inferior Chinese goods. This is China's survival tactics: it makes one set of products for the developed market and another totally different set of items for the developing world, where the purchasing power is inadequate to buy superior quality. It is this gap that India can plug with its still relatively cheap but good labor, whose intelligence and artistic capability can be better than China's. Nonetheless, analysts feel that if India and China were to cooperate, they may well be able to capture the global market easily. India must learn to imitate China's ability to leverage its competitive strengths. As India climbs the growth ladder, the nation needed to develop newer skills and competencies that will provide sustainability to its economic advantage.