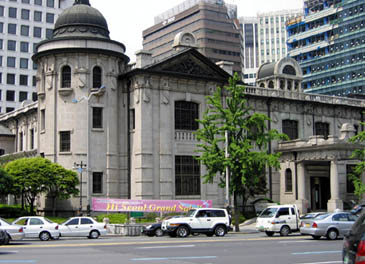 Bank of Korea in downtown Seoul
The Korean economy is losing steam as exports, the main driver of economic growth, starts to slow down amid sluggish corporate and private spending. More recently, he rising won currency has taken a toll on the country's export-oriented economy across the board.Exports rose by 17.8 percent in the third quarter from a year ago, down from 29.5 percent during the second quarter and 29.2 percent during the first quarter, indicating a visible slowdown in once red-hot exports.Korea's consumer sentiment hit a 75-month low for the fourth quarter due to concerns about the slowing construction industry and rising global oil prices, the Samsung Economic Research Institute said.The consumer sentiment index fell to 39.3 from 39.6 for the period between October and December, the lowest since the third quarter of 1998 when it stood at 34.9, the leading private think tank said in a statement. A mark below 50 indicates pessimists outnumber optimists.The index has been under 50 for nine consecutive quarters since the last quarter of 2002 when it dipped to 47.3 from 55.5 in the previous quarter.Samsung Group's research arm is pessimistic about the future, saying consumer sentiment will stay depressed until consumers clear their debts and increase spending again."It could take more than a year for consumers to settle their debts and open up their purses," Chung Moon-Keun, head of the SERI's Economic Trend Department.A sub-index showing consumer spending in three to six months fell to 46.9 from 48.6 in the third quarter, down for the second straight quarter.Another leading index measuring households' current consumer sentiment also remained extremely low at 15.7, compared with 18.4 in third quarter. A score below 50 means that more people feel worse about their financial situation compared from a year ago and tend to spend less.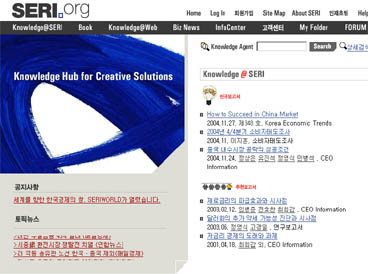 Samsung Economic Research Institute website
Korean consumers have slashed spending after a 2000-2003-credit binge left many unable to pay their debts. About one in 13 of the nation's 48 million people were three months or more behind on debt payments at the end of September, according to data by the Korea Federation of Banks.Sinking consumer confidence, a malaise strangling South Korea's domestic economy, has roots that go deeper than the "debt hangover," the aftermath of a spending binge that has left Korean households with a debt burden greater than residents in either the United States or the United Kingdom.High youth unemployment and an exodus of the country's best and brightest, two trends that could seriously impede strong economic growth in Korea for the foreseeable future are arresting South Korea's long-term growth potential. Youth unemployment is a well-recognized problem. Recent average unemployment numbers hover around 3.3 percent, though reports by LG Economic Research Institute and others cast doubt upon the validity of these numbers. Government figures do not, for example, include the many unemployed workers who have given up looking for work altogether. Nor do the numbers include those working for family companies and farms, businesses that can no longer generate wages.South Korea's comparative advantage in the world market is its human capital. Without minerals to sell or oil to tap, the Korean people are the foundation of the nation's economy. South Korea's current economic crisis could get worse if younger people continue to snub employment that they consider to be beneath them and not socially elevating, if the nation's ubiquitous universities continue to turn out unqualified graduates without the specialized skills the labor market demands, and if the nation's most talented and best educated continue to look beyond Korea for a better standard of living and way of life, economists maintained.The government hopes for 5 percent economic growth next year, but many local and foreign research institutes are predicting that the growth rate will fall short to as low as 4 percent.Morgan Stanley economist Sharon Lam today cut her forecast for Korean economic growth this year to 4.4 percent from 4.6 percent, citing slowing export gains declining private consumption. It follows a recent central bank statement showing that Korea's economic growth stayed at a one-year low of 0.6 percent between July and September. Lam kept her growth forecast for 2005 unchanged at 3.8 percent."We believe the Korean economy is facing its biggest challenges since the financial crisis in 1998," the report said. "While the active fiscal expansionary policies may help the country avoid recession, these will only be able to keep the economy on a low-growth model over the medium term."The central bank's lower than expected third-quarter GDP data made Finance Minister Lee Hun-Jai admit for the first time on Friday that the economy would probably miss the 5 percent growth target the government had set for 2004.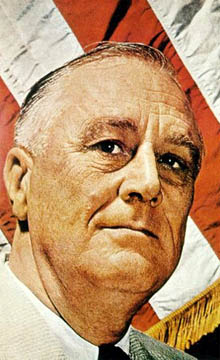 U.S. President Franklin D. Roosevelt
To help revive domestic demand, the government is cutting taxes and pushing the Bank of Korea to cut interest rates, which already are at a record low of 3.25. The government also plans to frontload its scheduled 2005 budget spending in the first half of next year and later in the year implement a comprehensive stimulus plan called "Korean-style New Deal." The Ministry of Finance and Economy will unveil the stimulus plan in December, which aims to build schools, government offices and infrastructure by mobilizing public finances, pension funds and private equity funds. The plan takes its name from former U.S. President Franklin D. Roosevelt's pump-priming measures to overcome the Great Depression in the 1930s.Exports, which account for about two-fifths of the economy, are losing steam due to the cool-down economic policy in China, Korea's largest export market, while runaway oil prices are dealing a blow to corporate Korea, which relies totally on imports for its oil needs.The Korean won's continued rally against the dollar is also hurting local exporters by making Korean products more expensive overseas. Health and Welfare Minister Kim Geun-Tae expresses displeasure with Finance Ministry-led plan. The government's plan to mobilize public funds, including the national pension fund, to prop up the financial market and the slowing economy is facing criticism and discord within the administration.Allowing limited investments of public funds is unavoidable if economic logic is followed, analysts say. However, the independence of the funds' operations and the transparency of fund management must be guaranteed, they said."We're well aware of the economic rationale of using pension funds for the economy and the necessity of investment diversification of the funds," said Noh In-Chul, director of the National Pension Research Center. "But economic policy-makers must follow proper procedures with the plan. Otherwise, it would cause public mistrust and policy confusion." The Health and Welfare Minister Kim Geun-Tae has expressed his displeasure with the Finance Ministry-led investment plan to allocate trillions of won channeled from pension funds into the local bourse and other investment schemes.Currently, the Pension Fund Management Committee, comprising 21 members including vice ministers, experts and civic activists, supervise the operation of the fund. Health Minister Kim is head of the committee.If a state-run fund wants to invest in stocks and elsewhere, it must provide details of its annual fund management plan to the National Assembly and obtain approval from the Assembly.The National Pension Fund stood at 128 trillion won ($116 billion) as of September. That amount is close to the nation's budget for next year of 131 trillion won.Kim called for economic ministries to take a back seat on the matter and said his ministry would manage the funds under its supervision based on security, profitability and the public good.The minister said using pensions for other purposes could jeopardize the foundation of the system."The pension funds should be used for a specific purpose. Otherwise it would only cause mistrust among the general public," he said in a statement released yesterday on the ministry's web homepage.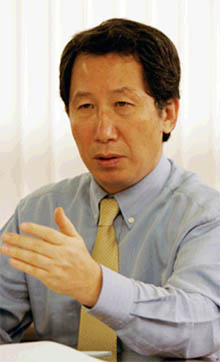 Welfare Minister Kim Geun-Tae
Some political analysts see the remarks by the influential politician from the ruling Uri Party as his personal ambition to cement his position in the Cabinet. The worsening financial soundness of pension funds could also damage the long-term political interest of the 57-year-old veteran politician who has expressed an interest in running for the presidency. However, the voice of dissent from a core member of the ruling party against the policy backed by the presidential office will prompt a fresh round of debate about whether to allow public funds to be invested in public projects. That will certainly spark new problems for the government that badly needs public funds to finance its grandiose projects to resuscitate the economy. In recent months, economic policy-makers said they are determined to use state-controlled pension funds to support a number of stimulus policies, including Korean-style "New Deal" projects involving mostly public infrastructure, to be unveiled next month. President Roh Moo-Hyun himself said he would mobilize pension funds to defend the management rights of blue chips such as KT Corp. and POSCO.Finance Minister Lee Hun-Jai later confirmed that part of the funds could be used as investment tools to purchase companies undergoing restructuring and be channeled into local firms under the threat of foreign hostile takeovers. The government is now leaning toward lifting regulations that severely restrict how pension funds are invested in stocks. Recently, pension funds have emerged as an influential force on the local bourse dominated by overseas investors. Between October 28 and Nov. 17 when the benchmark index soared, the funds were net buyers of 373.5 billion won in stocks, compared to 83.7 billion net purchased by overseas investors.Pension funds are in principle prohibited from placed in the stock market. But 25 pension funds, including the national pension, credit guarantee fund and employment insurance fund, have been granted a limited scope to invest in stocks. The government plans to invest 4.7 trillion won from pension funds in the stock market this year and expects to increase the investment to 5.5 trillion won next year. Critics and the opposition Grand National Party, however, are opposed to the government's plan, saying there is a danger of losing capital if the government mobilizes the funds like pocket money to prop up stock prices, as it did in the past. Lee admits annual economic expansion may be less than 5 percnet.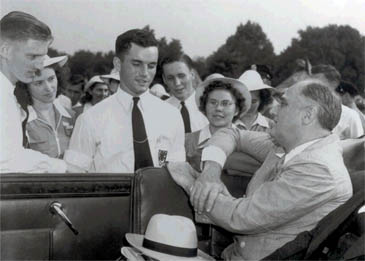 U.S. President Franklin D. Roosevelt
Korea's economy braked sharply in the third quarter amid cooling exports, Bank of Korea data showed yesterday, prompting the government to admit its 5-percent growth target may be missed.Gross domestic product expanded 4.6 percent year-on-year during the three months to Sept. 30, after rising 5.5 percent in the previous quarter."Chances appear extremely slight that the full-year growth could reach 5 percent, even if the fourth quarter meets our expectations," said Minister of Finance and Economy Lee Hun-Jai during a weekly press briefing.It was the first time Lee had warned of less than 5 percent growth this year.The world's 11th largest economy is experiencing a visible slowdown in exports, the only economic driver since last year, amid shrinking global demand and a continuing technology slump.Korea's 2000-2002 credit bubble has left about 17 percent of its workforce, or some 3.7 million people, behind in debt payments, resulting in the lengthy slump for local consumption.Also, job drought and tightened regulations on property transactions have weighed on household incomes, further discouraging consumer spending, explained Bae Sang-Kun, an economist at Korea Economic Research Institute."There is little sign household income, either from their wages or asset holdings, will pick up soon, with companies still hesitant to hire, real-estate markets depressed, the stock market outlook uncertain and interest rates at rock-bottom levels," Bae said.To encourage spending, the government is cutting sales and income taxes and helping to reschedule consumer debt. Next year it plans a massive "New Deal" program of public works and other fiscal programs to revive the depressed construction industry and boost employment. The BOK also has trimmed interest rates twice this year but there is no evidence so far that the reductions have spurred spending or corporate borrowing. The central bank and the finance ministry now are under mounting pressure to rein in the won, which is sharply appreciating against the dollar. A strong won threatens the price competitiveness of Korea's exports.Another concern is that corporate investment, one of two pillars for domestic demand, is not reviving as strongly as anticipated, economists said.In the third quarter, capital expenditure rose 6.7 percent year-on-year, but the increase was attributable to last year's low comparison base. From the previous quarter, it contracted 4.8 percent, reversing a 5.7 percent growth in the first quarter."These figures gauging local demand are hardly pointing upward and little growth momentum seems in sight either," said Kim Bum-Shik, a researcher at Samsung Economic Research Institute. Kim reiterated the think tank's growth forecast for next year at 3.7 percent — far shy of the government's target of 5 percent.