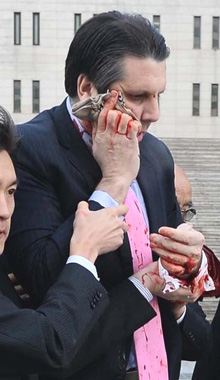 US Ambassador Mark W. Lippert is being taken ;to a nearby hospital after he was attacked by a S. Korean activist at Sejoing Center in downtown Seoul on March 5, 2015.
A South Korean man attacked US Ambassador Mark W. Lippert with a knife, injuring the envoy on his right cheek and wrist at a breakfast gathering held in downtown Seoul on March 5, 2015. Local TV showed the US envoy bleeding on his right face before he was taken to the nearby hospital. He was seriously injured but was not in critical condition, according to the local police.Police said that the US envoy underwent a surgery for the12-cm cut injury on his right cheek and wrist at Severance Hospital in western Seoul."I'm OK, I'm OK. Hey, guy, Don't Worry," the envoy was quoted by a local newspaper as saying to one of his aides in the car on his way to the hospital.However, the hopital sources said the injury is more serious than initially reported.The 41-year-old US envoy was attending the breakfast meeting held at Sejong Center's Sejong Hallin downdown Seoul hosted by civic group called " Pan-National Committee for Compromising and Cooperation of Two Koreas" at the time of the attack which took place at 7:45 a.m. on the day.Local media quoted witnesses as saying the attacker charged the US envoy eating breakfast at the table and tipped the envoy over before he knifed his right cheek and the wrist with 25-cm fruit knife.Kim was overpowered by the participatns and was immediately arrested by police. Local police identified the attacker as 55-year-old Kim Gi-Jong, an anti-American and ultra-nationalist activist. Kim is under investigation. At the time of his attack Kim shouted slogans of anti-US-South Korean joint military excercise slogans of reunification of the North and South Koreas. "Stop the US-South Korea Joint Military Drill," Kim yelled. "North and South Korean Should Be Reunited"A large-scale joint military drill "Key Resolve" is underway between US and South Korean military in spite of the strong protest from North Korea."I did what I have to do," Kim was quoted as saying to police. "I have been involved in anti-war activities for the last 30 years"Police record showed Kim hurled a chunk of concreat rocks at Japanese envoy lecturing at a meeting in 2010. He was arrested for the attack.Kim was known as an activist for reunification movement of the devided two Koreas.The US envoy was wating to make a speech at the breakfast meeting at the time of the attack. He was scheduled to lecture under the title of "Peace and Unification of the Korean Peninsula: Development of Ties between US and S. Korea."The US envoy has been very well interacting with local Korean people since he began his duty in Seoul as the new US ambassador in Novermber of 2014.Earlier this year the US envoy even adopted a Korean middle name for his new born son in Seoul.Meanwhile US President Barack Obama called Mr Lippert to wish him "the very best for a speedy recovery", US National Security Council spokeswoman Bernadette Meehan was quoted by BBC as saying.The US State Department also said "We strongly condemn this act of violence."
Who Is Mark William Lippert?
Mark W. Lippert, the assistant secretary of defense for Asian and Pacific Security Affairs (APSA), a top Asia post, was recently designated by US President Barack Obama as the next US ambassador to South Korea, it was announced on April 30, 2014.US Ambassador-Designate Lippert, a Stanford-educated Asia expert, has been with Obama as his close aide and confidant since 2005 when he was appointed by Obama as his foreign policy advisor.But he started his career in the foreign service area at the age of 27. He worked at Senate's foreign relations sub-committee.He is the principal advisor to the Under Secretary of Defense for Policy and the Secretary of Defense on international security strategy and policy related to the nations and international organizations of Asia and the Pacific, their governments and defense establishments, and for oversight of security cooperation programs, including foreign military sales, in the region.Prior to being confirmed in April 2012, he completed a two-year mobilization to active duty in the United States Navy. During that time, which included a deployment to Afghanistan, he served as an intelligence officer for Naval Special Operations Forces. Mr. Lippert served as Deputy Assistant to the President and Chief of Staff for the National Security Council in 2009. In 2008, he was Deputy Director for Foreign Policy on the Obama-Biden Transition Team and Senior Foreign Policy Adviser on the Obama for America campaign.From 2007 to 2008, Mr. Lippert served as an intelligence officer with Naval Special Operations Forces in Iraq. Previously, he worked as foreign policy adviser for then-Sen. Obama from 2005 to 2008, where he managed the senator's work on the Senate Foreign Relations Committee.From 2000 to 2005, he was a professional staff member on the Senate Appropriations Committee, State-Foreign Operations Subcommittee, advising Sen. Patrick Leahy on a range of foreign aid and security assistance issues.From 1999 to 2000 he was a foreign and defense policy adviser to Senator Tom Daschle and the Senate Democratic Policy Committee. Mr. Lippert's military awards and decorations include the Bronze Star Medal for his service in Iraq.He graduated Phi Beta Kappa from Stanford University with a B.A. in Political Science and holds an M.A. in International Policy Studies from the same institution. He also studied Mandarin Chinese at Beijing University.