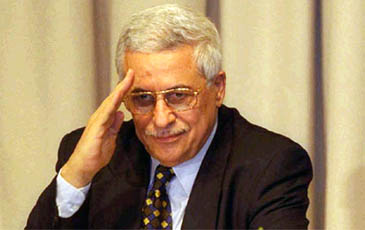 Mahmoud Abbas (Abu Mazen)
Abu Rami is a 49-year-old fisherman who supports a family of nine children. His work in Gaza's old fishermen dock, which has become packed with small fishing boats, became increasingly difficult due to the increasing competition and lack of fishing grounds due to the Israeli security restrictions. With a long background in supporting the late chairman Yasser Arafat's Fateh movement, Abu Rami spent his youth and parts of his early 30s in Israeli prisons for being part of Fateh's military wing during the days of the revolution, but despite the recent deterioration and internal feuds among prominent figures in this movement, Abu Rami maintained his loyalty to it. During a meeting of the Central Committee of the Fateh movement, Mahmoud Abbas (Abu Mazen) was elected as Fateh's candidate for the upcoming presidential elections. Abu Mazen currently chairs the Palestinian Liberation Organization's Executive Committee. Several political analysts believe Abu Mazen is the strongest candidate for the president's office, as he had achieved important things during his period as the first Prime Minister in the Palestinian Authority.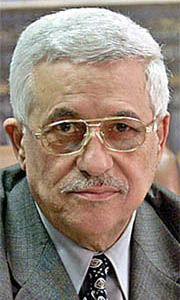 Mahmoud Abbas
Simply said, Abu Rami told The Seoul Times, with a big portrait of Arafat decorating one of his modest house's walls, that Abu Mazen managed to reach a truce between Israeli forces and Palestinian militant groups, a truce that lasted for 100 days after Israel assassinated senior Hamas leader Ismail Abu Shanab. "When he was Prime Minister, he brought us hudna [truce] and the situation was very calm and Israeli forces cleared the roads and checkpoints in Gaza. People were pleased and workers entered Israel everyday. His popularity increased a lot," Abu Rami said. But as a group of people support Abu Mazen as a logical leader of the Palestinian people, certain streams among Fateh itself continue to resist his candidacy, mainly the New Guard; the young generation that emerged in the first Intifada in 1987 and are now demanding the Old Guard, represented by Abu Mazen and Arafat's comrades, to step down and make way for younger leaderships. "Abu Mazen became Prime Minister because the Americans demanded it. The Palestinians hoped that the Americans would give him things that they were unwilling to grant Yasser Arafat. This would have meant the US exerting real pressure on Sharon in order to compel him to deliver the goods," Qaddoura Fares, a member of the Palestinian Legislative Council from the New Guard said. In recent popularity polls, Abu Mazen received less than two percent, which is very low compared to figures as Marwan Al Barghouti, who is also from Fateh and belongs to the New Guard, which makes Abu Mazen's candidacy to the president's office quite problematic.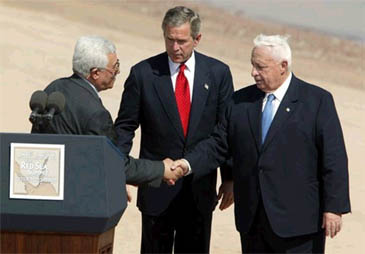 Then Palestinian Prime Minister Mahmoud Abbas, President George W. Bush and Israeli Prime Minister Ariel Sharon after reading statement to the press during the closing moments of the Red Sea Summit in Aqaba, Jordan Jun 4, 2003.
Courtesy White House
Intisar Al Wazir, the Palestinian Minister of Social Affairs and member of Fateh's Central Committee, told The Seoul Times in Gaza that the Central Committee members told Abu Mazen they would agree to his nomination only after he broke his alliance with Mohammed Dahalan, the former Palestinian Security Minister. At the same time, Dahalan announced during an interview with the Israeli radio that he will not assume any position in the Palestinian Authority again, pointing out that he had explained his situation following his resignation from Abu Mazen's government in 2003, which eased Abu Mazen's election as Fateh's candidate. The Islamic stream, represented by Hamas and the Islamic Jihad, remained undecided about whether to participate or not in the presidential elections. But Dr. Hasan Abu Hasheesh, a political analyst and specialist in Islamic affairs, said Hamas might resort to supporting an independent candidate rather than nominating one of its own. "In my opinion, Hamas won't take part in the elections because they oppose to any position under the umbrella of Oslo Accords. However, they might support an independent candidate who would — in case he got elected — serve their agenda," Dr. Abu Hasheesh explains.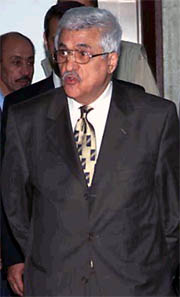 Mahmoud Abbas
What might be certain is that Hamas has a wide popular support among the Palestinians, and it might win many positions in the legislative and municipal elections, Dr. Abu Hasheesh argues. Even with a wide popular support, Abu Mazen might still pull his act off, as phrased by Talal Okal, a columnist at Al Ayyam newspaper in Gaza. "Abu Mazen is liked by the Americans and the Israelis, despite what they announce from one time to another. They already pushed him with the truce when he was prime minister, and they are willing to give him another push to enforce his position as president of the Palestinian Authority," Okal told The Seoul Times. "He is the man of the moment," he added. Throwing his net in the water and hoping for a good catch at the end of the day, Abu Rami says he will elect Abu Mazen without hesitation. "If he brings peace and prosperity that will be great. "And if he doesn't, the situation won't be worse."