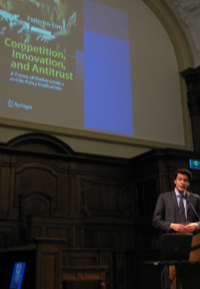 "Just Innovate or Simply Die"

If your organization still lacks a Tsar of Innovation with a clear mandate to define and manage the future you most probably are suffocating in an already dead organization that possibly missed the boat a while ago. Innovate or die, that simple.Definitions & Common Illusions:
Innovation, on the other hands, as a label is almost useless, when applied as a fancy bandage to fix old processes and produce odd shod things. Innovation is best as an outcome of intricate and collaborative processes inspired by entrepreneurial excellence, deeply roots into vision and imagination, incubated with drive, refined with talents but all along under a long term master strategy.Here innovation becomes a life style and not a procedural checklist to justify a bonus.
The word "innovation" is becoming a useless notion … why?
Innovation in name only; when make feel good exercises like graphical branding based on innovative nomenclature and name calling to create "inno-this" or "inno-that" but all empty inside …Innovation as compulsion; when unnecessarily adding and padding irrelevant things are plastered on already old ideas and practices while passing the buck as newly created solutions …Innovation as a blanket; when creating organizational havoc with false claims and turning corporate re-shuffles as an innovative exercises to confuse the markets … etcTrue innovative excellence can only be discovered in deep calm; where understanding of the new global age issues and core competencies are juxtaposed to achieve something very remarkable. True innovations are the application of foresights, wisdom, and global age smartness surrounded by global age execution under entrepreneurial goals. It can be an easy exercise if all the ingredients are well understood. Impossible when random processes are exploited in the dark. If impressing your next door competitor is the objective than obviously producing something for the entire world to notice will never occur. Take a hard look at global markets and global age issues. Invent for the world and not for your backyard. If your processes applied are just other academic theories than missing out of deep trenches and real battle fields will keep the true shine away. Go out to fight the real world and engage in other remarkable things happening around the world discover the real battle plans. Invent with solid pragmatic knowledge and not just academic theories and outdated market research.
For most of the above reasons, the current global frenzy to embrace the term 'innovation' has basically made the term popular among corporate circles but hasn't produced any miracle cures yet, because, governments and organizations all around the world are very busy applying the term 'innovation' to whatever they can just find and to get on the band wagon.For this reason, today, the emergence of real picture can only scream…"innovate or die."
Innovation without entrepreneurial leadership is purely an academic exercise in futility. So how do you combine this and what do you do with the 1,000 of innovative books and training programs.Entrepreneurs intuitively know what innovation is…they can fairly blend the risks with potential gains and simultaneously advance the progress … on the other hand massive and deep academic notions are simply there to unnecessarily confuse the operations. The old dependencies for 'case studies' have been responsible for massive failures and for misleading or creating stagnant growth. As a proof 'case studies' are often used by for non innovative and insecure minds.Around the world some USD100 million is wasted yearly by businesses buying dark furniture and expensive coffee machines to outsmart Starbucks Coffee. If case studies were so critical to a success there would be thousands of companies like Apple or Google. Learn fast, burn all the case studies and liberate yourself.
On the other hands, gravity defying organizations like Apple, Google, BMW, Facebook, Virgin or Tata, for example, make up a minuscule percentage of the successful global businesses and clearly point to the remaining majority for running on somewhat entirely different types of treadmills. The chasm is wide and the new global age skill gaps need to be filled. Proof:
The world is moving ahead at much faster rate than forecasted. The mini-micro or maxi-macro activities of economical measurements are going wildly haywire. What worked last year is already outdated and what worked last quarter is now becoming questionable. How do you cope?
How do you change?
How do you innovate or die? The Scorecard:
When was the last time you organized a board meeting just to discuss all the soft power assets of the organization? What are the top five questions every management member knows but dares not ask? Why is the organization making only 'pants' but not 'jackets' or vice-versa?Why does the organization have too many or too few brands? Why is the organization headed in a particular direction and what will it take to change course? Where is the center of gravity of innovation at your mandate and why? Basically all of the above can be achieved by harnessing all your innovative excellence imagination and human talent together and by applying soft power asset management as an overlay to hard asset centricity. More Definitions:
The world on innovative excellence and business leadership is clearly being divided into two; Soft Power Assets Management v/s Hard Assets Centricity …The old concept of applying "hard asset centricity" is like having massive machinery bending pipes to create designer furniture piled as inventory but avoiding 'soft power asset management' issues like mind bending exercises in the boardroom to study design and furniture very deeply and ask the right questions, why the pipes have to be bend in the first place.Today the developed countries have million manufacturing plants disconnected with global-age realities and their rigid 'hard asset centricity' does not allow any room to mobilize 'soft power asset' management. Kindly insert Video:
Four Bicyclist Champion Entrepreneurs
https://www.youtube.com/watch?v=vUJF3AyL15o
A new revolution is just around the corner, where core vision intertwined with innovation, imagination and human talent will become a more powerful soft power guide over manufacturing plants.Study the sad fall of hard asset centric Detroit city, now just out of bankruptcy, and balance your research with soft power asset based German Auto industry. In response to quick mood swings of global audiences global manufacturing is increasingly being gravitated towards soft power centricity rather than being locked into a maze of hard asset based only ideologies. Businesses are extremely comfortable talking about their speed of production and height of warehouses of unsold inventories rather new global-age mind share of the populace and what they actually need and why.Businesses are so proud of cutting costs rather creating real additional value and this disconnect would become increasingly obvious as new thinking emerges to create image supremacy in the relevant market places.
Successful programs like TQM, Balance Scorecard and Six Sigma dramatically improve quality and performance.They are designed to rightfully calibrate the hard asset issues of production. There is a serious lack of three dimensional modeling for soft asset issues, like vision, innovative thinking enveloping all production issues. These image supremacy rules challenge current methods and offer checklists to assess the need of newer, soft power agenda-centric approaches.Quick fix innovations only lead to quicksand.
Ideally, they would be better off doing nothing; take a deep pause, retreat internally, start an evaluation leading to a revolution and strive to become a totally innovative organization driven by the creative depths of their own core vision. This way, they have a better chance to become shockingly powerful. Innovation without entrepreneurial forces is like a paint primer applied to a garage door, but to roll out a formula car from that same garage is what the challenge all about. Stop the circus and take a deep breath in case you are headed in the opposite direction. What do you say…?15 MEGA OPPORTUNITIES IN RACE TOWARDS EXPO 2020On March 24th 2015, in Dubai at a big gathering of 400 movers and shakers of the digital e-commerce and innovative excellence, Naseem Javed in a Keynote address will argue and explore the Monster Trends and how they are creating Mega Opportunities as Dubai moves closer to Expo 2020. Contact Nawal Asreb nawal@spotonae.com www.digitalmediaforum.me
About the Author
Naseem Javed, a corporate philosopher and founder of the Image Supremacy Movement is a world recognized authority on global cyber image trends, naming complexities impacting business performance and new global age shifts. He is founder of ABC Namebank, a world-class speaker, syndicated columnist and author of several books. His new works on Image Supremacy leadership programs on innovative performance are getting global attention. Naseem has led teams and personally created the name identities; TELUS, CELESTICA, INTRIA, GENNUM, VINCOR, DUPLIUM, AGRICORE, POLLARA, TRANZUM, INTEQNA and ZARLINK and worked with IBM, General Motors, Texaco, Honeywell, Bell Canada, KPMG, Bell South, RBH, GENTRA, CENTERPOST, OMNI-TV, Royal Bank, Sasktel, Johnson & Johnson, Air Canada, Radio Shack, Merck, BBDO, Petro Canada, ROGERS and COMPORIUM and hundreds more. www.imagesupremacy.com LinkedIn: http://linkd.in/16Wl1Dx