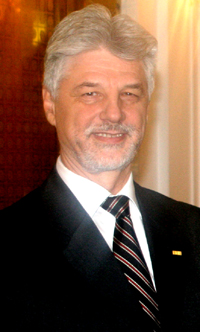 Dr. Calin Fabian, Romanian Ambassador to South Korea
Romanian Ambassador to South Korea Calin Fabian will host two cultural events in early April this year for the local lovers of Romanian arts and wine.Dr. Fabian, who is a PhD degree holder, will host the Romanian exhibition by contemporary artists in early April in Seoul.The Romanian envoy will also host a wine tasting event at Capital Hotel in Seoul on April 3, 2015. A total of 10 Romanian artists will take part in the art exhibition entitled "Pocket Revolutions: Romanian Contemporary Art."The artitists are Matei Bejenaru, Anca Benera, Arnold Estefan, Irina Botea, Radu Cioca, Stefan Constantinescu, Dana Popa, Florin Dan Prodan, Serban Savu. Simona Nastac is the curator for the exhibition.The opening ceremony for the exhibition will happen on the second floor Mirae Asset Center's West Tower in downtown Seoul at 6:30 p.m. on April 2 (Thursday), 2015.The Romanian wine tasting and the presentation of its "Murfatlar Wines" will take place at Vinus Hall of Capital Hotel in Itaewon between 11:30 a.m. and 2 p.m. on April 3 (Friday), 2015.
About "Murfatlar Wines"
Murfatlar is a town famous for wine growing located on the Black Sea coast within Romania. The famed Murfatlar Vineyard is situated nearby.With moderate temperature off the sea the region enjoys plentiful sunshines, over 300 days sunny days per year.Murfatlar produces dry wines from such brands as from Cabernet Sauvignon, Pinot Noir, Merlot, and the local Feteasca Negra makes red wines.White wines are from Chardonnay, Pinot Gris, Riesling Italico, Sauvignon Blanc, and Muscat Ottinel with the grapes reaped from the region. However, what makes Murfatlar more famous is the sweet wines made with grapes harvested late from the vines to develop concentrated sugars.
For details call 797-4924 or leave an Email at
romtrade.seoul@gmail.com
or contact Romanian 3rd Secretary Alexandra Nichita at
alexandranichita@romania.ollehoffice.com