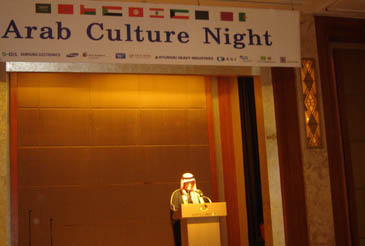 Amb. Saleh Bin Mansour Al-Rajhy of Saudi Arabia speaks at the "Arab Culture Night" event held at Hotel Lotte Nov. 29, 2004.
Promotion of cultural exchange is very important to improve mutual understanding and also to improve the sense of distance toward each other that come from differing cultural and religious background.In order to promote closeness and understanding between the Arab world and the people of Korea, the wives and Arab envoys in Korea staged an Arab Culture Night at Hotel Lotte in downtown Seoul Nov. 29, 2004 showcasing traditional Arab food, handicrafts and art objects but most importantly performances by troupes arriving from the State of Kuwait and Lebanon.Arabic folklore dances and music from various regions of the Arab world fascinated more than 300 jam-packed audience.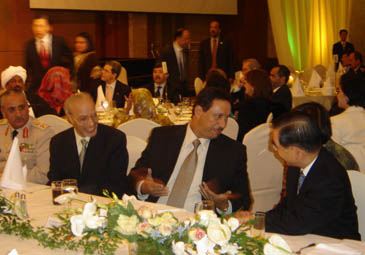 Amb. Zaid Al-Sherida (left) of Kuwait talks with South Korea's Defence Minister Yoon Gwang-Wong (right) and with Kuwait Defence Minister Sheikh Jaber Mubarak Al-Hamad Al-Sabah .
"It is a timely event to better understanding and developing ties between people of Korea and Arab countries," said a Korean participant.
The event, the first of its kind ever staged in Korea, was jointly organized by embassies of 12 Arab countries in Seoul — Algeria, Kuwait, Lebanon, Libya, Morocco, Oman, Qatar, Saudi Arabia, Sudan, Tunisia, UAE and Egypt.As an Arab specialist pointed out, the Islamic world is indeed a mosaic, not a monolith. It stretches from Indonesia to Morocco and from central Europe to southern Africa. It reaches into western Europe, the Americas and Australasia. It comprises men and women often divided by race, culture or language, yet united-by the powerful bond of Islam.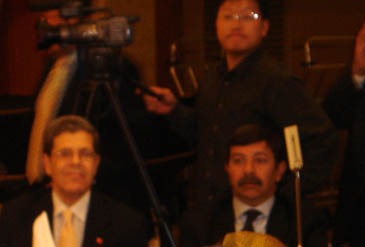 Amb. Othman Jerandi of Tunisia (left) watches a performance with Amb. Amr M.K. Helmy of Egypt.
Over a thousand years, Islam spread from the land of the Prophet Muhammad into large parts of Europe, Africa, and Asia. Islamic scholars produced a dazzling array of achievements — in theology, philosophy, history, literature, architecture, art, astronomy, mathematics, medicine and other sciences. This rich history proves that there is nothing natural or inevitable about the sad state in which so much of the Islamic world finds itself today.Extremist dogmas are gaining ground, impeding the progress of the entire Umma and threatening the security of people all over the world.These contemporary maladies, along with many ot! her factors — including the legacy of colonialism and the unfair world trading system — are holding Islamic societies back.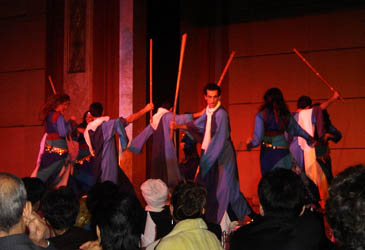 A performance at "Arab Culture Night"
And the Islamic world has been traumatized, particularly in recent years, by the suffering of Muslims in many places.Nowhere is that suffering more acute than in Palestine, where thousands have been killed.No one can be surprised at his or her feelings of humiliation, anger and despair — feelings that are shared by Muslims everywhere.
Related Photos