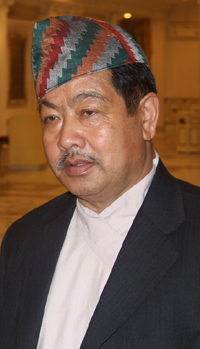 Nepali Ambassador to S. Korea Kaman Singh Lama

On April 26, 2015 South Korean government announced to donate 1 million US dollars to Napal as the earthquake victims was increasing in great number.On the follwing day the Seoul government also held an emergency meeting and decided to dispatch 40-member search and rescue workers to the earthquake-hit nation. They are members of Korea Disaster Relief Team (KDRT)Meanwhile, a variety of civic and religious groups and NGOs in South Korea have announced to offer to Nepal assistance including relief teams and medical teams as well as monetary donations.They include Good Neighbors, Buddhist oder of Chogyejong, Korean Red Cross, Korea Commission of United Nations Children's Fund (UNICEF), and Save the Children.South Korean NGO Good Neighbors has decided to donate 400,000 US dollars to Nepal as its first found of donations, the NGO announced recently.South Korea's largest Buddhist oder of Chogyejong decided to send 200,000 US dollars to Napal. Chogyejong also will dispatch an emergerncy relief team of six people to Napal to help the nation.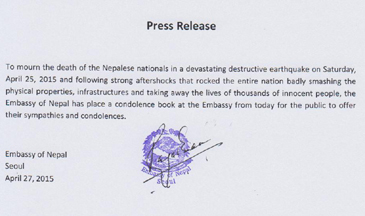 South Korean government announced a plan to raise a fund of 10 billion Won through various fund-rasing activitgies through NGOs and other charity organizations.Meanwhile, the Embassy of Nepal in Seoul announced an emergy message calling for emergency relief and assistance from South Koreans for the victims of earthquake that devastated the Himalayan nation.The total number of victims is feared to rise to as many as 10,000 in one of the worest earthquake disaster that hit Napal on April 25, 2015.For details call the Embassy of Nepal at 02-3789-9770/1.