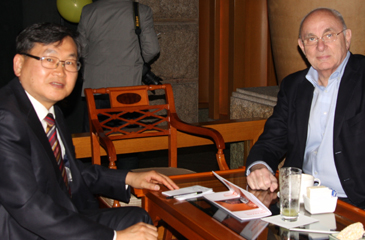 President Michael Van Praag (right) of Dutch Football Association being interviewed by Director Lim Byung-Keun of The Seoul Times at Grand Hyatt Hotel in Seoul on May 5, 2015.
President Michael Van Praag of Dutch Football Association known as the KNVB and the association spokeswoman Renske Bruinsma arrived in Seoul at around 2 p.m. on May 5, 2015.The Dutch football association chief met with The Seoul Times for an official interview at 6:30 p.m. on the day at Grand Hyatt Hotel in Seoul. Head Coach Guus Hiddink of Dutch National Football Team, who had arrived in Seoul a couple of days earlier, was also on hand at the interview.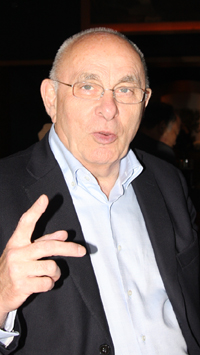 President Michael Van Praag of Dutch Football Association known as the KNVB
President Van Praag said that they will visit the Korea Football Association (KFA) headed by Chung Mong-Gyu on May 6, 2015 to seek partnership between the two associations. The following day on May 7, 2015 Van Praag and Bruinsma will leave Seoul for Japan and then will leave Tokyo for Amsterdam on May 9 (Saturday), 2015. Their visit to KFA is aimed at garnering support for Mr. Van Praag's bid for the presidential election FIFA (Federation Internationale de Football Association)slated for May 29, 2015 in Zurich.They will stay in Seoul for two days, meeting with the local South Korean soccer officials to drum up the support for Van Praag in the upcomming election for president of world football's governing body.The 67-year-old Van Praag is one of the three candidates challenging the current FIFA President Joseph S. (Sepp) Blatter to bring an end to his tarnished 17-year reign in the May 29 vote.The other two candidates are Prince Ali Bin al-Hussein of Jordan and former Portuguese soccer star Luis Figo.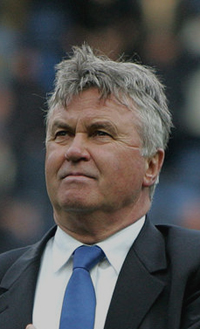 Head Coach Guus Hiddink of Dutch National Football Team
A leading critic of incumbent Blatter the erudite Van Praag declared his candidacy for the FIFA's top job earlier this year.Hiddink openly supports the reform-minded Dutch football leader for his bid to unseat Blatter as FIFA president.As head coach of South Korea's national football team Hiddink boosted the team to the quarter-finals in the 2002 World Cup held in Seoul, reaping a huge respect and popularity from the local South Koreans.As part of his election pledges Van Praag announced in a press conference that he would only stand for one four-year term if elected.Since the declaration of his candidacy early this year Van Praag has been clamouring for reform and transparency for the world football's governing body.He also stressed the need for "normalization" of FIFA."FIFA is doing badly and has lost all credibility," he argued. "FIFA is constantly under suspicion of conflicts of interests of nepotism and of corruption"For a series of reform policy he announced "FIFA normalisation agenda 2015-2019" in the previous news conference.Van Praag is currently the head of the Dutch football association KNVB (Koninklijke Nederlandse Voetbalbond) and a member of the executive committee of UEFA (Union of European Football Associations), the European governing body of the sport.