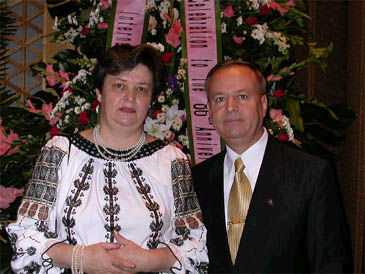 Amb. Valeriu Arfeni of Romania (right) with his wife
Romania observed its National Day, the 86th Revolution Day, at Shilla Hotel Nov. 29, 2004 with a number of both foreign and local guests attending its reception held at its Ruby Room.Amb. Valeriu Arfeni of Romania to Seoul threw the reception in celebration of the day of 1918 Romanian Revolution when Romanians became a united nation in one single state.The standing buffet drew close to 200 guests from a variety of sectors of both South Korean and international societies including diplomatic missions to the nation's capital city.Among the local dignitaries were Unification Minister Chung Dong-Young, local fashion guru Andre Kim, and Chairman Kim Woon-Gyu of Hyundai Asan Corp.Some top foreign envoys from diplomatic missions in Seoul included Amb. Rene Francisco Umana (Chinchilla) of Honduras, Amb. Sydney Bafana Kubheka of South Africa, and Amb. Istvan Torzsa of Hungary. President Frans Hampsink of EUCCK (European Union's Chamber of Commerce in Korea) was also present.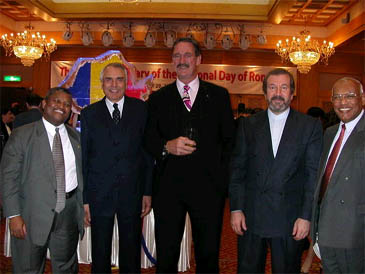 President Frans Hampsink (center) of EUCCK poses with Amb. Sydney Bafana Kubheka (left) of South Africa, and other top foreign envoys at the reception.
Prior to the celebration of its largest holiday Amb. Arfeni delivered a special address which was published on The Seoul Times. He told of the meaning and origin of its National Day and emphasized the overall bilateral relations between South Korea and Romania.
Related Photos