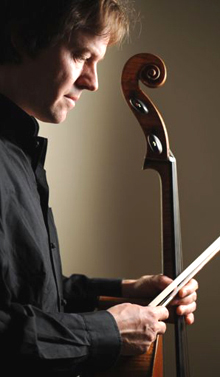 Jan Vogler
This year's "Moritzburg Festival for Chamber Music" will take place from August 15 to 30, 2015 in Dresden, Germany.The Moritzburg Festival Orchestra under the direction of Milan Turkovic will open the chamber music festival.The high-quality chamber music festival will be moderated by the world famous German cellist Jan Vogler.Vogler is the organizer and artistic director of "Moritzburg Festival,"a famed German chamber music festival.More than 20 young and talented musicians have been invited by Jan Vogler, to rehearse and to perform together besides the tranquil lakes of the baroque Moritzburg Castle.The musicians include ECHO Klassik Award winning horn player Felix Klieser, violist Lawrence Power, cellist Johannes Moser, and pianist Francesco Piemontesi.
This year's composer in residence is Matthias Pintscher, whose "Now II" for solo cello will be premiered by Jan Vogler on August 26, 2015. MDR Figaro will broadcast the concert live on the ARD Radiosommer.Participants can enjoy the high-quality chamber music in the unique atmosphere of the Proschwitz Castle Gardens. Guests are invited to bring your own picnic baskets as well as picnic rugs as alternative seats and rugs can be rented on site. There will also be the opportunity to buy drinks at the venue. Invitees should note that there is no concert seating.In case of bad weather the event will take place in the Proschwitz Castle.Attendees will discover the atmosphere that has made this festival a "Mecca of chamber music" for the past 22 years according to the festival organizer.Here are basic introduction of the festival's concert programs.The details and complete festival program can be found at http://tinyurl.com/odn7tka
Saturday 15 August: Dresden, Elbe Flugzeugwerke
Conversational concert with the Moritzburg Festival Orchestra, chair: Jan Vogler.
Sunday 16 August: Dresden, Gläserne Manufaktur of Volkswagen – Opening Concert
Moritzburg Festival Orchestra, Milan TurkovićRavel: Le Tombeau de CouperinBeethoven: Klavierkonzert Nr. 4Mozart: Symphony Nr. 41 in C Major KV 551 "Jupiter"
Tuesday, 18 August: Moritzburg Lutheran Church
Public rehearsal, programs to be announced later.
Wednesday, 19 August: Moritzburg Lutheran Church
Concert
M. Ravel: Piano Trio A minor
F. Schubert: Fantasy for Piano four hands F minor op. 103, D 940
L. van Beethoven: Septet for Strings and Winds E-flat Major op. 20
Thursday, 20 August: Moritzburg Lutheran Church
Long Night of Chamber Music
Friday 21 August: Moritzburg Castle, Gala Dinner Concert
Koechlin: 4 pieces for horn, violin and piano (Felix Klieser et al.)Rossini: Duo for violoncello and double bass (Jan Vogler et al.)Beethoven: String quintet in C Major op. 29 (Lawrence Power, Guy Johnston et al.)
Saturday 22 August: Moritzburg, Evangelische Kirche
Piano works by Stockhausen and Beethoven (Francesco Piemontesi)Mozart: Horn quintet in E flat Major KV 407 (Felix Klieser, Mira Wang, Christian Poltéra et al.)Piazzolla: Tangos for four hands (Alessio Bax et al.)Tanejew: Piano quintet in G minor op. 30 (Henning Kraggerud, Annabelle Meare et al.)
Sunday 23 August: Moritzburg Castle
Brahms: Horn trio in E flat Major op. 40 (Felix Klieser, Francesco Piemontesi et al.)Eisler: Duo for violin and violoncello op. 7 (Jan Vogler et al.)Schubert: Piano trio in E flat Major op. 100 (Kai Vogler et al.)
Friday 28 August: Kirche Steinbach, Mostly Bach
Bach: Solo works for violin and violoncello (Jan Vogler et al.)Pintscher: Janusgesicht for viola und violoncello (Kyle Armbrust et al.)
Friday 28 August: Proschwitz Castle – Beethoven-Nacht
Works by Beethoven and Bartok (Lise de la Salle, Johannes Moser et al.)
Saturday 29 August: Moritzburg, Evangelische Kirche
Brahms: Sonata Nr. 1 in F minor op. 120 (Kyle Armbrust, Lise de la Salle)Mendelssohn: Andante and Scherzo for string quartet (Adrien La Marca, Johannes Moser et al.)Korngold: Piano quintet in E Major op. 15 (Oliver Triendl, Anssi Karttunen et al.)Brahms: String quintet Nr. 2 in G Major op. 111 (Yura Lee, Kai Vogler et al.)
Sunday 30 August: Moritzburg, Evangelische Kirche, Closing Concert
Fauré: Piano quartet Nr. 2 in G minor op. 45 (Lise de la Salle, Jan Vogler et al.)Pintscher: Svelto for Pianotrio (Oliver Triendl et al.)Mendelssohn: Octet E flat Major op. 20 (Mira Wang, Jan Vogler, Johannes Moser et al.)
For details or inquiries:
PR² classic – Bonner Straße 211 - 50968 Koeln
Tel: +49 221 38 10 63 - Fax: +49 221 38 39 55
office@pr2classic.de - www.pr2classic.de