National
Diaspora Bonding: East African Countries Meet at Seoul National University for Sports Day
By Jackson Ngari
KCK Vice Chairman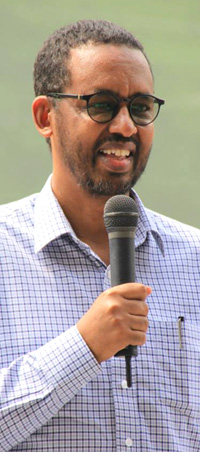 Kenya's Ambassador to Seoul Mohamed Gello
It was pomp and color on Saturday July 11, 2015, as East Africans met for Sports Day event at Seoul National University's main field. More than 120 participants from nine nations, mainly from Kenya and Tanzania, decided that "all study and no play don't just make Jack a dull boy, it also kills the potential to research, discovery and mastery." They decided that some sports can create flexibility, innovativeness and is refreshing. Thanks Kenya Community in Korea (KCK) and Tanzanians in the Republic of Korea (TANROCK) for organizing and mobilizing participation of one of the biggest sports gathering by East Africans, majority of whom are students. Representatives from Congo, Ethiopia, South Africa, Dominican Republic, Malaysia, Nigeria, Ghana, and Korea were also present and excited on the sports prospects promising to bring bigger teams next year.Most encouraging was Cameroon group whose leader called the Vice Chairman of Kenya Community in Korea expressing interest to be included in the planning of the next year's sports day. There is no doubt that KCK's initiative for 'sports diplomacy' is gaining popularity.Kenya's Ambassador to Korea, Ambassador Mohamed Gello, graced the EAC sports day as the chief guest. In his remarks he encouraged the East African community to change stereotypes that many people have about Africa, influence reforms, engage each other more positively and pursue knowledge transfer for the benefit of their respective motherland.Amb. Gello confirmed that East African Community has now been formalized back at home and the current relationship has great impact in strengthening the regional bloc. The guest of honor flagged off the sports event at 2:30 pm wishing all participants success in various activities. On the program were fun games like sack race, wheel barrow race, 100 meters dash among others. That was followed by a soccer match between Kenya and Tanzania climaxing the day's sports.The Tanzania team went home with the trophy with 1-0 win over Kenyans. The most active sportsperson of the day was Rachael Mutinda, a 10 year old girl who exhibited true sportsmanship by participating in most of the activities leaving adults mouth open in awe! During a 30 min break Amb. Gello and the executive boards of the organizing countries (Kenya and Tanzania) were introduced and made speeches.Amb. Gello, briefed participants on Diaspora Affairs. He was happy to note that the Kenyan government has recognized Diaspora community as an important socio-economic pillar. It was noted that remittances from Kenyans in Diaspora have steadily grown in the recent past. According to the Central Bank of Kenya, remittance inflows to Kenya increased by USD 137 million or (11 percent) in 2014, to USD 1,428.5 million compared with USD 1,290.6 million in 2013. He further noted that Kenyans living abroad can take home a car duty free as long as the type of a car is Kenya traffic compliant. The guest of honor was accompanied by Deputy Head of Mission, Kenya Embassy, Amb. Chege Gathoga, embassy staff together with their families.Amb. Gello said that Kenyans abroad are a good human resource and he pledged to work with Kenyans in Korea. He encouraged Kenyans to register themselves through the Ministry of Foreign Affairs' Diaspora portal so as to be updated on opportunities at home and beyond among them the general election to be held in August 2017.At the sports meeting, KCK Executive Board who was the brain child of the annual sports event emphasized the importance of togetherness.Speaking on behalf of KCK, the chairman Dr. Benson Kamary, was glad that KCK had grown in many aspects and welcomed friends from the East African community and beyond to join hands and work together for the betterment of strongly founded community of Diaspora. On his part the Chairman TANAROK-Tanzanians living in Korea –stressed on the importance of coming together and create a strong EAC community in diaspora.He thanked the guest of honor Amb. Gello for gracing the occasion. He further promised unwavering support of future joint activities with his executive board, in order to enrich and strengthen this newly founded collaboration.East Africa Sports Day is an annual event which was first launched in 2014.
The above author, Jackson Ngari, is the Vice Chairman of Kenya Community in Korea and a PhD student at Torch Trinity Graduate University in Seoul.

Related Articles
Hope Restored As Jackline Mwende Gets ...
Kenyans Living in Korea Elect New Leaders ...
Ambassador Gello of Kenya Graces Kenyans ...
Thoughts for a United Peninsula
Kenyans Gather for Talks, Fun in Seoul on ...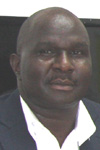 Rev. Jackson Ngari serves as a columnist for The Seoul Times. He is currently vice chairman of Kenyan Community in Korea (KCK), which has hundreds of members. He is also doing his PhD course in Biblical Studies at Toorch Trinity Graduate University in Seoul. The Kenyan pastor can be reached at jackngari2010@gmail.com