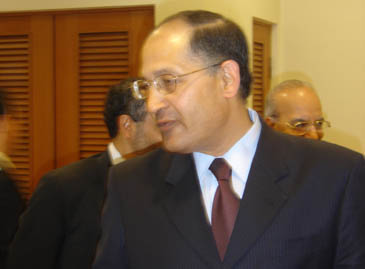 Deputy Foreign Minister Ezzat Saad of Egpyt at the reception
"We are very grateful to South Korean government and its people for their support for Palestinian people," Deputy Foreign Minister Ezzat Saad of Egpyt told The Seoul Times in a diplomatic gathering held Dec. 3, 2004 in Seoul.The top Egyptian envoy was appreciative of the efforts and contributions the South Korean government has made for the Palestinians in its Middle Eastern policies."I hope for more South Korean investment and more South Korean tourists into our country," Saad said while answering questions about how to enhance Cairo-Seoul relations.Saad was attending a reception hosted Amb. M.K. Helmy of Egypt at the ambassadorial residence in Hannam-dong. Saad is in charge of Egypt's Foreign Ministry's Asian affairs.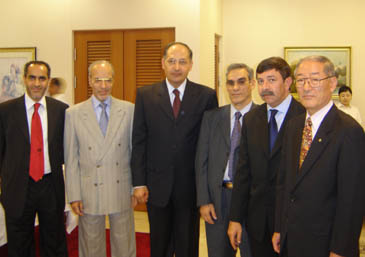 Deputy Foreign Minister Ezzat Saad of Egpyt poses with other dignitaries at the reception.
Scores of high-profile guests from diplomatic, social, academic, and business areas celebrated Saad's visit to Seoul on that evening. Among the top foreign envoys to Seoul were Amb. Sydney Bafana Kubheka of South Africa, Amb. Saleh Bin Mansour Al-Rajhy Saudi Arabia, Amb. Jaafar Alj Hakim of Morocco, Amb. Zaid Al-Sherida of Kuwait, Amb. Carlos M.L. Frota of Portugal and his wife, Amb. Vitali V. Fen of Uzbekistan and his wife, Amb. Babiker Ali Khalifa of Sudan, and Amb. Istvan Torzsa of Hungary.Korean guests included Dr. Rew Joung-Yole, chairman of The Korean Rotary Youth Association, Pakistani Honorary Consul General Kim Young-Il, and Prof. Hwang Hae-Jin of Ewha Womans University.Earlier on the day Saad had a series of meetings with high-level South Korean government officials including Vice Foreign Minister Choi Young-Jin, Deputy Minister of Trade Hong Jong-Ki, and Director General Lee Gwang-Jae of Foreign Ministry's Middle East & North African Bureau.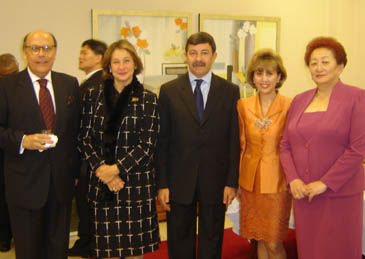 Amb. M.K. Helmy of Egypt poses with his wife and other participants at the reception.
Saad arrived in Seoul at 9 p.m. Dec. 2, 2004 from Japan where he met with Tokyo officials. Prior to his two-day trip to the island nation he visited China and Mongolia for talks with officials there.He delivered a personal message of Egyptian Foreign Minister Ahmed Ali Aboul Gheit to South Korean Foreign Minister Ban Ki-Moon. He declined to specify on the contents of the message but said it was about improving bilateral relations between the two countries.While in China the Egyptian deputy foreign minister praised China's role in the Palestinian and Israeli conflict at a Beijing symposium. The Third Sino-Eyptian Symposium was hosted by the China Foreign Affairs University and the Egypt Institute of Diplomatic Studies"China always takes a balanced stand on Middle East affairs, thus maintains good relationship with both the Palestinian and Israeli governments, Saad was quoted as saying. "We highly appreciate China's participation in the Middle East peace process."
Related Photos