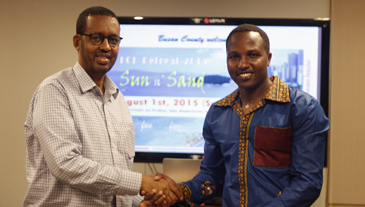 Kenya Ambassador Mohamed Gello (left) shakes hands with Dr. Benson Kamary, chairman of KCK Executive Board
Kenya Community in Korea (KCK) held a successful retreat on August 1st in which 101 Kenyans and friends attended.The fun filled colorful event was held at the Gwangalli Beach during the day where participants indulged in fun activities including various water sports and beach volleyball. KCK Busan Branch, one of the five branches of Kenya community in Korea, hosted this year's retreat and hit its target of hosting 100 people — the biggest and the most organized retreat in the history of KCK. By the close of the day, 101 people had gathered at Pukyong National University for a delicious Kenyan dinner comprising of chapatti, pilau, kachumbari, karanga, chicken, vegetables, fruits, salad and ice-cream.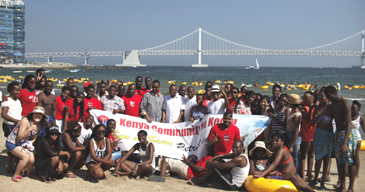 KCK members in Busan
The Kenya Embassy headed by H.E. Ambassador Mohamed Gello, was down at the coastal city to join Kenyans for the historic retreat. The Deputy Head of Mission Amb. Chege Gathoga and four other staff from the Embassy were also in Busan with their families. Other invited guests were Mr. Lee Jong-Cheol, the Assistant Secretary General of Busan Foundation for International Activities (BFIA), Mr. Kim Dan (a businessman in Busan), and several friends of Kenya from Korea and different nations. During the retreat, KCK unveiled "The Big Book" (a collection of academic articles by Kenyans in Korea) and Jambo Kenya Korea summer edition newsletter. Kenya community also launched its official website which was created by Mark Brian Otieno, a student at Pukyong National University studying information security. H.E. Amb. Mohamed Gello commended KCK Executive Board headed by Dr. Benson Kamary for attaining major achievements within five months of his leadership. He said that the Embassy will continue working with KCK. Dr. Kamary hailed Kenyans in Busan for hosting the retreat. He also thanked those who supported the event in one way or another including the BFIA, Mr. Kim Dan, Ms. Shin Young-Joo, and Mr. Jang Joo-Sil of The Seoul Times (Busan Bureau).