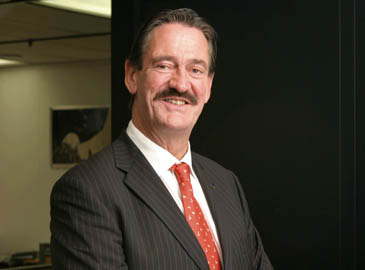 EU Chamber of Commerce in Korea (EUCCK) President
Frans Hampsink
As chief of EU Chamber of Commerce in Korea (EUCCK) President Frans Hampsink is busier than most of the other top foreign envoys to Seoul in hobnobbing with them and local business leaders. He rarely fails to attend every major social or embassy functions in spite of his already tight schedule.He believes that building and maintaining best possible social connections with them is in the best interest of the mutual business relations between South Korean and EU countries. President Hampsink recently told The Seoul Times EUCCK's roles and plans in a recent interview. Here are the questions and answers:
Q1:
How long have you been serving as EUCCK president and what are your major achievements so far?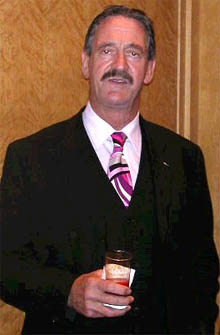 EUCCK President Frans Hampsink
A1:
In 2002 and 2004, I was elected president of EUCCK. EUCCK has been working hard to maximize the mutual benefit of EU and Korea by being the best communication channel between EU companies and the Korean central and local governments. Accordingly, I have participated in many investment tour programs and investment seminars that EUCCK organized in conjunction with several Korean local governments. In addition, in September 2004, we have established a Brussels office, EUKICA, to promote industrial cooperation between European and Korean SMEs.
Q2:
What is the desirable role of EUCCK for South Korea and Europe in general?
A2:
The purpose of the Chamber is to provide aid in developing and promoting trade, commercial and industrial relations between the EU and Korea. EUCCK has continuously worked for the mutual benefits between Korea and EU through our exclusive industrial cooperation programs to promote both regions investment environments and business environments. EUCCK is the only foreign chamber operating a Busan chapter, which strengthens Korea's local economy. In addition, EUCCK has founded a EU-Korea Industrial Cooperation Division in 2003 in order to successfully attract foreign investment in Korea and promote European technologies.
Q3:
What are the major issues of EUCCK these days?
A3:
In these days, many people are worrying about the current sluggish domestic consumption and labor management relations. EUCCK believes that attracting more foreign direct investment is the key to resolve these problems which the Korean economy faces because foreign direct investment not only brings currency but also creates jobs and brings on much needed technologies that will help Korea to regain its competitiveness in the international economic circle.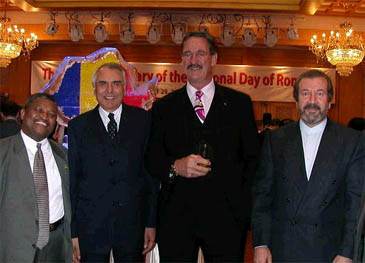 President Frans Hampsink (third from left) of EUCCK poses with Amb. Sydney Bafana Kubheka (left) of South Africa, and other top foreign envoys at the reception.
For instance, during the past years, European Companies have intensively invested in the manufacturing business like automotive, petrochemicals and electronic system. As a result, in 2003, European Companies have accounted for a far-reaching portion of 30.3 percent of the total foreign investment in Korea.
Q4:
What do you want the South Korean government to do for improving overall business environment for EUCCK members?
A4:
Political instability may create insecurity not only among the Korean domestic consumers but also among the foreign investors. Political harmony in the National Assembly is urgently needed to provide better business environment to foreign investors.In order to improve the business environment for our members, EUCCK is advocating greater transparency, stability, and consistency. In addition, Long-term interest and support from the government side to R&D and engineering industry side is necessary. I hope the Korean government continuously supports engineers by improving the working environment and by providing a stronger recognition toward technology-oriented companies.
Q5:
What do you plan to do for the remainder of your tenure as EUCCK president?
| | |
| --- | --- |
| | President Frans Hampsink of The European Union's Chamber of Commerce in Korea (left) poses with Maj. Gen. Thomas P. Kane of USAF (United States Air Force). |
A5:
Among other plans, I believe that providing accurate information about the business environment of Korea to EU investors should be regarded as a prior task in hand. With more available information, foreign investors will have more affinity and awareness toward Korea. Accordingly, EUCCK has launched an updated official website a couple of days ago. The new website is composed of useful information which easily reflects the needs and suggestions of our members. Along with this website, I will put extra effort in promoting the accurate business environment of Korea and thanks to our 25 sectorial committees.On the other hand, I will encourage our members to participate in future events of EUCCK, such as business environment seminars and various investment tours to the provincial governments of Korea. These events will serve as an efficient communication channel between EU companies and Korea.
Q6:
What do you like the most about South Korea or South Korean people?
A6:
I love almost all things about Korea including the people, food, culture, and its dynamic change. I can not count them all. Especially, I like the Korean peoples fighting spirit.I can confidently say that the Koreans hard-working spirit is the main engine of Korea's economic growth along with their brilliancy and diligent behavior. Moreover, I like their culture of politeness. It is always great to see Koreans bowing to each other as a way to express their gratitude.