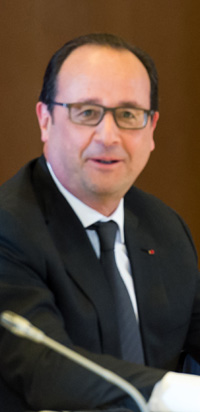 French President Francois Hollande
President Francois Hollande and Minister for Foreign Affairs Laurent Fabius of France recently laid out France's foreign policy priorities for the coming year, at the annual gathering of France's chiefs of diplomatic mission in late August and at press conference held by Mr. Hollande on Sept. 7, 2015. Unlike most of his counterparts, France's president enjoys strong prerogatives and, traditionally, few constraints on France's foreign and security policies. The 1958 Constitution, enacted by the late General Charles de Gaulle, makes the president the commander-in-chief of the military and enables him to nominate ambassadors without prior consent from the Parliament. In practice even those presidents whose party did not control the French Parliament have been able to shape foreign policy.This is why Mr. Hollande's recent statements are an important and accurate compass for French foreign policy priorities on Syria, Iran, terrorism, and Europe's growing migration crisis but also on important initiatives such as the December COP21 Paris summit on climate change. President Hollande's marching orders to France's diplomatic corps also provide insights into several factors that are shaping foreign policy thinking and doctrine. Despite occasional divergences, Paris's diplomatic and military activism support U.S. interests as Washington continues to push its European allies to do more and be more active regionally. Many view France as Washington's closest ally when it comes to a range of national security issues. Understanding France's positions and their motivations therefore matters for the United States.France and Europe's Increasingly Unstable Security EnvironmentFrance is facing an increasingly unstable security environment, characterized by asymmetric threats from terrorism, spillover effects from failed states in Europe's neighborhood, and the resurgence of more classic challenges, such as Russia's adventurism in Ukraine. As Mr. Hollande put it bluntly on August 25, "there is no split between internal and external policy." The January terrorist attacks in Paris testified to the danger that crises abroad can bring home, although they also raised domestic issues related to homegrown terrorism and violent extremism. For the French security establishment, the attacks were a confirmation of the bleak assessments in recent years of the threats emanating from regional crisis zones.This environment leaves France with few other choices than to step up its efforts to enhance its internal and external security, especially at a time when Paris's closest allies in Washington and London continue to experience relative intervention fatigue after a decade spent fighting in Iraq and Afghanistan with France only sending military forces to Afghanistan. Hence President Hollande's insistence on August 25 on France's need to have "the means to shoulder our responsibility." He recalled his recent decision to "review the military spending act and to allocate even more resources to this field, despite the current budget constraints." (Mr. Hollande announced in April 2015 that France's defense spending would grow by €3.8 billion euros over the next four years, likely bringing the country to around the NATO 2 percent defense spending target.) Hence also France's multiple military interventions abroad in the past few years, from Mali in 2013 to Operation Barkhane today in the Sahel (where 3,000 French forces are fighting resurgent terrorist groups in Mali, Mauritania, Burkina Faso, Chad, and Niger), and the assistance provided to the U.S.-led coalition against the Islamic State.France has deployed within French borders 7,000 soldiers to protect sensitive locations, such as religious sites. France's multifaceted military involvement—at home and abroad—run the risk of overstretching French military forces. For example, Paris's decision to contribute to NATO's Very High Readiness Joint Task Force (VJTF), created in the aftermath of the Ukraine crisis in September 2014 to speed the alliance's reaction to future crises, has encountered some difficulties. A strong French contribution to the VJTF was seen by some allies as a test of Paris's real commitment to an organization into whose military structures it only reintegrated in 2008. Despite a highly contested environment, France will contribute forces to the VJTF every year and will lead it in 2021.Of course, there is no illusion in Paris that France can solve every international crisis by itself. The United States remains a central player whose military assets and enablers—especially in the Intelligence, Surveillance and Reconnaissance (ISR) area and airlift—remain critical to France's ability to implement its security policies. Politically, Washington's ability to build coalitions and to leverage international contributions—including from emerging powers—remains unsurpassed. Yet France's desire for policy action is often frustrated by Paris's limited capacity to push other coalition partners, including the United States, to be more ambitious about what it sees as being critical and urgent requirements.No crisis demonstrates this more than the situation in Syria. France has considered Syria (much more than Iraq) an epicenter of instability for some time—a "black hole" of insecurity, creating millions of refugees in the Middle East, hundreds of thousands of whom are now coming to Europe, and attracting a historically high number of foreign fighters (800 French nationals according to France's prime minister)—that represents a potential threat to their countries of origin. Mr. Hollande supported air strikes in 2013 after the Syrian regime used chemical weapons against its own population, but he refused to do so unilaterally when the United Kingdom and United States opted instead for the deal to remove Syrian president Bashar al-Assad's chemical weapon stores. Mr. Hollande still regrets the lack of immediate action. Since then, Mr. Hollande's Syria policy has been built on three key parameters: (1) France would not take part in military operations against the Islamic State in Syria because those operations were likely to reinforce Assad rather than weaken his regime; (2) no political solution to the conflict could include Assad; and (3) Iran's military support to Assad makes Tehran an unlikely contributor to a political solution that would not involve the Syrian leader.In both his August 28 address and his September 8 press conference, Mr. Hollande announced significant shifts to this policy. First, he authorized the French air force to fly in Syria to gather intelligence and eventually strike terrorist cells associated with the Islamic State. A first French ISR mission in Syria took place today. The decision may be related to existing intelligence about the ongoing preparation by these cells of future terrorist attacks against France ("we want to know what's in preparation against us in Syria," said Mr. Hollande), but it is also an admission that Paris's refusal to strike militarily in Syria contradicted its call for more international activism to end the war. Second, Mr. Hollande showed more flexibility regarding the fate of Mr. Assad, saying on August 28 that a political solution would require his "neutralization" before explaining on September 8 that the Syrian president would need to leave power "at some point or another" (but therefore not a precondition to a transition agreement) if a solution was to be negotiated. Such flexibility may be related to ongoing diplomatic efforts by the United States and Russia that might leave France facing a diplomatic "fait accompli" comparable to the U.S.-Russian 2013 agreement about Syria's chemical weapons arsenal. Finally, Mr. Hollande held out the possibility that Iran could make a contribution to a political solution, reflecting the view that Tehran should be given a chance to show its ability to be a constructive actor in the region following the nuclear agreement with the P5+1. Ever a realist, Mr. Hollande also noted on August 28 that "high hopes must not turn into illusions or naivety...."Regarding the nuclear deal with Iran, the French president reiterated his "full support," thereby rebutting rumors that France might have some "buyer's remorse" about the deal. "A major threat has been averted for the moment," he said. French skepticism toward some of the underlying principles of the Vienna agreement, first articulated in the November 2013 Joint Plan of Action, isn't a secret. This 2013 agreement endorsed—for the first time—the notion that Tehran could retain a domestic capacity for enrichment, in exchange for temporary restrictions, while the international community had insisted for a decade that Iran must renounce enrichment to ensure in the long term that Iran's program would remain exclusively peaceful. The 2015 nuclear deal was built on this new principle. Clearly, France will be a careful observer of the deal's implementation, starting with Iran's cooperation with the International Atomic Energy Agency to resolve concerns related to possible military dimensions of Iran's past activities.Is There a French Foreign Policy "Doctrine"?France's foreign policy is hard to categorize in classic international relations terms of realism, liberal interventionism, or neoconservatism. It may from time to time exhibit some features of each of these approaches, but French policymakers rarely view diplomacy and foreign policy through such lenses.National interests remain a fundamental factor in French foreign policymaking, although France is obviously not unique in that regard. For France, those interests are political and security-related but also, and increasingly, related to economic considerations. Foreign Minister Fabius has worked intensively to reinforce the Ministry of Foreign Affairs' prerogatives over trade and France's "economic diplomacy." Security and economic interests can converge, as shown by the recent increase in French international weapons sales (2015 has already been record setting in that regard). However, they can also diverge: Paris supported strong EU sanctions against Russia for its aggressive actions in Ukraine and cancelled the Mistral sale. Russia sanctions are likely to cost French companies much more than a decade of Iran sanctions. But these considerations have been outweighed by the need for France and its partners to confront Russia's challenge to the European security architecture.However, France's foreign policy isn't only driven by national interests; it is heavily influenced by several principles embedded into the French diplomatic culture. They include:1. The necessity to retain independent courses and capacities for action.Mr. Fabius reiterated on August 28 that France's foreign policy independence was "the trademark of our foreign policy and the key to our international influence." This requirement for independent judgment and policymaking coexists with France's strong commitment to its closest allies and partners. No country should be better placed than the United States to understand this dual concern, considering the U.S. structural inclination to retain an ability to act by itself if needed, while also standing by its allies. Because France and the United States share this characteristic (perhaps more than Paris and Washington may sometimes realize), it should not come as a surprise that both allies' independent stances create tensions from time to time. But there is no doubt in France's diplomatic culture that, while automatic alignment with U.S. positions would not serve France's interests each and every time, the alliance with Washington will always be a French strategic interest.For all its independence, French foreign policy is sometimes criticized for its lack of flexibility, or even for its lack of pragmatism, of which its Syrian policy would be a good example. France's perceived strong views about the Syrian conflict have sometimes been misunderstood by some of its partners, including in Washington. France's critics generally underline its tendency to focus on principles, rather than on finding imperfect but potentially workable solutions. There is some truth in this, although French insistence on principles rarely derives from ideology or a lack of pragmatism but rather from a cultural inclination to dislike compromises based on contradictory objectives, which are perceived as the potential source for greater disagreements and conflicts in the future.2. France's legitimacy, as a permanent member of the UN Security Council, to conduct global diplomacy.This explains why France has decided over the years to maintain—similar to the United States—the largest existing diplomatic network around the world but also the duty felt by France to lead multilateral initiatives related to global issues, in priority through the United Nations or alternatively in alternative multilateral formats. Mr. Hollande mentioned again On August 25 that France "must take action for ourselves, for our interests, for the security of the French people, as well as for our ideals and the preservation of the planet." While such words could sound empty, U.S. audiences should appreciate an appeal to universal values and the global issues.One should not underestimate France's belief that it actually shares a special responsibility to do more than other nations to pursue such objectives. This is why, according to Mr. Hollande, France is "respected as a country, in a central position, and why we can hold discussions with everyone." The French decision to host the upcoming COP21 conference on climate change in Paris in December—aimed at clinching an international agreement to lower carbon emissions for decades ahead—derives from this very assessment.3. The need to move the European project forward.France's foreign policy establishment believes that globalization makes it hard for European countries—France included—to project power and stability without pooling their capacities and resources. Hence France's strong support for EU common external and defense policies, despite their obvious shortcomings. Although this principle can contradict France's penchant for independence and sovereignty, there are very few issues regarding its foreign policy on which France will not try to build a European coalition to extend or reinforce its own actions.And what is true for foreign policy is even more relevant when it comes to the Eurozone. Mr. Hollande called in his speech for "differentiated integration" within the Eurozone and for the formation of an economic government funded by a proper budget and for additional fiscal and social convergence between its economies. The extent to which France will be able to convince its partners that it means what it says, Germany in particular, so that they follow this path is yet to be seen. But the fact that a French president is pressing for more European integration, at a time when Europe has never been more unpopular among Europe's citizens, and in France too, says a lot about how embedded the French belief is that moving the European enterprise backwards would risk Europe's fragmentation or larger unravelling.Interestingly, foreign policy, especially on European affairs where domestic policies and European policies are intertwined, is increasingly tricky to articulate when domestic support for Europe is low and French malaise is high. Whereas the French president has an unprecedented role to define the country's foreign policy and to craft decisive initiatives, his domestic critics point out that the president has struggled with being equally decisive vis-à-vis domestic policy. Fortunately so far, France has not experienced the polarization of national security policy, as seen in the United States over the past decade and particularly with the Iran deal.In many ways, the migration crisis in Europe illustrates this French—and European in general—evolution. The crisis has gained significant attention internationally; within France, political forces hostile to the European Union—such as the far-right National Front—have used the current situation to argue that the European Union and the Schengen agreement that established the free movement of persons between European countries are unable to cope efficiently with the crisis. They now argue that France would be better off reinstating national border control. For Mr. Hollande, on the contrary, the situation requires coordinated European responses, not unilateral, national initiatives that would only play into the hands of Eurosceptic forces.The president asserted that erecting walls and putting up barbed wire around Europe was antagonistic to Europe's proclaimed values and would not stop the momentum for migration, because of the "conflicts at its root," in Syria in particular. He defended the necessity to "respond to humanitarian emergencies, organize the reception of migrants and shoulder our responsibilities in terms of asylum, as well as ensuring the return of rejected migrants and combatting all smuggling networks." After intense bilateral consultations over the past two weeks, and Mr. Hollande's own visit in Berlin on August 24, the French president and Chancellor Angela Merkel of Germany expressed their joint support of the European Commission's idea to relocate permanently asylum seekers across Europe according to national quotas. While many EU member states, especially Central and Eastern European members continue to oppose this mechanism, a united Franco-German position may drive convergence among the EU members as a whole, above each member state's own domestic political sensitivities.Although concerns exist in Paris that France may not be able to carry out all these tasks over the long term, Mr. Hollande appears determined to ensure that France's commitments are sustained, at least until the next presidential election due in the spring of 2017. The president's security and foreign policies have so far been met with a relative consensus among French political circles, beyond systematic critics coming from far left and right forces. But as national security issues get increasingly intertwined with French domestic policies, the extent to which this consensus can be maintained remains an open question. Without a doubt, the 2017 French presidential election will be mostly about economics and unemployment. But security and foreign policy issues might well become a significant factor too.
Simond de Galbert is a visiting fellow with the Europe Program at the Center for Strategic and International Studies (CSIS) in Washington, D.C.
Commentary is produced by the Center for Strategic and International Studies (CSIS), a private, tax-exempt institution focusing on international public policy issues. Its research is nonpartisan and nonproprietary. CSIS does not take specific policy positions. Accordingly, all views, positions, and conclusions expressed in this publication should be understood to be solely those of the author(s).