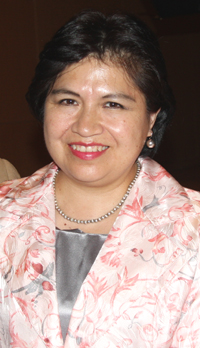 Bolivian Ambassador to S. Korea Guadalupe Palomeque De Taboada
The "World People's Conference on Climate Change and the Defense of Life" will be held in Tiquipaya, Cochabamba, Bolivia from Oct. 10 to 12, 2015. the Bolivian Embassy in Seoul announced recently in its newsrelease.The release said that the peoples and governments of the world, and their scientists, academics, lawyers, social organizations, media and civil society, will all be part of this conference event aimed at strengthening the efforts of the peoples of the world and at building a culture of life in defense of Mother Earth.The Bolivian Embassy invites all interested people to participate in the virtual discussion of each Working Group. For further information, including registration, please refer to the following website: www.jallalla.bo The virtual discussions on 12 topics that are mentioned below already started on Sept. 21, 2015. To contribute in the virtual discussions, one could answer a set of question in each of the interested topic (you can find the set of questions in the document attached), which are framed in the following areas:1. - Threats of capitalism against life
2. - The construction of Living Well and the Paths of Life
3. - Climate Change and the culture of Life
4. - Continuing in the path of the defense of Life
Among those four areas, the agenda for that important event includes twelve of the following topics:Threats of capitalism against life
1.The agenda of capitalist interests against life.
2.Threats against life: Geopolitical wars of the empires to distribute our lands and territories. The construction of Living Well and the Paths of Life
3.The path of living well as an alternative to capitalism.
4.The Universal Declaration of Rights of Mother Earth to resist capitalism.
5.Knowledge, practices and technologies of the peoples for climate change and life. Climate Change and the culture of life.Climate Change and the culture of Life
6.The defense of our common heritage.
7.Climate sciences for the benefit of life.
8.International Court for Climate Justice and life.
9.Mechanism to prevent nature mercantilization
10.Capitalism debts: climate debts, social debts and ecological debt.
11.Interreligious Dialogue to save Mother Earth. Continuing in the path of the Defense of Life.
12.Evaluation of achievements and advances of Tiquipaya and the peoples' voice for the COP21 of Paris about climate change. Tentative Program Schedule (Modifications can be made)The event is organized to last three days, according to the following details:Opening Plenary (first day in the morning).
Organization of twelve working groups, one for each topic previously scheduled (first day in the afternoon and second day in the morning).
Intergroup Plenaries (second day in the afternoon).
Presentation of results in general plenary (third day in the morning)
Meeting with government representative and international organizations (third day in the afternoon)
Conclusions, accordingly to special Program Additional eventsThe event includes the following additional events:
Peoples fair for life, including expositions of participants about different subjects expressing their vision on climate change and the defense of life.
Performance of artistic and cultural expressions.Previous activities
Prior to the event, the following activities are to be held:Online Distribution of the preliminary document (September 1 to September 20)Online registration of participants to the event (September 1 to September 30)Twelve online discussion panels, one for each topic, with a moderator to organize the discussion on the preliminary document and inputs from the working group (September 15 to October 1).
For details or inquiries call the Bolivian Embassy in Seoul at 82-2-3789-1737.