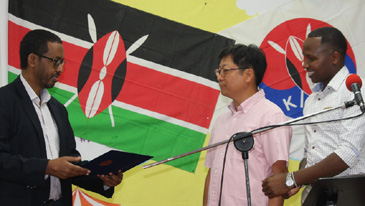 Kenyan Ambassador Mohamed Gello (left) bestows a letter of appreciation to Senior Pastor Kwak Ju-Hwan (center) of Bethany Church at KCK gathering held on Sept. 26, 2015 while KCK Chairman Benson Kamary officiates the whole ceremony.
Kenya Community in Korea (KCK) held an Annual General Meeting (AGM) during the Chuseok holiday on Saturday, September 26, 2015, in Seoul. The meeting was one of the biggest gatherings since the inauguration of KCK in October 2009, where more than 100 Kenyans and friends gathered. The meeting took place at Bethany Church, Cana Hall. The Kenyan gathering coincided with the Korean Chuseok or "Thanksgiving Holiday" and had a lot of similarities with the purpose of Chuseok. During Chuseok, Korean family members gather from far and wide, even from abroad, to come and celebrate what is traditionally understood as harvest celebrations. KCK members too travelled from far and wide to come and participate in this meeting. KCK officially has five branches including Seoul, Cheonan, Busan (and Ulsan co-opted), Daejeon, Daegu and Gwangju.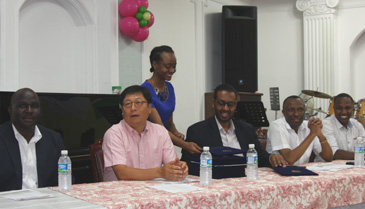 Kenyan Ambassador Mohamed Gello (left) poses for camera with KCK Chairman Benson Kamary (right), KCK Vice Chairman Jackson Ngari (left), and with Senior Pastor Kwak Ju-Hwan (2nd from left) at the KCK gathering held at the pastor's Bethany Church in Seoul on Sept. 26, 2015.

Noting that during this holiday many Koreans visit families and journey to their hometown in order to have quality family time. There are many cultural customs that go into celebrating Chuseok, including special food preparation; Kenyans living in Korea similarly gathered together as a family, had joyous moments of special Kenyan delicacies served on the day. Most Kenyans were made to feel at home when they met fellow countrymen and women internalizing true value for being a Kenyan family abroad. The Senior Pastor of Bethany Church, Rev. Dr. Ju Hwan Kwak who provided the venue for Kenyans' meeting also gave gift packs for everyone who attended, just as Korean families would do to guests.Throughout the year KCK members have come together for various activities which were reported during the AGM. Some of the previously held events include: Seollal (Lunar New Year) meeting where the current Executive Board was inaugurated, Tujuane Festival where Kenyan had a chance to go for a picnic, the East African Sports day at Seoul National University where more than seven countries within the eastern Africa region participated and the Annual Retreat in Busan which was seen by many as the highlight of the yearly calendar. Other activities that were captured by the executive report were the KCK-Embassy Exhibitions that have taken place since February.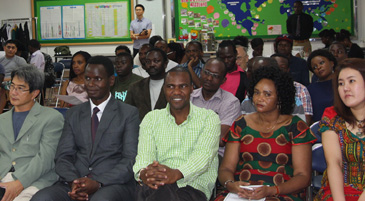 Fromer KCK Chairman Patrick M. Ntonja (2nd from left) poses with his fellow mebers at KCK ceremony held on Sept. 26, 2015 at Bethany Church in Seoul. At left is Senior Writer Lee Sang-Am of The Seoul Times. Now Dr. Ntonja serves as a professor of Hanseo University in South Korea.
Kenya Ambassador to Korea, H.E Mohamed Gello, was the guest of honor during the meeting. Dr. Wesley Wentworth of Intervarsity Press Korea was among the invited guests. In his address, H.E Amb Mahamed Gello reminded Kenyans that they are the best 'ambassadors' for Kenya. He encouraged them to be good representatives of the Kenya community at personal levels. This he said would make people who do not know Kenya to understand Kenya well form their interactions. He further promised full support for the Kenyans asserting that he will put all efforts to ensure that he attends to as many activities as possible where Kenyans are actively involved. In his remarks, KCK Chairman Dr. Benson Kamary thanked the members for their active participation in various activities and contributions leading to a very successful term so far. He outlined the constitutional changes that will take place to ensure that KCK regional heads are incorporated in the running of KCK affairs as Governing Council alongside the leaders of Professional and Students wings of KCK. "My philosophy is that of inclusive leadership," he told the gathering.KCK is governed by an executive board democratically elected by the members after every two years. Dr. Kamary also suggested that the constitution will be amended, with approval from members, to enable Kenyans to vote during the AGM which is the tradition with many established organizations. This, he said, will be communicated through the channels set in place by KCK leadership and in accordance to the current constitution. After the ambassador's speech KCK members were given time to interact and give feedback, where various contributions were made and responded to by the ambassador and the chairman. KCK-Executive Board greatly appreciates, H.E Ambassador M. Gello and Embassy Staff, KCK members for attending this Annual vital event. Special thanks to the Senior Pastor of Bethany Methodist Church Rev. Dr. Ju Hwan Kwak for the warm and generous support towards KCK for providing the venue, lunch and a Chuseok gift pack.
The above writer, Jackson Ngari, serves as vice chairman of Kenya Community in Korea (KCK).