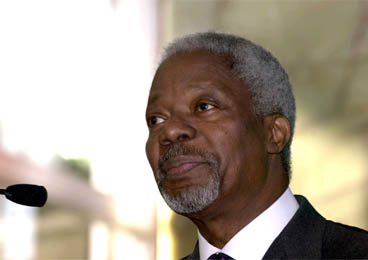 UN Sec. Gen. Kofi Annan
NEW YORK — There is growing fear among United Nations officials that the Sec. Gen. Kofi Annan may have lost the confidence of the organization's most powerful constituent, the United States.Mr. Annan is mired in the deepest crisis of his career as U.S. continues to put pressure on him to resign.
His 10-year tenure at the head of the U.N. is in danger of collapsing under the weight of a series of scandals ranging from sexual harassment claims involving top U.N. staff, to human rights abuses by U.N. soldiers and officials in the Democratic Republic of Congo, and the long-running Iraq oil-for-food corruption investigation. Last week saw senior U.S. politicians openly calling for Mr. Annan to resign as it was alleged that his son, Kojo Annan, had been paid by a Swiss firm being investigated for possible abuse of the oil-for-food programme. Mr. Annan has denied knowledge of the payments. Senator Norm Coleman, who heads a U.S. investigation of the programme, said Mr. Annan was standing in the way of a full investigation. "As long as Annan remains in charge, the world will never be able to learn the full extent of the bribes, kickbacks and under-the-table payments that took place under the U.N.'s collective nose,' Mr. Coleman said in a statement.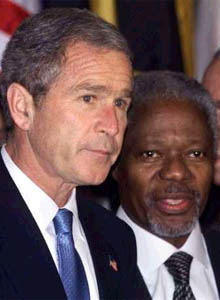 President Bush and Sec. Gen. Annan
Mr. Annan has set up an independent U.N. inquiry into the programme meant to allow Iraq to trade oil for vital foods and medicines under the regime of Saddam Hussein. But there are several U.S. inquiries, and one in Iraq, which are also probing the scheme which the U.S. investigators now believe saw more than $21 billions siphoned off.
Damaging Material
After initially refusing to publish 55 confidential internal audits, the U.N. inquiry will now release the potentially damaging material next month. The U.N. also plans to withdraw its objections to the U.S. Senate's attempts to subpoena several U.N. contractors for other possibly vital information. But it is the allegations about Mr. Kojo Annan that have been the most personally damaging. Mr. Kojo received $2,500 a month for more than five years from Cotecna Inspection, which monitored goods imported to Iraq under the scheme. Previously it was thought Mr. Kojo Annan stopped working for Cotecna in 1998 but it has now emerged he received payments as recently as February this year. A series of leaked memos last week also showed that Mr. Kojo Annan had enjoyed high level access to world leaders during U.N. sessions in New York and on his father's trips abroad. "It is damaging [for Kofi Annan] simply by association, certainly in the minds of many critics in the media," said Michael Barnett, a former member of the U.S. mission to the UN.
Right Wing Plot
But defenders of the U.N. point to the attacks as evidence of a right-wing American plot to attack the U.N. in part for Mr. Annan's outspoken criticisms of the U.S.-led invasion of Iraq. Much of the criticism has come from right-wing U.S. politicians such as Mr. Coleman and conservative media commentators. The White House itself has also been pointedly reserved in not giving Mr. Annan any real sign of support.Instead the U.S. President, George W. Bush, last week demanded more openness from the U.N. inquiry into the scandal. "Kofi Annan has not been shy about confronting the U.S. That is his role and that is why some people are going after him," said Warren Haffar, a U.N. expert at Arcadia University.