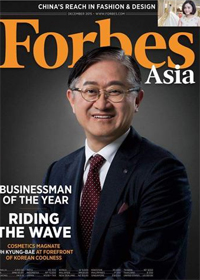 Chairman Suh Kyung-Bae of AmorePacific
Singapore — Suh Kyung-Bae, Chairman and Chief Executive of South Korea's largest cosmetics company AmorePacific, is named Forbes Asia's Businessman of the Year in 2015. Suh is featured on the cover of the latest issue of Forbes Asia, available on newsstands now. The full story can also be found at www.forbes.com/asiabizman.Suh's father founded AmorePacific and Suh took over the helm of the family company in 1997. AmorePacific was a successful but very local business, with nearly all of its sales in South Korea. Suh realized then that his Korean-centric company had to change in order to survive. He sold off businesses unrelated to cosmetics, expanded his product lines, and began setting up or enlarging operations around the region.
Today, AmorePacific has more than 20 major brands and sells its products in 14 markets. The company has also won the hearts of China's middle-class shoppers – the newly
flush customers that every competitor in the global industry is wooing. The group's sales in China last year reached nearly US$450 million, more than tripling in only four years. Sales in
Asia outside of South Korea and China surged 152% last year.Success has also turned AmorePacific into an industry high-flier. Last year, the group's revenue jumped 21% to $4.5 billion, while overall growth in the global beauty and
personal care industry inched upwards by a mere 1.6%, according to market research firm Euromonitor. Analysts expect group revenue to reach $4.9 billion this year and top $5.8 billion next year. The company's shares have skyrocketed 345% in the past two years.All that growth has made Suh upwardly mobile himself. He became a billionaire in 2011 and is now currently ranked as the country's second-wealthiest person, with a net worth of $9.2 billion – 372% larger in just two years. A self-described introvert, Suh says relentless inquisitiveness propels him to take a detail-oriented approach to management. "I always try to learn things with the mind-set of a student as if I was back in school," he says. The sudden ascent of Suh and his company is inseparable from the success of South Korea itself. Korean popular culture has come to define what is sexy, cool and fashionable
throughout East Asia. That surge of cultural influence – known as "Hallyu" or the "Korean Wave" (K-Wave) – has buffed the image of the country and led to the positive perception of Made in Korea products. The K-Wave has been a tidal wave for the cosmetics industry. Asian women from Shanghai to Jakarta became mesmerized by the Korean stars they saw in dance videos and TV dramas and desired the same look – called K-beauty.Tim Ferguson, Editor of Forbes Asia, said: "South Korea arguably has become Asia's capital of cool. Entertainment is a big part of this trendiness, but it's AmorePacific's soft-
spoken Mr. Suh who in financial terms is the King of Cool."While the K-Wave has been kind to AmorePacific's business, Suh believes that AmorePacific has risen on its own merits, not only on the K-Wave. While he acknowledges
that the phenomenon "did help us expand our business," he prefers to claim credit for the company's stellar performance. He stresses that his products are ultimately the source of his success. Despite its recent surge of growth, Suh is still working hard to transform AmorePacific into becoming a truly global company. Last year, the company's revenue from outside South Korea was less than 18% of the total. His goal for AmorePacific stretches beyond Asia – to take on L'Oréal, Estée Lauder and other industry titans on their home turfs in the U.S. and Europe. For more information, visit www.forbes.com/asiabizman.Forbes Media:
Forbes Media is a global media, branding and technology company, with a focus on news and information about business, investing, technology, entrepreneurship, leadership and affluent lifestyles. The company publishes Forbes, Forbes Asia and Forbes Europe magazines, as well as Forbes.com and ForbesLife.com. The Forbes brand today reaches more than 80 million people worldwide with its business message each month through its magazines and 37 licensed local editions around the globe, Forbes.com, TV, conferences, research, social and mobile platforms. Forbes Media's brand extensions include conferences, real estate, education, financial services, and technology license agreements.
For media queries, please contact:
Catherine Ong Associates Pte Ltd
Catherine Ong Ronald Chong
cath@catherineong.com ronald@catherineong.com