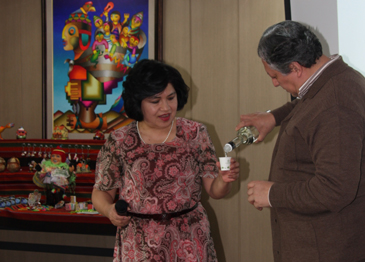 Bolivian Ambassador to Seoul Guadalupe Palomeque (left) officiates her ceremony with her husband Mr. Antonio Taboada Bilbao at Alasitas fair event held at its embassy in Seoul on Jan. 24, 2016
Bolivian Ambassador to Seoul Guadalupe Palomeque invited a number of local guests to her event celebrating the 6th anniversary of establishment of plurinational state and the Alasitas, the month-long annual cultural event
held at her embassy in Seoul on Jan. 24 (Sunday), 2016.Alasitas fair (festival) is the event honoring Ekeko, the Aymara god of abundance in Bolivia.The annual cultural event is celebrated for a month, starting on Jan. 24th in La Paz, Bolivia. The festival is noted for the giving of miniature items.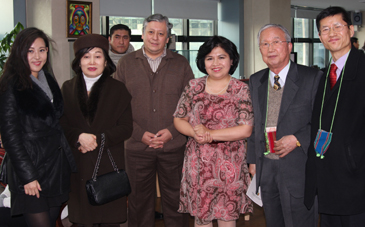 Bolivian Ambassador to Seoul Guadalupe Palomeque (3rd from right) poses with her husband Mr. Antonio Taboada Bilbao (to her left), with President Park Mi-Ra (2nd from left) of Cosco Co. and with other guests at Alasitas fair event held at its embassy in Seoul on Jan. 24, 2016.
The event was held at 3 p.m. on the day at the Embassy of Bolivia in downtown Seoul area.During the event the Bolivian envoy made a short speech welcoming all the participants and introducing the Plurinational State of Bolivia.The guests were treated with the home-made Bolivian dishes at the event.