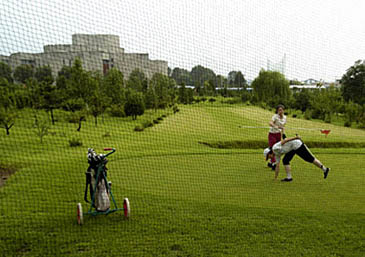 Visitors to Pyongyang that can't do without a round of golf can enjoy 9 holes at the Yanggakdo golf course located at the Yanggakdo hotel. / © Nayan Sthankiya
North Korea has taken the place of Russia as the new world villain, easily packaged by Hollywood for consumer consumption. Little is known about the nation to the general public beyond what is portrayed in the various media doomsday scenarios.Those that spend the time to research would find a North Korea that is not so unlike it's brother, South Korea albeit 60 or 70 years behind the curve.Nowhere near as industrial and modern as South Korea, the North feels much like I imagine the South did before rapid industrialization took over. For the average person life is a day to day affair as is the case in any developing or for that matter modern society. For those that have means life on the whole is much easier and more enjoyable.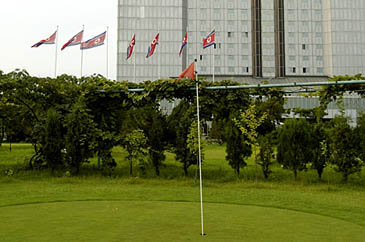 The North Korean colors flutter in the breeze with the Yanggakdo hotel in the background and the golf course in the foreground. /
© Nayan Sthankiya
All is not rosy in the North, famine, corruption in the government and a propaganda machine that is all pervasive can be a bit much after prolonged exposure, not unlike many non capitalist nations of today.Despite these shortcomings there are many diamonds in the rough that offer a glimpse into a different side of the country.One such rough, is located on an island in the middle of Pyongyang, the Yanggakdo hotel. A tourist hotel one of many in Pyongyang, often housing dignitaries it has almost all the amenities one would expect from home.The major feature of this hotel however is the nine hole, par three golf course, complete with bunkers, sand traps and water hazards. Caddies are available that speak a variety of languages.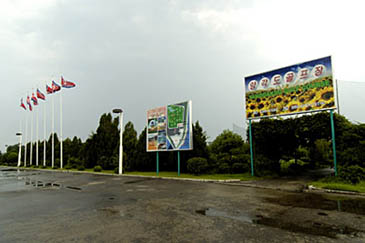 The Yanggakdo 9 hole golf course in Pyongyang /
© Nayan Sthankiya
The Yanggakdo golf course is never overly busy and getting a tee off time is not a problem. Most of the golfers that visit the course are foreign tourists, dignitaries or the Pyongyang elite.North Koreans seem to enjoy there golf so much so that many driving ranges have appeared in Pyongyang. Gaeseong, South of Pyongyang even boasts an 18 hole course.There has also been talk of an 18 hole course to be constructed near Geumgangsan tourist resort in conjunction with South Korea.This fascination with golf is something that can be found in abundance in South Korea, with driving rages perched atop buildings in many cities throughout the country.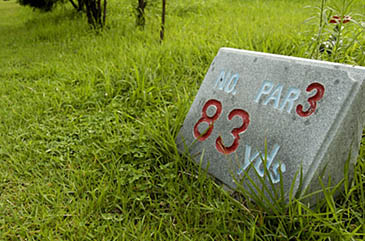 One of the course markers / © Nayan Sthankiya
It seems that the love of golf crosses ideological barriers and that the two Koreas share a similar fascination with the sport. Perhaps there is a Tiger Woods, or Park Se-Ri in the making in Pyongyang.
Related Photos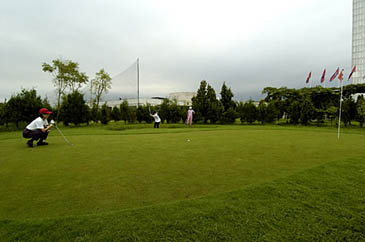 A North Korean golfer reads the green to make par. /
© Nayan Sthankiya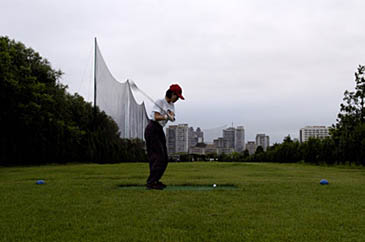 A North Korean golfer drives a ball on the 5th hole. /
© Nayan Sthankiya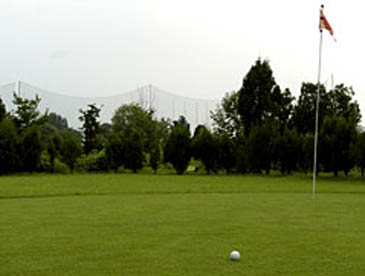 The greens at Yanggakdo are well manicured. /
© Nayan Sthankiya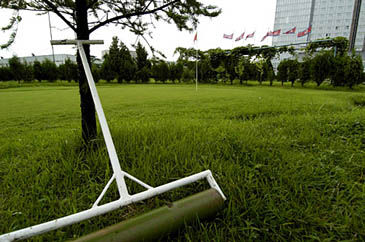 One of the rollers used to dry out of the greens. /
© Nayan Sthankiya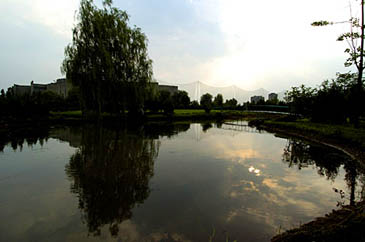 One of the many water hazards on the course. /
© Nayan Sthankiya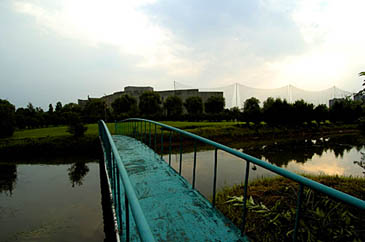 One of the many water hazards on the course. /
© Nayan Sthankiya