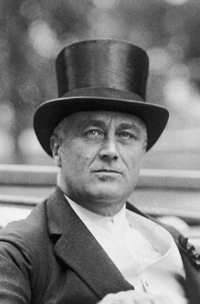 Franklin Delano Roosevelt (FDR: 1882-1945) was the US president from 1933 to 1945.
When Ted Cruz was running for the US Senate in 2012 he refused David Dewhurst's challenge to a debate in Spanish. Cruz explained that his Spanish was not very good. At a recent debate, though, he accepted Marco Rubio's challenge who accused him of not being able to speak Spanish. Cruz replied in passable Spanish.One of these two might win the nomination and possibly the national election. We would then have a bilingual president.That would not be unusual. Of the 43 presidents so far about half had foreign language proficiency. In the early part of American history this language often had to do with academics. Typically, it was Latin, a language many presidents studied in college. Some of the presidents in the earliest part of our history in addition to Latin also managed to pick up French in part because they spent time in France. These include John Adams (# 2, served 1797-1801), Thomas Jefferson (# 3, 1801-1809), James Monroe (# 5, 1817-1825), and John Quincy Adams (#6, 1825-1829). This last one was appointed ambassador to Prussia by his father and managed to pick up German, an easy task since he already knew Dutch. Martin Van Buren, (# 8, 1837-1841) was the only president whose first language was not English. He was born in New York in a primarily Dutch community. Upon going to school, he learned English but he continued to speak Dutch at home.James Garfield (# 20, 1881) knew both Greek and Latin quite well. He was also ambidextrous and would often entertain his friends by having them ask him questions in English and writing the answers in Greek with one hand and Latin with the other.In more recent times, Theodore Roosevelt (# 26, 1901-1909) spoke French but with a German accent. He also spoke German but with great difficulty. He recognized, though, that his knowledge of grammar was limited, which did not stop him from giving some speeches in French.Herbert Hoover (# 31, 1929-1933) once translated a book from Latin into English. He also knew Mandarin which he learned in the 1890s and 1900s when he and his wife spent extensive periods of time in China. Franklin Delano Roosevelt (# 32, 1933-1945) knew both French and German which he initially learned from a European governess when he was growing up. He later spent some time in France and Germany where he refined his knowledge although he still spoke them with a New England accent.Jimmy Carter (# 39, 1977-1981) was somewhat fluent in Spanish which he would practice with his wife Rosalyn by reading the Bible in Spanish. In 2002, twenty-one years after he had left the White House, he gave a speech in Spanish on Cuban television, asking Fidel Castro to allow a referendum to bring about broad political reforms. At the same time, though, he challenged the American government to lift the trade embargo and ease travel between the two countries. His Spanish was clear but not without a Georgian accent.George W. Bush (# 43, 2001-2009) spoke limited Spanish. The gaffe-prone president also stumbled in Spanish. In one speech, he asked the audience for their "botas" (boots) instead of their "votos" (votes) because the letter "b'" and "v" in Spanish have similar pronunciation. However, he used his Spanish quite effectively and people appreciated his efforts. He got more than forty percent of the Latino vote in a small part for his use of the language.Barack Obama, the current president, has a basic understanding of Indonesian, since he went to school in Indonesia as a child.Speaking another language besides English does not ensure winning the presidency. John Kerry speaks several languages and Mitt Romney spoke French, although he tried to hide it, seeing it as a vulnerability. In fact, being bilingual is a definite plus not just for a US president but for everyone.
Domenico Maceri, PhD UC Santa Barbara, is a free lance writer living in San Luis Obispo. Some of his articles have won awards from the National Association of Hispanic Publications.