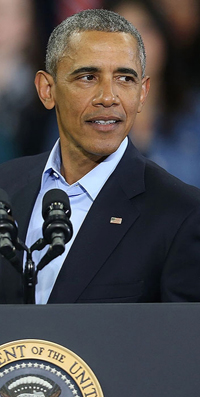 US President Barack Obama
An article in today's New York Times flags a Presidential interview in the Atlantic in ways that are certain to draw global attention, particularly in the countries whose leaders are criticized, the Middle East, Russia, China, and Asia. The Times article and headline seem almost designed to provoke an international reaction. The article states that President Barack Obama singled out Saudi Arabia as an ally that failed to support the United States. The text also states that he felt that Britain and France had failed to support the United States in its campaign against Qaddafi in Libya and that the Ukraine was a natural Russian sphere of influence. It implies that the President sees our allies as a key reason for the inability of the United States to have a decisive impact on current crises. It is important to note that Jeffrey Goldberg's actual article is more nuanced and balanced than the Times report suggests. His article offers a fascinating set of quotes, mixed with commentary and criticism—although it still does so in ways that are likely to be a source of serious tension with our allies. Goldberg introduces his article rather bluntly, and keeps up these themes throughout text. He starts by referring to the decision to not launch cruises missiles against Syria as follows: Friday, August 30, 2013, the day the feckless Barack Obama brought to a premature end America's reign as the world's sole indispensable superpower—or, alternatively, the day the sagacious Barack Obama peered into the Middle Eastern abyss and stepped back from the consuming void—began with a thundering speech given on Obama's behalf by his secretary of state, John Kerry, in Washington, D.C. The subject of Kerry's uncharacteristically Churchillian remarks, delivered in the Treaty Room at the State Department, was the gassing of civilians by the president of Syria, Bashar al-Assad.The overall tone often is critical, as might be expected from the Atlantic, but Goldberg does keep a consistent degree of balance: Obama believes that the Manichaeanism, and eloquently rendered bellicosity, commonly associated with Churchill were justified by Hitler's rise, and were at times defensible in the struggle against the Soviet Union. But he also thinks rhetoric should be weaponized sparingly, if at all. in today's more ambiguous and complicated international arena. The president believes that Churchillian rhetoric and, more to the point, Churchillian habits of thought, helped bring his predecessor, George W. Bush, to ruinous war in Iraq. Obama entered the White House bent on getting out of Iraq and Afghanistan; he was not seeking new dragons to slay. And he was particularly mindful of promising victory in conflicts he believed to be unwinnable. "If you were to say, for instance, that we're going to rid Afghanistan of the Taliban and build a prosperous democracy instead, the president is aware that someone, seven years later, is going to hold you to that promise, ...A year earlier, when the administration suspected that the Assad regime was contemplating the use of chemical weapons, Obama had declared: "We have been very clear to the Assad regime … that a red line for us is we start seeing a whole bunch of chemical weapons moving around or being utilized. That would change my calculus. That would change my equation." Despite this threat, Obama seemed to many critics to be coldly detached from the suffering of innocent Syrians. It is the substance of the article, however, that outside nations and critics will focus on. It is always somewhat misleading and unfair to take key Presidential quotes out of context—although Goldberg does this throughout the text of his article in an effort to describe and critique the evolution of Obama's thinking. Ideally, this should be a case where anyone interested in U.S. policy will read the full article. However, the New York Times article has flagged selected parts in ways that imply that Obama blames our allies in ways the full article does not really present. Furthermore, every country and media source in the world is almost certainly going to take his statements out of context and focus on the portions that apply to their country, region, or interests. It also seems necessary to assemble a wide range of key points and quotes by subject, as many subjects are spread out in diverse ways throughout the article as it focuses on Obama's overall record and the history of policy throughout his Administration:
•America's role in the world: "I want a president who has the sense that you can't fix everything," he said. But on the other hand, "if we don't set the agenda, it doesn't happen." He explained what he meant. "The fact is, there is not a summit I've attended since I've been president where we are not setting the agenda, where we are not responsible for the key results," he said. "That's true whether you're talking about nuclear security, whether you're talking about saving the world financial system, whether you're talking about climate."...He started by describing for me a four-box grid representing the main schools of American foreign-policy thought. One box he called isolationism, which he dismissed out of hand. "The world is ever-shrinking," he said. "Withdrawal is untenable." The other boxes he labeled realism, liberal interventionism, and internationalism. "I suppose you could call me a realist in believing we can't, at any given moment, relieve all the world's misery," he said. "We have to choose where we can make a real impact." He also noted that he was quite obviously an internationalist, devoted as he is to strengthening multilateral organizations and international norms."For all of our warts, the United States has clearly been a force for good in the world," he said. "If you compare us to previous superpowers, we act less on the basis of naked self-interest, and have been interested in establishing norms that benefit everyone. If it is possible to do good at a bearable cost, to save lives, we will do it."..."I am very much the internationalist," Obama said in a later conversation. "And I am also an idealist insofar as I believe that we should be promoting values, like democracy and human rights and norms and values, because not only do they serve our interests the more people adopt values that we share—in the same way that, economically, if people adopt rule of law and property rights and so forth, that is to our advantage—but because it makes the world a better place. And I'm willing to say that in a very corny way, and in a way that probably Brent Scowcroft would not say."Having said that," he continued, "I also believe that the world is a tough, complicated, messy, mean place, and full of hardship and tragedy. And in order to advance both our security interests and those ideals and values that we care about, we've got to be hardheaded at the same time as we're bighearted, and pick and choose our spots, and recognize that there are going to be times where the best that we can do is to shine a spotlight on something that's terrible, but not believe that we can automatically solve it. There are going to be times where our security interests conflict with our concerns about human rights. There are going to be times where we can do something about innocent people being killed, but there are going to be times where we can't."...Obama appears to be a classic retrenchment president in the manner of Dwight D. Eisenhower and Richard Nixon. Retrenchment, in this context, is defined as "pulling back, spending less, cutting risk, and shifting burdens to allies...Almost every great world power has succumbed" to overextension, he said. "What I think is not smart is the idea that every time there is a problem, we send in our military to impose order. We just can't do that."..."I believe that we have to avoid being simplistic. I think we have to build resilience and make sure that our political debates are grounded in reality. It's not that I don't appreciate the value of theater in political communications; it's that the habits we—the media, politicians—have gotten into, and how we talk about these issues, are so detached so often from what we need to be doing that for me to satisfy the cable news hype-fest would lead to us making worse and worse decisions over time."
•Key advisors: The message Obama telegraphed in speeches and interviews was clear: He would not end up like the second President Bush—a president who became tragically overextended in the Middle East, whose decisions filled the wards of Walter Reed with grievously wounded soldiers, who was helpless to stop the obliteration of his reputation, even when he recalibrated his policies in his second term. Obama would say privately that the first task of an American president in the post-Bush international arena was "Don't do stupid shit."Obama's reticence frustrated Power and others on his national-security team who had a preference for action. Hillary Clinton, when she was Obama's secretary of state, argued for an early and assertive response to Assad's violence. In 2014, after she left office, Clinton told me that "the failure to help build up a credible fighting force of the people who were the originators of the protests against Assad … left a big vacuum, which the jihadists have now filled."
•Partnership as a break on U.S. excess and overreaction: "One of the reasons I am so focused on taking action multilaterally where our direct interests are not at stake is that multilateralism regulates hubris," he explained. He consistently invokes what he understands to be America's past failures overseas as a means of checking American self-righteousness. "We have history," he said. "We have history in Iran, we have history in Indonesia and Central America. So we have to be mindful of our history when we start talking about intervening, and understand the source of other people's suspicions."
•The Middle East in General: When I asked Obama recently what he had hoped to accomplish with his Cairo reset speech, he said that he had been trying—unsuccessfully, he acknowledged—to persuade Muslims to more closely examine the roots of their unhappiness."My argument was this: Let's all stop pretending that the cause of the Middle East's problems is Israel," he told me. "We want to work to help achieve statehood and dignity for the Palestinians, but I was hoping that my speech could trigger a discussion, could create space for Muslims to address the real problems they are confronting—problems of governance, and the fact that some currents of Islam have not gone through a reformation that would help people adapt their religious doctrines to modernity. My thought was, I would communicate that the U.S. is not standing in the way of this progress, that we would help, in whatever way possible, to advance the goals of a practical, successful Arab agenda that provided a better life for ordinary people." Through the first flush of the Arab Spring, in 2011, Obama continued to speak optimistically about the Middle East's future, coming as close as he British ...I told Obama that the Middle East is to his presidency what the Mob is to Corleone, and I started to quote the Al Pacino line: "Just when I thought I was out—"
"It pulls you back in," Obama said, completing the thought. ..."Right now, I don't think that anybody can be feeling good about the situation in the Middle East," he said. "You have countries that are failing to provide prosperity and opportunity for their people. You've got a violent, extremist ideology, or ideologies, that are turbocharged through social media. You've got countries that have very few civic traditions, so that as autocratic regimes start fraying, the only organizing principles are sectarian."He went on, "Contrast that with Southeast Asia, which still has huge problems—enormous poverty, corruption—but is filled with striving, ambitious, energetic people who are every single day scratching and clawing to build businesses and get education and find jobs and build infrastructure. The contrast is pretty stark."...He then made an observation that I came to realize was representative of his bleakest, most visceral understanding of the Middle East today—not the sort of understanding that a White House still oriented around themes of hope and change might choose to advertise. "If we're not talking to them," he said, referring to young Asians and Africans and Latin Americans, "because the only thing we're doing is figuring out how to destroy or cordon off or control the malicious, nihilistic, violent parts of humanity, then we're missing the boat."
Commentary is produced by the Center for Strategic and International Studies (CSIS), a private, tax-exempt institution focusing on international public policy issues. Its research is nonpartisan and nonproprietary. CSIS does not take specific policy positions. Accordingly, all views, positions, and conclusions expressed in this publication should be understood to be solely those of the author(s).