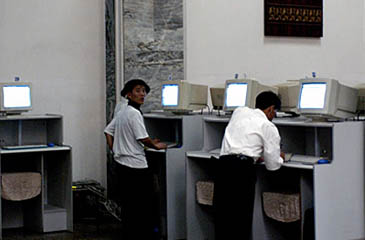 Residents of Pyongyang use a computerized card catalogue to find the books they are looking for. / © Nayan Sthankiya
There is a notion in the rest of the world that North Korea as a whole is backwards and struggling. It has little infrastructure and is for the most part computer illiterate.In a recent trip to the North I found very much the opposite. North Korea is producing some very high production value computer animation feature length and short movies.In recent years they have also started producing computer games targeted for cell phones. Many of the people I spoke with in Pyongyang were aware of games such as Star Craft, War Craft and Doom, very popular in the South and the rest of the world.The availability of computers seems localized to Pyongyang and are often incapacitated by the numerous power outages that regularly effect the country. The average North Korean family does not have a computer in their home and internet access is not available to the general population.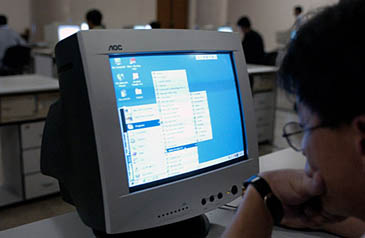 The ubiquitous Windows operating system, in English at use in Pyongyang. / © Nayan Sthankiya
Not at all surprising given the state controlled information policies. Not so long ago internet access in China was unheard of.The public does have access to computers, at the People's Study Hall in Kim Il-Sung Square, a huge sprawling building that houses a library and lecture halls, but not the free flow of information that is the internet. The hall was constructed and envisioned by Kim Il-sung as a place of knowledge and learning for all the people of North Korea.Lectures on various topics, science, mathematics, history even internet infrastructure are conducted daily. Language classes are also taught, English, French, Japanese, Spanish to name a few.The library boasts many computers all tied together on an internal intranet, 90 percent of the libraries books are online and available through this intranet. The computers are not state of the art, but more than adequate Pentium 3 machines running Windows Server 2000 in English, I'm sure Bill Gates will be happy to know that the North Korea has chosen Windows also.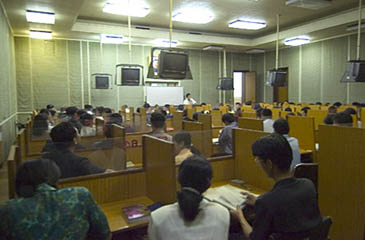 Students attend a lesson on english conversation. /
© Nayan Sthankiya
The library has an automated book retrieval system, all requested books, magazines or papers are sent to a central librarian through a request made by computer. The requested item is them sent, from the storage area through a rail system to the librarian.Despite the many recent and continuing hardships that North Korea has had to endure, the country has not stood still. They are trying to keep pace with the ever increasing need to stay current and up to date in information technology.
Related Photos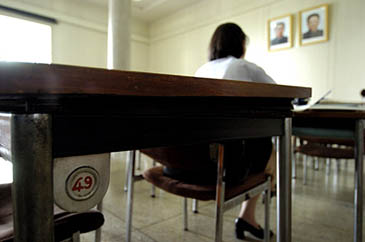 The People's Study Hall in Pyongyang boasts desks personally designed by Kim Il-sung, featuring multiple adjustments for optimal comfort while studying. / © Nayan Sthankiya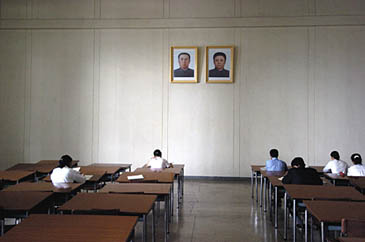 The People's Study Hall in Pyongyang affords the citizens a central place for learning. / © Nayan Sthankiya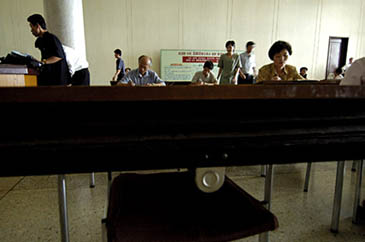 The People's Study Hall in Pyongyang boasts desks personally designed by Kim Il-sung, featuring multiple adjustments for optimal comfort while studying. / © Nayan Sthankiya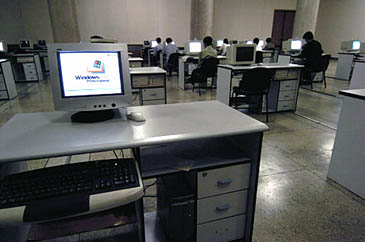 The ever present Windows start up screen can not be escaped even in North Korea. / © Nayan Sthankiya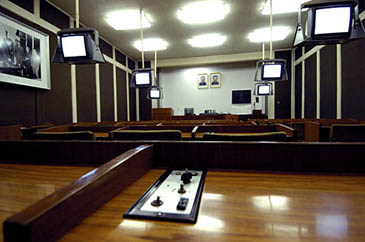 Modern lectures halls feature automated controls and large screen projection televisions. / © Nayan Sthankiya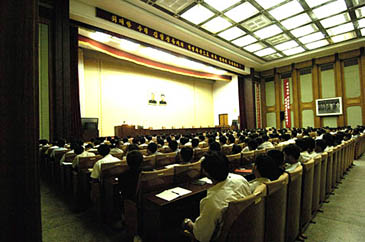 Students attend a class on internet infrastructure at the People's Study Hall. / © Nayan Sthankiya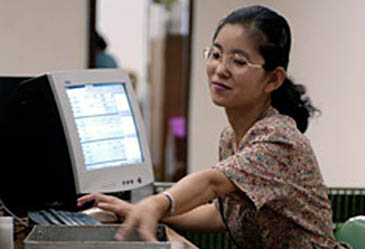 An automated rail delivery system sends the requested books to the librarian. / © Nayan Sthankiya