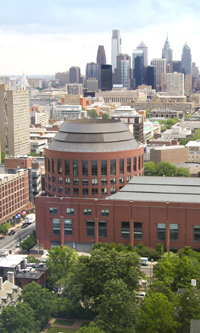 Huntsman Hall is the Wharton Business School of the University of Pennsylvania's main building. Wharton's MBA program is ranked No. 1 in the world according to varous surveys.
The Knowledge@Wharton High School Global Young Leaders Academy Summer Program 2016 has only limited seats left.
"Knowledge@Wharton High School (KWHS)" is a part of the global Knowledge@Wharton network of online business journals at the Wharton School of the University of Pennsylvania. Launched last year, the KWHS Global Young Leaders Academy aims at promoting entrepreneurship, leadership, business and finance skills among high school students around the world through classroom content, trips and competitions. High School students aged 15-18 years are eligible to apply through BrainGain Magazine, a study abroad online magazine that is collaborating with KWHS on this program.So far, KWHS has confirmed participants from India, Turkey, Hong Kong, Pakistan, Singapore, Ethiopia, China, Thailand, Bulgaria, Italy, Indonesia and Azerbaijan. The deadline for the applications has been extended to April 30, 2016.Mukul Pandya, executive director and editor-in-chief, Knowledge@Wharton Network, says, "KWHS Global Young Leaders Academy provides high school students an opportunity to learn and discover their potential, so they can become successful and ethical business leaders in the future. As the summer program is of huge interest to students from all over the world, we have decided to extend the deadline for acceptance of applications. However, seats are filling up rapidly since the program has proved to be of great interest to high school students worldwide."The program features lectures from Wharton faculty, experienced educators and business executives. It will also include corporate visits, team-building exercises and guided tours to historic places around Philadelphia, New York City and Washington DC. The students will get a taste of American culture, be a part of a community-service project and receive a certificate to recognize their volunteer hours. In addition, students who have successfully completed the program will receive a certificate from KWHS.Harjiv Singh, Founder and Publisher of BrainGain Magazine, adds, "We are extremely glad we have collaborated with KWHS to help empower students all over the world. It makes us very happy to see students applying from such a diverse set of countries."The two-week program costs US $5,000 per student including tuition, on-campus lodging and boarding, but excluding international travel, visa application fees and insurance. Applications for the KWHS Global Young Leaders Academy can be submitted online on http://wharton.braingainmag.com.About the Wharton School and Knowledge@Wharton Founded in 1881 as the first collegiate business school, the Wharton School of the University of Pennsylvania is recognized globally for intellectual leadership and ongoing innovation across every major discipline of business education. With a broad global community and one of the most published business school faculties, Wharton creates economic and social value around the world. The School has 5,000 undergraduate, MBA, executive MBA, and doctoral students; more than 9,000 participants in executive education programs annually and a powerful alumni network of 94,000 graduates.Knowledge@Wharton is the online business analysis journal of the Wharton School of the University of Pennsylvania. The site, which is free, captures relevant knowledge generated at Wharton and beyond by offering articles and videos based on research, conferences, speakers, books and interviews with faculty and other experts on global business topics.About BrainGain MagazineBrainGain Magazine (www.braingainmag.com), a Salwan Media Ventures company, is the leading Study Abroad online magazine for students, their parents, and mid-career professionals. We aim to be the definitive source of information for anyone interested in exploring and learning about Study Abroad. Our primary target audience is between the ages of 16 and 25 years. We provide content to guide students and their parents through the decision-making process when exploring options to study abroad.
For more details, please contact:
Puneet Khunger
+91.9810191409
puneet@gutenbergpr.com