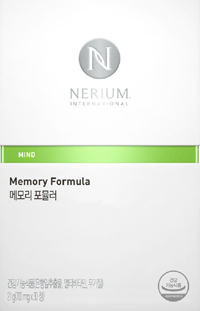 Nerium's new product "Memory Formula"
Nerium International Korea, the global premium skin care specialized company, headquartered in Addison, Texas, U.S., announced the launch of "Memory Formula," one of Nerium's health care supplies for those living in today's world — the world of "stay healthier, live longer." Memory Formula is health functional food that is for your brain health.The Ministry of Food and Drug Safety (MFDS) of South Korea approved Nerium's Memory Formula as a legitimate health functional product for its effectiveness in improving memory and blood circulation.Memory Formula is a health functional product that contains gingko leaf extract and multivitamins (vitamin B6, B12, C, and D), and mineral (selenium) as its main ingredients, and EHT coffee bean extract as a sub ingredient. Take 1 tablet each day and you will feel more refreshed and invigorated for its possible influence in memory performance.Produced by Nutri Biotech (an original design manufacturer specialized in health functional foods), one of the affiliates of Cosmax, the world -famous cosmetics manufacturer, Memory Formula is now available via official brand partnership of Nerium International Korea. BJ Choi, the branch manager of Nerium International Korea said, "Nerium's newly launched Memory Formula has already been known for its effect in the U.S. market," and "it will become a bare necessity for those living in today's world." Nerium International is a brand new market leader that has reached 1 trillion won (0.9 billion dollars) of accumulated sales profits. It made its appearance to Korea, promoting "one simple change in your daily routine" as its products: Nerium Age-defying Night & Day Cream Optimera Plus Formula, Optimera Formula Firming Body Contour Cream and this Memory Formula. You can find more information about Nerium and its products at www.nerium.kr
Nerium International
Nerium International is connection marketing company, headquartered in Addison, Texas, U.S., which provide products made of differentiated ingredient and technology. After the establishment on August 2011, it has reached new record in revenue and has created about a million of fan. It has received attention in the industry.Nerium, which is operated by professional management, provides quality of products based on dermatology. Also, under the mission of 'Making people better', Nerium has concentrated on developing skincare products which could improve customers' life. For more information about Nerium, visit www.nerium.com.
For details or inquiries
PR Agency
Communications Korea
Gong Yeonwi, Director
02-511-7606
yeonwi@commkorea.com
Eunkyung Oh, Senior AE
02-511-8380
mari@commkorea.com
Nerium International Korea
Alice Ji, Social Manager
aji@nerium.com