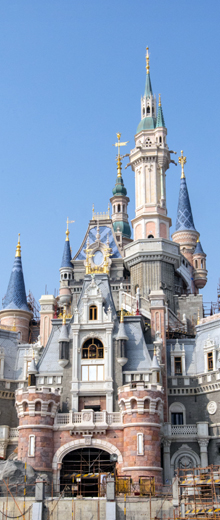 The Shanghai Disney (Resort) is an under-construction theme resort by Walt Disney Parks and Resorts, planned to open on June 16, 2016. It is the first Disney park in mainland China and the second in Greater China, after Hong Kong Disneyland.
As Hong Kong's Disneyland is suffering from losses, Tokyo Disneyland is expanding by debt. Shanghai's Disneyland is the new regional trendsetter. In 2014, the worldwide attendance growth in the top-10 theme park groups exceeded 5 percent. These conglomerates – including Disney, Merlin, and Universal – had more than 392 million visitors. In the postwar era, the theme park industry was mainly American. Since the 1980s, it has expanded in the advanced economies. Last year, Disney's revenue grew by $4.4 billion, topping $50 billion for the first time. With the rise of Asia, the region is beginning to pull head of North America in the global theme park business. In East Asia, the focus is on Disney Parks in Tokyo, Hong Kong and Shanghai.
Losses in Hong Kong Disneyland
In Hong Kong Disneyland, mainlanders and Hong Kongers each still account for about 40 percent of visitors. While Hong Kong Disneyland is only a decade old, its daily capacity is barely 34,000 visitors; the lowest among the Disney parks.
With the dwindling number of visitors from China, Hong Kong Disneyland suffered a full-year loss of $20 million in 2015, after barely three years in the black.Fewer mainlanders are visiting, revenue is decreasing, profits are off and hotel rooms are emptier. The next two years will be challenging, possibly critical. As Hong Kong Disneyland is likely to continue to lose visitors from China, it is looking harder at Southeast Asian markets, including Indonesia, the Philippines and Thailand. Meanwhile, surveys suggest that two-thirds of middle-class families in China want to visit Shanghai Disneyland and 17 percent plan to go this year.With a majority stake in the park, Hong Kong's government is boosting its expansion. It is in a double-bind. If it does not invest in expansion, Disney Park could suffer even more. Conversely, if the expansion fails, it risks losing more money over time.
Debt-fueled expansion in Tokyo Disneyland
Launched near Tokyo in 1983, Disney Park was the first to be built outside the US. Last year the number of its visitors decreased by over 1.1 million to 30.2 million.
Though the drop was attributed to the extreme heat last summer and recent anniversary celebrations, the stream of visitors is expected to continue. Ticket prices have been raised for the third consecutive year to secure money for investing in the park and Tokyo DisneySea.With debt taking and low rates, Abenomics has been good to Tokyo Disneyland. Visitors have been sustained by efforts to prop up consumption domestically and the yen's depreciation internationally. But as currency wars are reducing depreciation benefits, Prime Minister Abe is pushing for a consumption tax hike next year.
Shanghai Disneyland, the new regional benchmark
At Disney, all eyes are on the mainland Chinese park visitors. In the early 2010s, two Chinese theme park chains, OCT Group and Haichang Group, entered the top-10 list of operators. That's when Disney and Shanghai Shendi, a state-owned company with a 57 percent stake in the resort, began to build the Disney resort in Pudong. To Disney, Shanghai will be its first major park in a large emerging economy. Today, Theme Parks and Resorts is its most critical segment, accounting for some 30 percent of its valuation; of which international parks and resorts account for only about 5 percent.
With the opening of Shanghai Disneyland in June, Disney's international theme park revenues could double from $2 billion in 2016 to some $4 billion by the early 2020s.However, in Shanghai, Disneyland's value will be determined by jobs, capital and spillover effects. The success can be measured in fiscal 2017, when the first full-year results will become available. Yet, initial responses are encouraging.Initially, some 10-20 million people are expected to visit Shanghai Disneyland annually. In sheer size, twice as big as its counterpart in Tokyo and three times bigger than Hong Kong Disneyland, respectively; it will require new infrastructure and logistics. It will be vital for local travel agencies that thrive on short tours. It may boost the number of foreign visitors in Shanghai. In the property markets, it is generating a lot of interest among other developers and investors. Today, Shanghai Disneyland is the most important influence in Asian theme park development, even globally. It is expected to have a major impact on raising the bar for quality, guest experience, and setting a price premium in the market.Dan Steinbock is research director of international business at the India China and America Institute (US) and a visiting fellow at the Shanghai Institutes for International Studies (China) and the EU Centre (Singapore).