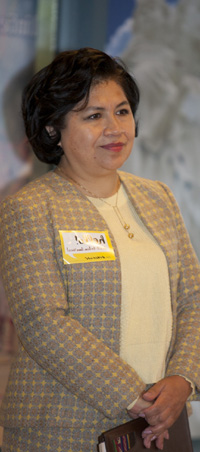 Bolivian Ambassador Guadalupe Palomeque de Taboada
The Embassy of the Plurinational State of Bolivia announced that it will participate in the "Seoul Food 2016," taking place in KINTEX, Ilsan from May 10 to 13, 2016 to promote some of the Bolivian food products in the Republic of Korea.For this purpose, it is glad to announce that representatives of Bolivian companies that export sesame, chia and quinoa will be present at the booth located in Hall 5, 5B603 (Agroexport SRL), 5B604 (Goldfoods SRL).According to some experts, the Bolivian food products are highly regarded for its quality and organic production; therefore, it offers a lot of potential for being introduced in the Korean market.On May 11, 2016 from 14:30 to 16:00 hours, the Bolivian Embassy will hold a workshop for the interested companies and Korean press media, on Bolivian food products including sesame and chia. In particular, Ambassador Guadalupe Palomeque de Taboada will introduce some aspects of the Bolivian economic situation and other facts about food production in the country.Mr. Mijail Loredo of Agroexport SRL Company and Mr. Jorge Camacho from Goldfoods SRL enterprise will make a presentation on Sesame and Chia, respectively. The workshop will take place at Hall 5, 2F, 208 A, KINTEX, Ilsan in Gyeonggi Province.
The Government of the Plurinational State of Bolivia supports the food industries through a number of agencies within the Ministry of Rural Development and Land and in this case through the Embassy of Bolivia in Korea, in particular, in order to promote Bolivian sesame, chia and quinoa in the Republic of Korea. In doing so, the Embassy of Bolivia notes that the agricultural activity in Bolivia benefits an important number of local producers and its participation at the Seoul Food 2016 aimed at consolidating and strengthening the image of Bolivia as a producer of high quality food export country which for many entrepreneurs that already imported food from Bolivia considered this industry as an untapped treasure.