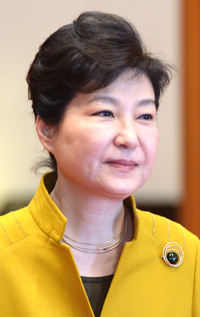 S. Korean President Park Geun-Hye
South Korean President Park Geun-Hye will this week make her maiden trip to Africa as president. According to the Blue House, the executive office and official presidential residence, the President is scheduled to make stops in Ethiopia, Uganda, and Kenya. Of the three countries, the president's visit to Nairobi, Kenya, will be somewhat fascinating owing to the coincidence it offers. Picture this. In February 1964, Korea's former president, Park Chung-hee, and Kenya's first president, Jomo Kenyatta, established diplomatic relations between Nairobi and Seoul. About 50 years later, Park Chung-hee's daughter (Park Geun-hye) and Jomo Kenyatta's son (Uhuru Kenyatta) are the presidents of their respective countries. If your guess is as good as mine their first light moments might be about their daddies!Beyond the coincidence, President Park's visit to Africa may be significant. My own wish is that the trip came earlier following her election. Indeed, following Madam Park's inauguration in 2013, I penned an open epistle in this column beseeching Her Excellency not to snub Africa in her initial strategic foreign trips. Today I am compelled to say better late than never. But of course.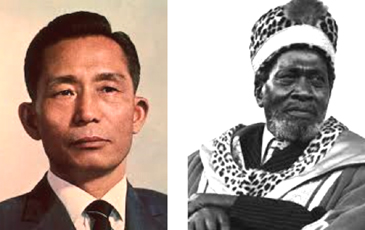 Ex-President Park Chung-Hee, Kenyan President Jomo Kenyatta
In the previous column I noted: "I wish to plead the case of Africa. This time, let's forget the 'begging bowl' images of 80s and 90s. Africa is rising, and seriously so… what has changed? I say the attitude. Purely, the attitude, Madam President. You see, with the emerging comprehensive structures for transparent trade and innovations, African business executives, literati, politicians and even farmers can now catch their own fish–affirmatively they got the intellect, the vision, the passion. The younger generation now possesses a kind of drive that birthed saemaul undong, Korea's revolutionary village movement." I presumed my argument was debatable depending on the context or the perspective one looks at the complex yet dynamic continent. Still, the 'Africa is rising' narrative can no longer be overlooked by any romantic economist.If Korea is therefore to play a noteworthy role in Africa, she got to work in haste, precision, and tactically. According to government data, Korea-Africa bilateral engagements have progressively expanded over the years, both diplomatically and economically. Park's visit is rather a gesture that there is a room for building strategic partnership going forward. In fact, the Blue House is clear―the President is looking for business!From the history books we learn that that Ethiopia and South Africa assisted Korea militarily during the 1950-1953 Korean War. I am told that even Kenya, though not an independent nation at the time, donated some financial aid for Korea's reconstruction after the devastating war. On the recent trade engagements, although quite imbalanced in favor of Korea, Kenya is an example of improved trade transactions. In 2006, for instance, exports from Kenya to Korea was valued USD 5,573,000 compared to USD 17,979,000 in 2015. Similarly imports to Kenya from Korea were valued at USD 164,653,000 in 2009 compared to USD 253,951,620 in 2014. On tourism, nearly 10,000 Korean tourists visited Kenya in 2012, the year when Korean Air launched direct flights from Seoul to Nairobi, compared to 5,505 in 2006. Unfortunately, the three-day-a-week direct flight to Nairobi were suspended in 2014 due to the Ebola crisis (in West Africa) impacting tourism considerably such that only 3,434 had visited Kenya by November 2015. Perhaps President Park's visit will lead to some substantial review of the factors that can rebound and sustain economic exchanges, including reinstating Korean Air direct flights. Of course my country, Kenya, has a lot to learn from Korea in terms of economic development. The two countries may be geographically apart and demographically dissimilar, but there is an essential aspect to economic prosperity—limiting greed among leaders. In 2005, Robert Guest, writing for The Telegraph asked a notable question and answered it forthrightly: "Why has South Korea overtaken Kenya? Because its rulers can limit their greed." Mr. Guest went on to share this joke that reveals the painful reality of greed: An African and an Asian become friends at Oxford before becoming politicians. Years later, the African visits the Asian and is impressed by his mansion, with a Mercedes-Benz in the drive. "How can you afford this?" he asks. The Asian points to a grand highway outside. "See that road?" he says with a wink. "10 percent." Later the Asian visits the African's home—a palace with a dozen Mercedes-Benzes. Anticipating the question, the African says: "See that road?" The Asian sees only bush. "100 percent." That, regrettably, is the cost of unchecked greed and corruption that my motherland is yet learn.Back to the visit. It will be interesting to see the impact of President Park's tour regarding her objective of expanding involvement Korean companies in Africa. When her predecessor, President Lee Myung Bak, visited Africa in July 2011, he noted the continent's robust potential for growth urging Korea to play a grander role. President Lee essentially referred to Africa as the "hope for the future of this planet." At the time, six of the 10 nations with the highest economic growth globally were in Africa. The mainly young and educated population is another plus. President Park, we are told by the Blue House, has a core agenda in the name of "Korea Aid". 'Korea Aid' is apparently Korea's new official development assistance (ODA) program for health care support, food production and cultural related projects. On whether this initiative will be effective or not depends on the approaches from initiation to implementation of the various related projects. Mind you, China's 'tentacles' are deeply ingrained in the continent through her companies and some enticing trade initiatives. It will be myopic to ignore the mega projects the Chinese are building across Africa and their economic bearing. Obviously there are concerns regarding Beijing's 'fat loans' to Africa and the fear of inferior products overflowing the continent. I should also have mentioned that Japan has been a darling of many African countries for decades. In Kenya, we often make a joke that "the car in front is always a Toyota." Yes, we drive Japanese-made large scale! Simply put, Seoul has some catching up to do.If my memory serves me right, Korea pledged to be a 'development partner' for the developing nations at the 2010 G-20 meeting held in Seoul. The logic being that since Korea was a few decades ago where many African countries are today, economically, it is a lot easier to believe in her partnership. By the way, I fancy the word "partnership" over "aid." The latter which I think should not have been used as Korea's new ODA program, connotes the old-style donor-recipient concept. If you come from Africa, the inapt image of Africa as a begging bowl rings a bell.What's in a name? 'Partners,' which EU-Africa conferences have also favored, sounds apropos. As I routinely recommend during my open lectures on Africa-Korea relations, the concept of 'partnership' characterizes shared values, mutual trust, and interdependence. You see, even on the definitions and key words we ascribe to things that matter like ODA are the embedment of our worldviews—the overall perspective from which we see and interpret the world. May be not a big deal, or is it? Madam President, welcome to Africa!