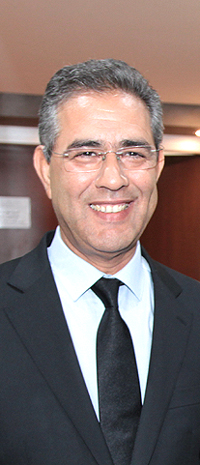 Morocco's Urbanism Minister
Driss Merroun
Morocco's Urbanism Minister Driss Merroun and his delegates are currently visiting South Korea to seek a wide variety of ways of
enhancing exchanges and cooperations in the fields of architecture, urbanism and land planning between Morocco and South Korea.Minister Merroun and his entourage arrived in Seoul on May 22 (Sunday), 2016. They came to Seoul via Incheon International Airport.On May 23 (Monday), 2016 the Moroccan minister and his delegation visited the Korea International Cooperation Agency (KOICA), a governmental organization for assisting the developing countries under South Korea's Foreign Ministry.He and his entourage went through a KOICA orientation in the morning on the day.During the event a special presentation on KOICA was made. Also presented were a CIAT program and a special introduction of KOICA projects in Morocco in the event.In the afternoon the Moroccan government officials moved to Seoul to make an inspection tour of Cheonggyecheon stream, a man-made 10-km-long public recreation space in downtown Seoul. Cheonggyecheon stream is a massive urban renewal project completed by the former President Lee Myung-Bak at the total construction cost of 900 million US dollars. It is now famed tourism spot for foreigners.The following day of May 24 (Tuesday), 2016, the minister and his fellow officials visited the Korea Institute of Construction Technology Education (KICTE) in Yeoksam-dong, Gangnam-gu, in southern part of Seoul.They went through a special KICTE orientation, taking part in the lecture on "National Land & Urban Policy in Korea."On May 25 (Wednesday), 2016, the Moroccan delegation toured Incheon Free Economic Zone (IFEZ) in Incheon, a port city west of Seoul for an inspection and study.Then, the delegates met with President Choi Kwang-Ho of Hanwha Engineering & Construction Corp. based in Seoul's Yoido Island. They were briefed about the overseas construction projects of Hanwha. The minister and the president also discussed the possibilities of Hanwha advancing into the Moroccan construction market.On May 26 (Thursday), 2016, Moroccan Minister Merroun and his delegates will meet with South Korea's Vice Minister Kim Kyung-Hwan of Ministry of Land, Infrastructure, and Transport (MOLIT). Kim served as KHRIS president before he was appointed MOLIT vice minister.After the meeting they will visit Hang River Flood Control Center on the embankment of Han River running through the heartland of Seoul. They are scheduled to visit a LH Corporation construction site in the Seoul Metropolitan Area.On the final leg of their stay in South Korea on May 27 (Friday), 2016, the Moroccan minister and his delegates are scheduled to visit Gwangmyung KTX station and Busan KTX station, respectively.In Busan, the largest port city and the second largest city in South Korea, they will meet with the officials of Busan Metropolitan Corporation (BMC) and with officials of Dongbusan Mt. Tourism Complex.Morocco's Urbanism Minister Driss Merroun and his entourage will depart from South Korea for Morocco on May 28 (Saturday), 2016.
Who Is Driss Merroun?
Mr.Driss Merroun is currently serving as Moroccan Minister of Urbanism and Planning. He is a influential member of Morocco's Parliament.He was appointed minister of Urbanism and Town Planning by Moroccan King Mohammed VI on May 22, 2015. A trained engineer, Minister Merroun is currently a member of the Popular Movement Party (MP) in the House of Councilors, the upper house of the bicameral Parliament of Morocco.The Popular Movement Party (MP) is the right-wing royalist party in Morocco. It is currently the sixth major party in Moroccan legislature.Mr. Merroun also served as the MP parliamentary group president in the second chamber. He is considered by his party as a "moderate and a man of dialogue."Minister Driss Merroun majored in politics at Jean Moulin University Lyon III in Lyon, France.Prior to that he studied at L'Ecole Hassania des Travaux Publics (EHTP), Morocco's one of the oldest engineering schools located in Casablanca, the largest city of Morocco.
.
After his education Merroun worked at Groupe PSA, a French multinational manufacturer of automobiles and motorcycles.