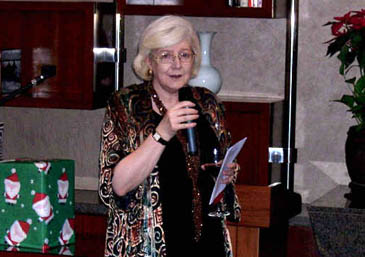 Joan Baron welcomes guests, dignitaries, and VIPs during CCCK's annual Christmas Party held at the Oakwood Premier Coex Center in the Gangnam district of Seoul.
The Canadian Chamber of Commerce in Korea (CCCK) threw a Christmas party for Canadians living in Korea and dignitaries who are related to the Canadian community on Dec. 11, at the Oakwood Premier Coex Center. From 6: 30 p.m. to past 10 p.m., people at the party enjoyed a cheerful night with wine, buffet and charity for kids. After a few rounds of cocktails and icebreakers, the Canadian Amb. Marius Grinius opened the party with a welcoming address. Joan Baron, the chairperson of the CCCK and the president and CEO of the TELUS international Korea delivered many thanks to people who came to the CCCK Christmas party. Two Koreans, Mr. Michael Jin (Vice President of TELUS international) and Mrs. Jin, were appreciated as well for their help to prepare for party.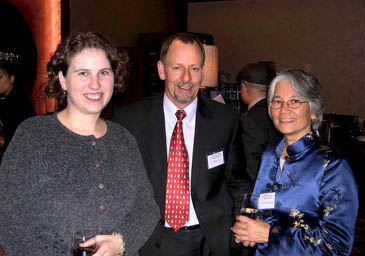 CCCK's Sue Baxter, AECL Korea F. J. Bishop and his wife Candy Bishop pose for a picture at Oakwood Premier Coex Center during the CCCK's annual Christmas Party.
Many of the guests were Canadians doing business or teaching English in Korea. Talks of their hometown in Canada and the delicious bagels of Montreal continued. The party had got excited with jokes on what Canadian dishes were. Those who work at multinational corporations based in Canada also attended and honored the party. Other guests attending the Christmas party were Senior Repetitive Director for the AECL Korea F. J. Bishop and his wife Candy Bishop; Tanya Van Soest, Consultant for News Communications; Danielle Saint-Louis, Director of Human Resources for the W Hotel; Michelle Lee, Sales Manager for Oakwood Premier Coex Center; PanAsia Paper President and CEO Dag Torvold, PanAsia Paper Vice President and Chief Technical Officer David Kerr; Chairman Les Edwards, Australia New Zealand Chamber of Commerce; Asian Tigers Transpack International, Executive Director Richard D. Dyas, General Manager of Asian Relocation Management Korea Loren Dyas, and Customer Service Coordinator of Asian Tigers Transpack International Saenah Song.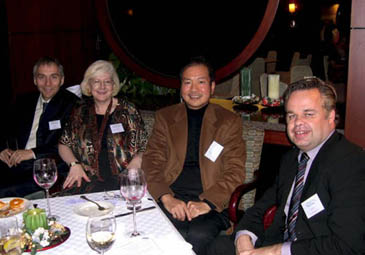 From left to right are Terry Tuharsky, Joan Baron, Joseph Ing, Rick Cristiaanse.
Each guest received from the reception desk a red paper on which appeared names of seven people. For each person guests talked to on their list the more money the CCCK would donate to a Korean orphanage; so attendees at the function were busy trying to meet the people assigned to them on their list. As much as to deserve the spirit of Christmas, guests shared love as well as carols and experiences living in Korea.
The Canadian Chamber of Commerce in Korea
is a non-profit organization devoted to serve the business needs of intra Korean-Canadian trade. It launched in 1995 and currently consists of approximately 200 members. The activities of CCCK involve strengthening the network of members, raising business opportunities between Korea and Canada, and lobbying the Korean government to promote a better business environment between both countries. These involve business luncheons, forums, newsletters and services such as legal, retail banking, or accounting.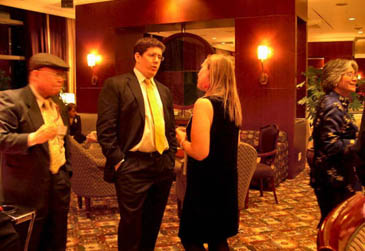 Emily Bolyea chats away during the CCCK Christmas Party on Dec. 11.
CCCK holds social events in order to contribute to building cordial relations between the Korean and Canadian Communities. The Christmas Party has been one of the major social events the CCCK holds, as well as the Thanksgiving party. The Terry Fox Cancer Run, the Keating scholarship, and the Canada day (Jul 1st) party are other important events the CCCK celebrates.