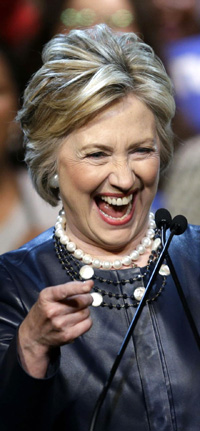 Hillary Clinton
SAN GABRIEL, CA — Today (May 31, 2016), the Congressional Asian Pacific American Caucus Leadership Political Action Committee, or CAPAC Leadership PAC endorsed Secretary Hillary Clinton for President of the United States at the Hilton Los Angeles / San Gabriel — the site of the standing-room-only AAPI For Hillary event in January. The endorsement comes one week in advance of the California Democratic primary and at the conclusion of Asian Pacific American Heritage Month. The PAC was also joined by Asian Pacific American elected officials from throughout California who endorsed Clinton for President. Congresswoman Grace Meng (NY-06), Political Action Committee (PAC) Chair and CAPAC Executive Board Member:"No presidential candidate in the history of America has ever matched Hillary Clinton's effort to engage with our community. On the issues, Hillary supports immigration reform, expanding health care access, and increasing the federal minimum wage, which will better the lives of everyday Americans. Hillary is committed to making significant contributions to the Asian American and Pacific Islander community. She is without a doubt the only qualified candidate and that is why I am supporting her for President."Congresswoman Judy Chu (CA-27), Current Chair of the Congressional Asian Pacific American Caucus (CAPAC):"As chair of CAPAC, I stand with my colleagues today to endorse Hillary Clinton. So many of us AAPIs are behind her because she has a track record of working for our community. She has made it a priority to fix the issues that challenge us the most, such as immigration reform, education and voting rights. There is so much at stake in this election, and we cannot tolerate any presidential candidate who promotes fear tactics, hateful rhetoric against immigrants and bullying. We AAPIs must turn out the vote and ensure that our voice matters. We must support the candidate who will bring us together, and make our nation more equal and just for everyone-and that person is Hillary Clinton." Congressman Mike Honda (CA-17), PAC Vice Chair and CAPAC Chair Emeritus:"I long ago endorsed Secretary Clinton for president of the United states, because of her consistent support for the things that really impact our Asian American and Pacific Islander community: small businesses, effective immigration reform and improving education so each and every child can get the resources they need for a great education. Now I am happy to join my colleagues to do so again. We live in a time that has seen the return of the forces of fear and hatred my family faced when I was a child. Then, our nation imprisoned its own people. A Trump administration could be even more catastrophic. The stakes are too high to stay home, for anyone who cares about this nation and our future. We are great now and with President Hilary Clinton, we will defeat hate and fear to become even greater. That is why I've always been with her."Senator Mazie K. Hirono (HI), PAC Board Member, CAPAC Executive Board Member:"As a first generation American raised by a single mother living paycheck to paycheck, I know just how much we need a president like Hillary Clinton," Senator Mazie K. Hirono said. "Secretary Clinton has spent a lifetime fighting for working people and the middle class, and she is passionate about opening up pathways of opportunity for Asian Americans and Pacific Islanders across the country. Let's work together to break that last glass ceiling and elect our first female president."Congresswoman Madeleine Bordallo (GU), PAC Board Member and CAPAC Vice Chair:
"Hillary Clinton is the only candidate for President who truly understands the concerns and needs of Asian Americans and Pacific Islanders. She had been a steadfast advocate for our issues and has fought to promote Guam and other US territories. As Guam's representative in congress, I know that Hillary understands the unique needs of the people of Guam and that is why she won an overwhelming majority in the Guam caucus. As President I know that Hillary will fight for our issues and make the needs of the AAPI community a priority in her administration. I am confident that she will appoint a diverse administration and promote AAPIs at every level of government. Hillary is best positioned to beat Donald Trump and build off the progress that President Obama has made during his terms in office. I am glad that CAPAC has taken the historic step of endorsing Hillary Clinton for President and I strongly join my colleagues in endorsing her candidacy."Congressman Mark Takano (CA-41): PAC Board Member and CAPAC Whip:"Hillary Clinton has the experience and vision that America needs from our next president. She will break down the barriers which prevent too many Americans from fulfilling their potential. The AAPI community knows well the danger that stems from policies that target a specific community. We cannot stand by in silence while Donald Trump denigrates women, Latinos, and other groups of Americans. That is why I am glad to join with my colleagues in supporting Hillary Clinton for President. She is the right choice for Democrats to be our candidate in November, and the right choice for America to be our President."Congresswoman Ted Lieu (CA-33), PAC Board Member and CAPAC Executive Board Member:"As the fastest-growing part of our vibrant American family, Asian Americans know that part of what makes America great is our commitment to the principles of equality and diversity. Hillary Clinton has spent her life fighting for the issues that matter most to the AAPI community. Whether it is immigration reform, support for workers and small business owners, or access to a quality education - Hillary understands that when Asian American families succeed, America succeeds. I'm with Her. And I'm proud CAPAC Leadership PAC is standing with Her as well." Congresswoman Doris O. Matsui (CA-06), PAC Board Member and CAPAC Executive Board Member:
"I'm incredibly pleased to announce CAPAC Leadership's endorsement of Hillary Clinton. I know that Hillary has the experience and vision to lead both the AAPI community, and our country, forward."