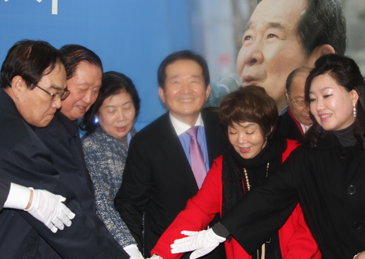 Lawmaker Chung Sye-Kyun (center) cuts the cake with former National Assembly speakers Lim Chae-Jung (left) and Kim Won-Gi (2nd from left), his wife Choi Hye-Gyong (3rd from left), actress Kim Soo-Mi at the opening ceremony of his election office in downtown Seoul of Jongno-gu on March 12, 2016.At right is Madam Kim Sung-Eun, pro-unification activist and cultural event organizer.
The sixth-term lawmaker Chung Sye-Kyun of the Minjoo Party of Korea (formerly Democratic Party) was elected landslide as speaker of South Korea's unicameral National Assembly on June 9, 2016. Earlier on the day Chung was just elected as his party's official candidate for the speaker at a meeting of the Minjoo Party of Korea.Chung became the sixth-term lawmaker after he beat the powerful former Seoul Mayor Oh Se-Hoon of the ruling Saenuri Party at Jongno-gu District at General Election held on April 13, 2016.At the General Election the former chairman of the Democratic Party argued that President Park Geun-Hye's regime has been ruining both the inter-Korean relations and South Korea's overall economy with her wrong policies. The Minjoo Party of Korea, the main opposition party, emerged as the nation's No. 1 party after it routed Saenuri at April 13th General Election.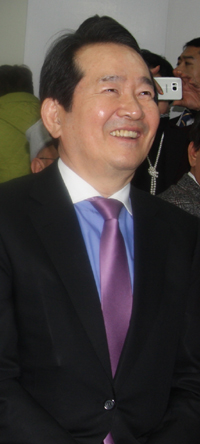 Rep. Chung Sye-Kyun
Chung began his political career in 1995 as a special advisor to then President Kim Dae-Jung, a icon of South Korea's democratization. A year later Chung was elected to the National Assembly on the ticket of the now-defunct New Millennium Democratic Party. Since then Chung has been elected to the Assembly for four times in a row. Now he presents central Jongno-gu district of Seoul as a fifth-term lawmaker.
Within the major opposition party Chung held a series of key posts including chief of planning and policy coordination. In 2002 Chung played a leading role in electing lawyer-turned politician Roh Moo-Hyun as president. Under reform-minded Roh's regime Chung served as commerce minister. Chung later served as chairman of DP, the predecessor of the current The Minjoo Party of Korea, nation's main opposition party. Chung was born in Jinan, North Jeolla Province, in 1950. He majored in law at Korea University in Seoul, graduating from the university with a BA degree in law in 1975. Upon graduation he started his social career as a company worker. He entered the once colossal Ssangyong Business Group, working as its New York City branch manager until 1995. While working for Ssangyong in the Big Apple city, Chung earned a master's degree in business at Pepperdine University in 1990. He received a PhD degree in business management from Kyung Hee University in Seoul in 2004. Briefly Chung worked as a university faculty. He once taught students at Kyungsung University in Busan for a year.