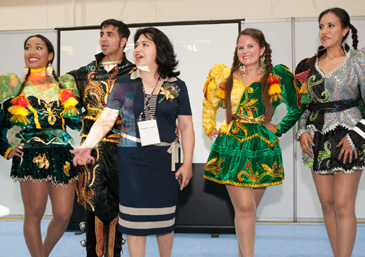 Bolivian Ambassador to S. Korea Guadalupe Palomeque de Taboada (center) sings with Bolivian dance group during the tourism promotion event at COEX in Seoul on June 9, 2016.
Presentation on Bolivian Tourism took place at a seminar room of COEX on June 9, 2016 as part of Bolivia's participation in the 31st Korea World Travel Fair held on June 9-12, 2016 at COEX.The special presentation titled "Bolivia Awaits You" (BOLIVIA TE ESPERA) attracted keen attention from both local news media and tourism industry.As the most important part of the event, Bolivian Ambassador to South Korea Guadalupe Palomeque de Taboada highlighted Bolivia's great beauty, stunning and diverse landscapes, and unique attractions, many of which have already been declared by UNESCO as cultural, historical and natural heritage of humanity.During the presentation, Ambassador Palomeque illustrated to the audience 11 cultural, historical, and natural heritage sites of humanity that one should not miss when visiting that beautiful South American country. This event also was an adequate occasion for a representative of a Bolivian airline in South Korea to share with the audience — how to get to Bolivia from Korea — to the most visited destinations by Korean tourists in South American country which are: La Paz, one of the new wonder cities around the world, in the Andes, Salar de Uyuni, a salt desert where you can almost reach the sky, and Titicaca Lake, the highest navigable lake in the world.
At the end of the event, a Bolivian dance called "Caporales" performed by students from many foreign nationalities was shown to the public, as a way of inviting to the 2017 Oruro Carnival.
The Government of the Plurinational State of Bolivia supports tourism industry through a number of entities within the Ministry of Cultures and Tourism and in this case through the Embassy of Bolivia in Korea, in particular, in order to promote Bolivia's sustainable tourism in the Republic of Korea. In doing so, the Embassy of Bolivia notes that the tourism activity in Bolivia benefits local and indigenous communities and its participation at the Tourism Fair aimed to consolidate and strengthen the image of Bolivia as a top destination of diverse and unique attractions in the world.