Tragedy of Korean War: Hundreds of war refugees climb onto the wrecked "Daedonggang Bridge" in Pyeongyang, capital of North Korea in desperate efforts to flee from the onslaught of Chinese soldiers in early December of 1950. The file photo of legendary war correspondent Max Desfor shows the tragedy of the fratricidal Korean War (1950-53). The AP war photographer won the Pulitzer Prize in 1951 for his photo "Flight of Refugees Across Wrecked Bridge in Korea" taken at the outbreak of the war in 1950.
I first saw Seoul in December of 1951, after landing in Incheon with the 40th U.S. Infantry Division but the story starts back in the U.S. in June of 1950 when the announcement of North Korea's invasion of South Korea.I was a college student in Los Angeles eager to prepare for the coming football season after having played on the school's 1949 undefeated season. But, I was soon interrupted on the practice field, when I was advised to report to the admissions office, that I had a visitor.The visitor was six foot plus Army sergeant, asking why I hadn't reported per orders. I was at a loss, what orders, orders to report for active duty as the California National Guard 40th Division had been called to active duty because of the conflict in Korea. I tried to explain to the sergeant I was inactive because of school and a job at night.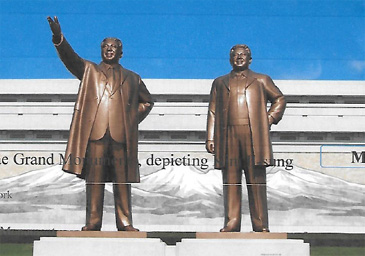 Statues of Kim Il-Sung & Kim Jong-Il: During their visit Don Porter and Softball Coach Mickey Davis were taken to the statue of Kim Il-Sung right after they arrived from the airport and were interviewed on North Korean TV as to their thoughts of the "Great Leader" who passed away on July 8, 1994. Porter of course had been in North Korea in 1952 but little discussion ensued on this as sport was the current subject.
He didn't buy it, and we were off in an Army truck with six other guys for an Armory in Pasadena. I was granted a call to my wife at the Armory, and told her that I was in the Army, she asked "have you been drinking", I explained I was not drinking, and to bring me some clothes for the trip north to Camp Cooke in Northern CaliforniaNow a private in the Army, and in basic training in a camp that was reactivated from World War II along with weeds and snakes sharing the barracks. Surviving Camp Cooke was only the start; next we were bused up to San Francisco and departed under the Golden Gate two days later.Destination Japan: 14 days on an old WWII liberty ship and we ended up in Yokohama, from there on a train north to Sendai, Japan, and Camp Shinglefeiter, where the Division would spend the next nine months.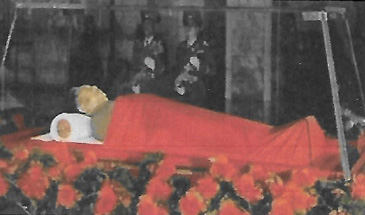 Kim Jong-Il Laying in State: The day after Don Porter and Davis arrived in Pyongyang they were taken to the Kumsusan Palace of the Sun to view the "Great Leader" laying in state in which over a million North Korean citizens passed through the viewing.
It was ongoing training in preparation for eventually heading to Korea which came at the later part of December 1951, on a Landing Ship Drydock (LSD), which stopped off the coast of Incheon on December 30, waiting for the tide to come in, and the LSD dispatching its Landing Ship Tanks (LST) for Incheon shoreline.Riding atop the tanks on the LSTs wasn't bad, but on shore it was the march inland to something called Youngdeungpo, or Ascom City, which was near to Kimpo Airbase. We were there for a week when we were trucked through Seoul on our way north. By the way, the temperature was 30 below zero.The move was to Chuncheon, where Division Headquarters was set up, which was about dozen miles from the 38th parallel and 20 miles to the then Main Line of Resistance (MLR) near Kumwha. Several excursions to the MLR and nightly artillery exchanges were scary but survivable.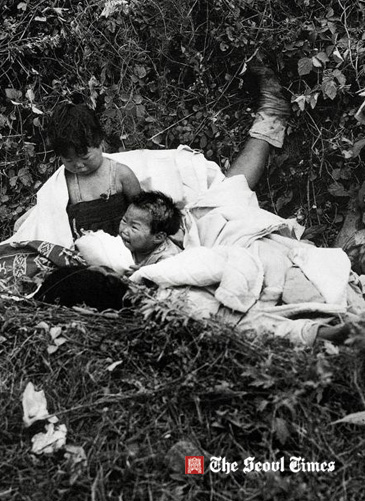 War Orphans Cry by Dead Mother: A young girl and her younger brother cry by their dead mother during the Korean War (1950-53). They were taken to a safe place by British and Australian soldiers passing by.
I remember one visit by a USO troop at our camp that included Bob Hope and others. But with the war winding down in 1952 and hopes for a peace treaty, our Division was rotated home in May of '52, with two day train ride to Busan, and on to Japan, then aboard another liberty ship, and off to San Francisco, and the Golden Gate Bridge in a bright sun light morning, coming home, and to a wife who had not seen or heard from me (except for letters) for 16 months.I returned to a home in Southern California, back to college, and eventually on to full time work and raising a family.My life also took me back to sports, where I competed in baseball, football and softball. Softball took me in to the international element of the sport including the Olympics, along with a career in football officiating including major college and the NFL.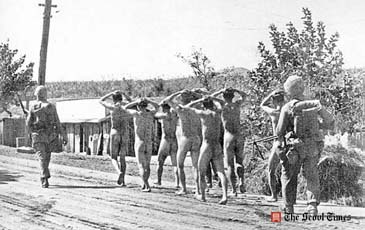 Naked North Korean POWs in Busan: A group of naked North Korean POWs (prisoner of war) are drawn by South Korean soldiers in Busan during Korean War (1950-53). This photo was taken by AP photo journalist Max Desfor.
My first visit back to Korea was in 1980 for a meeting of international sports organizations to initiate an event called World Games. There with my friend Dr. Kim Un-Yong of Taekwondo fame, the World Games were born.My impression of Seoul, since last there in 1951-52, was a city raised from the ashes, almost unbelievable, a city of almost total devastation, now modern and beautiful.I also attended the Seoul Olympic Games in 1988 and again on a number of occasions of sport events and conferences including in 2001 during an Olympic conference where I was ceremonially presented with the Korean War Medal by the Secretary of Defense, lastly in 2014 during the Asian Games in Incheon.Where members of the organizers were able to arrange to find me the exact location of our landing in December 1951 along with a visit to the Korean War Museum in Incheon. In respect to South Korea visits, I also visited North Korea in 1994 for softball coaching clinics, and while there was invited to attend the memorial of Kim Il-Sung.I again visited North Korea in 2004 for meeting with their National Olympic Committee and discussions on further development of softball along with the distribution of softball equipment to several schools and a possibility of a joint softball team for a world championship.Due to too many demands by their Olympic Committee the joint team did not happen. While in North Korea the question of whether I had been to North Korea before these two visits did not come up, but actually it was "three" visits!
The above writer, Don E. Porter, the Korean War's American veteran, plans to visit Seoul on the occasion of Korean War anniversary, on June 15, 2016.