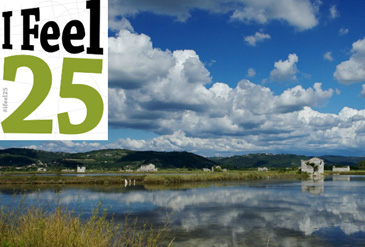 "I Feel 25" campaign
On June 25, 1991, Slovenia gained independence from the former Yugoslavia and hence celebrates its 25th anniversary this year. In this framework, the Slovenian Convention Bureau has started the "I Feel 25″ campaign with the aim to show the impressive development of this young country and to portray the unique Slovenian Energy and freshness. Existing for 25 years now, Slovenia is a country which has evolved considerably in the past years. This young and fresh spirit, the "Slovenian Energy" is noticeably everywhere, among others in the population, the economy, science and art. Slovenia convinces all along the line: "Natural Charm", "24h Smile", "Team Flexibility" and "Personal Touch" – these are the main features characterizing the European country and its partners.Thus, it is no surprise that Slovenia is becoming increasingly popular among tourists as well as appealing for the international MICE industry. More and more event planners choose this country for their congresses, events and incentives – and this due to many reasons: It is a variable and compact destination which is easily accessible (direct flights with Adria Airways from many key places), the prices are reasonable, there are great urban experiences in Ljubljana, sea and relaxation in Portoroz, a beautiful countryside, mountains and lakes. It is a safe country, the infrastructure is well developed, the hotels modern and clean and the partners friendly and very professional: a "legendary hospitality" is one of the essential characteristics. Most importantly: the Slovenians are permanently working on improving their country and its offers.In the context of the 25th anniversary, the team of the Slovenian Convention Bureau has launched the "I Feel 25″ campaign: this year, they will present 25 different stories which are directed to event planners who are looking for an extraordinary destination, for a new and less known place. The stories will cover various important topics, like environment, people, business, science, art, culture, nature and women power. Some articles will highlight the four key features of natural charm, 24h smile, team flexibility and personal touch.Miha Kovačič, Director Slovenian Convention Bureau, about the "I Feel 25″ campaign:
"This year, we're celebrating Slovenia's independence and sovereignity. With the "I Feel 25" campaign we're launching a series of stories portraying our lovely country by showcasing its potential and the exciting opportunities it offers. All that, through our unique Slovenian Energy, that je ne said quoi that makes us truly different. I must say I am proud that Slovenia is a hidden treasure."
About the Slovenian Convention Bureau (SCB):
The Slovenian Convention Bureau (SCB) is a member-based organisation that focuses on the marketing and promotion of Slovenia as a destination for business events including meetings, incentive travel experiences, conferences, events and exhibitions. SCB features more than 60 members, including convention centres, hotels, PCO's and DMC's, the Ljubljana Convention Bureau, incentive and other hospitality service providers. SCB acts as a professional intermediary between meeting planners and suppliers, assisting organisers to select the most appropriate solution for their event. The Slovenian Tourist Board is SCB's strategic partner. Website: www.slovenia-convention.com.
About tmf dialogue marketing:
tmf dialogue marketing enjoys international recognition as specialists for dialogue marketing in the meetings market. With a unique range of expertise, the company supports leading convention bureaus and destinations as well as top-level suppliers in the development of mutually beneficial relationships with planners. Services include content marketing, market research, communication (marketing, sales and pr) and consulting services. tmf also delivers content and copy-writing service for corporations and associations around events and conferences. The agency has offices in Germany and India. tmf newsroom Europe: www.tmf-dialogue.net, newsroom India: www.tmf-dialogue.in. The Experiential Planner – brand in India: www.experientialplanner.com.