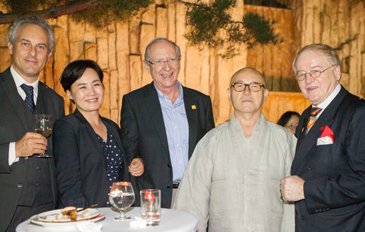 Swiss Ambassador to South Korea Joerg Alois Reding (center) poses with Ven. Lee Ki-Yeon (2nd from right) of Heukseoksa Temple, General Manager Bernhard Brender (right) of Grand Hilton Seoul, and with Marketing Manager Lim Hyun-Bin (2nd from left) of Western International Hotel at Swiss National Day Party held at Grand Hilton Hotel on July 26, 2016.
Swiss Ambassador to South Korea Joerg Alois Reding hosted a dinner party at Grand Hilton Hotel in Seoul's Hongeun-dong on July 26 (Monday) on the occasion of its national day which falls on August 1 every year since 1994.Started at 7:30 p.m. on the day with the fanfare of its military band, the Swiss National Day Party attracted a number of guests including scores of top foreign envoys and friends of Switzerland from nearly all walks of life.The Swiss and Korean military bands and Alpinrose children choir added a special flavor to the dinner reception of the Swiss National Day Party.They played the national anthems both Switzerland and South Korea, followed by a speech of the outgoing Swiss envoy who served as Swiss ambassador in Seoul nearly four years.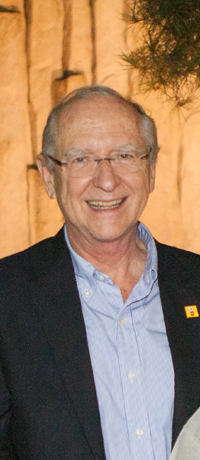 Swiss Ambassador to South Korea Joerg Alois Reding
The envoy has been serving as Swiss Ambassador to South Korea since Oct. 5, 2012.But his personal ties with South Korea harks way back. He came to Seoul 42 years ago as a student.Ambassador Reding had long been a banking experts prior to his diplomatic career. Since his graduation from Simon Fraser University, B.C. Canada, he worked for such international financial organizations as African Development Bank (ADB), African Development Bank, and Inter-American Development Bank as a governor or executive director.He also served as president of Switzerland's bilateral economic commission with such nations as Russia, China, Japan, and South Korea.Switzerland opened it official diplomatic ties with South Korea in 1963. A year ago it recognized South Korea internationally. Switzerland set up ties with North Korea in 1974, but they do not maintain official embassies in each other's capital.South Korea is a major Swiss trading partner. Seoul has also attracted substantial Swiss investment over the years. Both Switzerland and South Korea are also trading members of the European Free Trade Area (EFTA).Bilateral trade volume amount to some 3 billion US dollars. South Korea exports some 400 million US dollars' worth of passenger cars, mobile phones, tires, parts of time pieces while Switzerland exports nearly 2.9 billion US dollars' worth of machinery, time pieces, medicine, and jewelries.Both countries cooperate closely in the field of science and research. They are actively involved in the importation and exportation of machinery, chemicals, and agricultural products.In recent years Switzerland has also become a popular holiday destination for many Koreans.In particular, as recently as July 13, 2016 Swiss President Johann Schneider-Ammann visited Seoul for summit talks with South Korean counterpart Park Geun-Hye. The two leaders discussed bilateral and global issues including North Korean nuclear issue.His two-day visit was the first presidential visit ever made by Swiss leader since the bilateral diplomatic establishment in 1963.Two years earlier in 2014 President Park became the first South Korean president who visited Switzerland.Switzerland or the Swiss Confederation is a federal republic consisting of 26 cantons. Located in Western Europe, it spans an area of about 41,285 sq. kms and has a population of about 8 million people. This picturesque Alpine nation is one of the world's most affluent countries and has a blend of German, French and Italian cultures. Switzerland has been recognized internationally for adopting the policy of armed neutrality. Due mainly to its neutrality it has not been involved in warfare since 1815.Switzerland's historical link to the Korean Peninsula dates back to the end of the Korean War (1950-53), when Switzerland was nominated as a member of the Neutral Nations Supervisory Commission (NNSC) to mediate relations between North and South Korea, which are still technically at war.Since the truce of the Korean War in 1953 some 1,400 Swiss soldiers has served under the banner of NNSC in the Korean Peninsula.
For details or inquiries contact the Swiss Embassy in Seoul at 02-3704-4725.<.i>