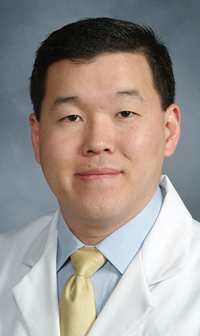 Dr. Benjamin Lee MD
QUEENS, NY (August 17, 2016) — Dr. Benjamin E. Lee has been appointed chief of thoracic surgery at New York-Presbyterian/Queens and joined Weill Cornell Medicine's faculty as an assistant professor of clinical cardiothoracic surgery, effective July 1. Dr. Lee adds expertise in the diagnosis and treatment of disorders and diseases of the chest, with a focus on benign and malignant tumors of the lungs, esophagus and the mediastinum — the region between the lungs. "Dr. Lee is a distinguished thoracic surgeon and leader, and I am thrilled that he will be joining NewYork-Presbyterian/Queens as chief of the Division of Thoracic Surgery," said Dr. Leonard Girardi, chair of the Department of Cardiothoracic Surgery at Weill Cornell Medicine and cardiothoracic surgeon-in-chief at NewYork-Presbyterian/Weill Cornell Medical Center. "He is the best choice to lead our team as we continue to grow the division and provide the finest, innovative care to our patients." Dr. Lee and the physicians of the Division of Thoracic Surgery are trained in cutting-edge approaches and the latest minimally-invasive surgical treatments such as video-assisted thoracoscopic surgery (VATS) and robotic thoracic surgery. These new developments in minimally-invasive surgery allow for the individualized care of each patient resulting in less pain, faster recovery and better outcomes. The department specializes in a multitude of malignant and benign conditions such as lung cancer, esophageal cancer, large hiatal hernias, hyperhidrosis and thoracic outlet syndrome."Dr. Lee's wealth of expertise in complex and minimally invasive surgeries will continue to elevate the level of clinical care we deliver, lessening recovery time and pain for our patients," added Dr. Nasser K. Altorki, chief of the Division of Thoracic Surgery at Weill Cornell Medicine and NewYork-Presbyterian/Weill Cornell Medical Center. "We are pleased to welcome Dr. Lee to NewYork-Presbyterian/Queens, who will inspire and educate new leaders to care for our diverse patient population so they can live healthier lives."Dr. Lee joins NewYork-Presbyterian/Queens from Valley Health System, a leading health system in New Jersey. At his previous employer, he was noted for his skills in robotic and video assisted thoracic surgery through smaller incisions, called ports, instead of utilizing larger, more traditional chest incisions. This type of surgery reduces the amount of pain experienced by patients, and the duration of time needed for recovery. This complements the current trajectory of Department of Cardiothoracic Surgery at NewYork-Presbyterian/Queens."It is an honor to return to Queens, serve an underserved Asian population with whom I share a common heritage, and lead a subspecialty of a renowned cardiothoracic team," Dr. Lee said. "I look forward to leading our thoracic surgery division and offering preventive care to populations that are prone to ailments of the lung and chest, and to conduct cutting-edge surgical techniques that reduce pain and recovery time for patients."Benjamin E. Lee, M.D., received his Bachelor of Arts degree in biology and religious studies from Duke University in 1995. He completed his medical degree in 2001 at New York Medical College and his general surgery residency in 2007 at the University of California at Davis Medical Center. From 2004 to 2005, he completed a thoracic surgical research fellowship at Memorial Sloan Kettering Cancer Center in New York City and was awarded a Society of University Surgeons Traveling Fellowship Award in 2006. Following his general surgery residency, he returned to the east coast to complete a cardiothoracic surgery fellowship at NewYork-Presbyterian/Weill Cornell Medical Center in 2009. He joined The Valley Hospital's medical staff in 2009 prior to his current appointment.
NewYork-Presbyterian/Queens
NewYork-Presbyterian/Queens, located in Flushing, New York, is a community teaching hospital affiliated with Weill Cornell Medicine that serves Queens and metro New York residents. The 535-bed tertiary care facility provides services in 14 clinical departments and numerous subspecialties, including 15,000 surgeries and 4,000 infant deliveries each year. With its network of affiliated primary and multispecialty care physician practices and community-based health centers, the hospital provides approximately 162,000 ambulatory care visits and 124,000 emergency service visits annually. For more information, visit nyp.org/queens
NewYork-Presbyterian
NewYork-Presbyterian is one of the nation's most comprehensive healthcare delivery networks, focused on providing innovative and compassionate care to patients in the New York metropolitan area and throughout the globe. In collaboration with two renowned medical school partners, Weill Cornell Medicine and Columbia University College of Physicians & Surgeons, NewYork-Presbyterian is consistently recognized as a leader in medical education, groundbreaking research and clinical innovation.NewYork-Presbyterian has four major divisions: NewYork-Presbyterian Hospital is ranked #1 in the New York metropolitan area by U.S. News and World Report and repeatedly named to the magazine's Honor Roll of best hospitals in the nation; NewYork-Presbyterian Regional Hospital Network is comprised of leading hospitals in and around New York and delivers high-quality care to patients throughout the region; NewYork-Presbyterian Physician Services connects medical experts with patients in their communities; and NewYork-Presbyterian Community and Population Health features the hospital's ambulatory care network sites and operations, community care initiatives and healthcare quality programs, including NewYork Quality Care, established by NewYork-Presbyterian, Weill Cornell and Columbia.NewYork-Presbyterian is one of the largest healthcare providers in the U.S. Each year, nearly 29,000 NewYork-Presbyterian professionals deliver exceptional care to more than 2 million patients.For more information, visit www.nyp.org and find us on Facebook, Twitter and YouTube.
Weill Cornell Medicine
Weill Cornell Medicine is committed to excellence in patient care, scientific discovery and the education of future physicians in New York City and around the world. The doctors and scientists of Weill Cornell Medicine—faculty from Weill Cornell Medical College, Weill Cornell Graduate School of Medical Sciences, and Weill Cornell Physician Organization—are engaged in world-class clinical care and cutting-edge research that connect patients to the latest treatment innovations and prevention strategies. Located in the heart of the Upper East Side's scientific corridor, Weill Cornell Medicine's powerful network of collaborators extends to its parent university Cornell University; to Qatar, where an international campus offers a U.S. medical degree; and to programs in Tanzania, Haiti, Brazil, Austria and Turkey. Weill Cornell Medicine faculty provide comprehensive patient care at NewYork-Presbyterian/Weill Cornell Medical Center, NewYork-Presbyterian/Lower Manhattan Hospital and NewYork-Presbyterian/Queens. Weill Cornell Medicine is also affiliated with Houston Methodist. For more information, visit weill.cornell.edu.