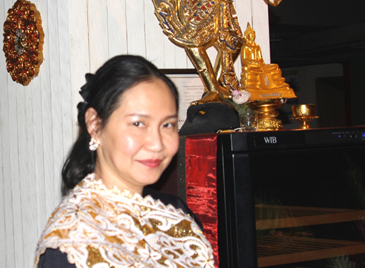 Madam Malliga Vanda, president of Thai Orchid in Seoul
On August 27-28, 2016 Seoul citizens will have a chance to taste both Thai delicacies and its martial arts performance and other Thai cultural events in Cheonggy Plaze in downtown Seoul, Madam Malliga Vanda said recently.Madam Malliga Vanda, who is de-factor cultural ambassador of the "Land of Smile," has been trying her best to promote Thai food, one of world's four best delicacies, in South Korea for the some 20 years or so.Madam Vanda said that this year's Thai Festival is particularly meaningful as the most important cultural event marking the 10th anniversary of the establishment of sister city relations between Bangkok and Seoul.Vanda, the owner of Thai Orchid in Seoul's Itaewon area and three other Thai restaurants in Pyongtaek and Osan areas south of Seoul, will be serving various Thai dishes at Booth No. 6 on the Cheonggye Plaze where beautiful and fresh Cheonggye stream runs through the heart of downtown Seoul.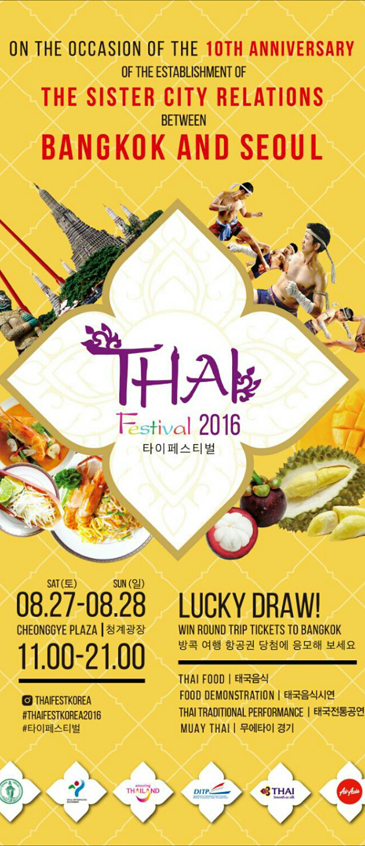 "Thai Festival 2016" in Seoul
"Thai Festival 2016" will officially be hosted by the Royal Thai Embassy and Thai government agencies.The festival starts at 11 a.m. and runs till 11 p.m. on both August 27 and 28.Vanda said that highlight of the "Thai Festival 2016" is Muay Thai show by internationally famed Thai boxer "Saenchai Sor. Kingstar,"one of the best Muay Thai boxer and reigning champion.Muay Thai matches will take place frequently and daily organized by the Korea Muay Thai Association.Other Thai cultural performances including a unique concert of musical instrument by the winner of several trophies and gold medals from the 20th World Championships of Performing Arts, Tachaya "Keng" Patumwan.Visitors can sample various Thai delicacies as many other Thai restaurants are taking part ion in this festival.The participating Thai restaurants are Thai Orchid, Golden Thai, Thai Square, Bua, Amazing Thai, Saint Augustin, Rang Thai, Siam, Amazing Nongkhai.A variety of Thai food, fruits, and other Thai products will be available at the festival. There will also be a food demonstration by famous Korean chef and the winner of Iron Chef Thailand. Free fruits, Leo beer, and Chang beer from Thailand will also be available for visitors' tasting throughout the festival.Lucky participants will also get a chance to enjoy free round-trip to Bangkok. Two round-trip tickets and other valuable prizes are included in the luck draw.For details or inquiries contact the Royal Thai Embassy, Seoul.