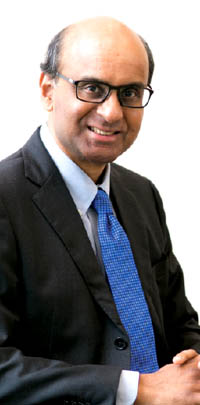 Shri Tharman Shanmugaratnam
Prime Minister Modi of India is charging ahead towards global age thinking, and he is catapulting India in the global age spotlight. It is India's vision to reach image supremacy of innovative excellence and to master nouveau entrepreneurialism. How will Expothon Strategy fit in the global agenda? Early last year a new institution was created, the National Institution for Transforming India or NITI. This is a new and innovative evidence-based think tank set up to guide India as the country and its leaders develop strategies that will transform and move India to global success. His Excellency, Shri Tharman Shanmugaratnam, deputy prime minister of Singapore lectured at a huge NITI gathering in the presence of India's Prime Minister Modi in August 2016. In this is an important must see YouTube video Singapore's deputy prime minister addresses NITI Ayog's Transforming India program. The deputy prime minister's message to NITI is important because his thoughts address many of the challenges India will face as it moves forward with its vision. The deputy prime minister's address is a bold acknowledgement of the current demands on nations facing global age challenges and it confirms the following highlighted concepts: • Why not quadruple exportability as the world awaits quality products and services.• Why not create national entrepreneurial manifesto; it is essential for global success. • Why not use COPCAM code: constant-online-presence-constant-advancement-mode. • Why not balance 'hard asset centricity' with 'soft power asset management'• Why not understand 'the age of abundance' so critical for understanding innovation • Why not use technocalamity; a free-universe of technology-solutions all over the world Smart nations will not be 'class-room trained' but rather 'occupationally trained'. To balance an Entrepreneurial Manifesto for Nation a solid understanding is an absolute prerequisite.Entrepreneurialism is not a course, a degree or a written methodology; it's all about understanding and experiences acquired by real living encounters; it's not 'explicit knowledge' like learning accounting, but rather 'tacit knowledge' like learning to swim or ride a bike. Human development is not measured in just degrees and certifications but rather in gaining real occupational expertise and transformational entrepreneurialism. Education is at its best when left alone to simply grow mind and knowledge, real life occupational experiences are best in the economical battlefields where creating prosperity and jobs are the prime goals. We already have an overly certified and educated while extremely under experienced youth population amongst all of the developed nations. What can new economies do? No New Budgets Required:Most of the above do not require any new special budgets or massive funding but rather deeper understanding of key issues and deployment global age execution. Most of the infrastructure is already there and all it requires rapid deployment at fraction of costsThe lecture by Excellency Shri Tharman Shanmugaratnam, points a smooth sustainable long- term strategy to achieve perpetual grassroots level prosperity. India has taken this message to heart. Now that the game plans for India have been laid out and the new language and thoughts have been incubated, the questions are how to deploy and bring the massive changes into effect.The following popular ideas are all based on pragmatic deployment and the creation of global age thinking. It is a 'budget-less processes' but it does demand 'global age execution.' The question remains, "how many nations have declared a massive national transformation mandate and how many of these nations have the will to execute these mandates. Support Material & Execution Models: Below are some of the deployment details and execution models for nations wishing to achieve image supremacy of innovative excellence and nouveau entrepreneurialism? THE EXPOTHON STRATEGY FOR QUADRUPLING EXPORTABILITY – www.mentorian.com What can be achieved with extreme economical and fast track deployment basis to make India further shine and claim image supremacy of innovative excellence and nouveau entrepreneurialism?
Key objectives:
1-How to uplift 1000 to 100,000 high potential small medium and large local enterprises?
2-How to train 1000 to 100,000 founders, owners and job creators to become global age experts?
3-How to create massive transformational changes towards new global age models?
4-How to select USD$10-100million worth high potential enterprises to quadruple their exportability Fact: The world can easily absorb unlimited exportable ideas in unlimited vertical markets.
Fact: The well designed innovative ideas are worthy of such quadrupled volumes.
Fact: The entrepreneurial and dormant talents of India are capable of such tasks.
Fact: The new global age skills, knowledge and execution are now the most critical and missing links.Such exclusive deployments are not "One Single Day Photo-Op Events" but rather they create a full year round of 365 days of rigorous coaching and training to bring transformational agenda and this is how the business owners learn and engage on the following;Global-age Execution:
Participants learn speed on how to achieve in 365 hours what they normally achieve in 365 days.Global-age Thinking:
Participants learn how to organize and operate their businesses like multinational enterprise.Global-age Knowledge:
Participants learn and deploy the Image Supremacy Protocols of innovative excellence.Global-age Prosperity:
Participants learn about wide open global markets for exportability and alliances.Global-age Business:
Participants learn how to progress with 'soft power assets" along with 'hard asset centricity'The World Needs a Stronger and Prosperous India The world also needs other nations to follow India's model and establish grass root prosperity. As more nations become part of this bold and sensational trend there will be less chaos in the world. The new global age arrived some time ago; now only nations with the vision to tackle and execute and global age speed will move forward. Everything needed for massive global triumph is ready and available. Whatever can be dreamed can be accomplished and India's success in just around the corner. Question One: Are the targeted regions or verticals blessed with 1000-10,000 high potential entrepreneurs with ownership of high potential enterprises anxious to reach upper stratosphere of innovative excellence by transforming into global age thinkers and executioners? Is the Local or National leadership ready to recognize such optimized and hidden entrepreneurial talents as the biggest and most timely assets of the nation? Question Two: How can few Top Leaders from Public or Corporate arenas get identified to act as Chair and Managing Directors like key heads on this local/national program while EXPOTHON teams brings world-class expertise with full TURNKEY deployment programs and technology? As a national agenda, is the leadership ready to engage and debate with world-class thought leadership on such crucial prosperity and job-creation topics at the highest level and share openly with the nation? Role of Local Government And National Economic Development Bodies:
Participating nations, like India can evaluate the program, conduct due diligence, identify special markets, select timelines and activate deployment in conjunction with local bodies. The full program calibrated to engage and actively train owners of 1000 high potential small medium businesses can be activated on 100 days notice. Wanted: Managing Directors
Applicants are being selected from various countries around the world to lead and manage senior Cabinet level corporate boardroom presentations in various top capital cities. They will also oversea the lead deployment of a major Expothon Program calibrated for a designated region or specific market of that country. Applicants must be active or retired high power entrepreneurial executives with vested interest in creating massive local prosperity and helping increase the national GDP. This is a high profile deluxe platform for deluxe minds entering global age. Mentorian program is currently engaged in several top level discussions in dozen plus markets around the world and looking for highly reputed financially independent individual to act as Managing Director and play a very important role in local high profile Expothon Strategy program.
Mentorian Worldwide is a Canadian organization and developer of the Expothon Strategy global program. It is equipped with 100 experts in innovative excellence and Masters of Image Supremacy Protocols ready to mobilize and transform 1000-10,000 owners of SMEs into global age experts. Our tactical and combative battlefield trainings modules are delivered in simultaneous synchronization
and are integrated in order to achieve global age skills. ABOUT NASEEM JAVEDNaseem Javed is a corporate philosopher and founder of the Image Supremacy Movement. He is a world recognized authority on global digital trends, image complexities how they impact business performances and create global age skill shifts. He is founder of ABC Namebank, a world-class speaker, syndicated columnist and author of several books. His recent work on entrepreneurial leadership and innovative performance Mentorian Worldwide www.mentorian.com is getting global attention. Contact him on LinkedIn: https://www.linkedin.com/in/naseemjaved