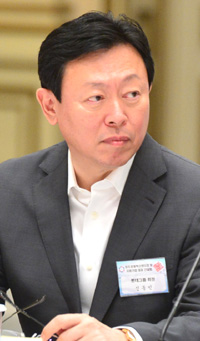 Lotte Group Chairman Shin Dong-Bin (ãôÔÔÞ¯)
Lotte Group Chairman Shin Dong-Bin (ãôÔÔÞ¯) is likely to be arrested as South Korea's prosecution asked judges to issue the arrest warrant against Shin on charges of embezzlement and breach of trust, reported Chosun Ilbo, a mass-circulation elite paper, on Sept. 26, 2016.
Shin is known as Akio Shigemitsu (ñìÎÃá¹Üý) in Japan where he was born and grew up. He is the second oldest son of Lotte founder Shin Kyuk-Ho (ãôÌ«ûÇ). Shin Gyuk-Ho is called as Takeo Shigemitsu (ñìÎÃÙëê©).Senior Prosecutor Cho Jae-Bin of the Seoul Central District Prosecutors Office revealed on the day that Shin is suspected of embezzling 170 billion won (some 1.5 billion US dollars).Earlier on Sept. 20, 2016 Shin was summoned to the prosecutor's office for investigation. He was probed for 18 hours on the day. He and his Lotte Business Group have been under investigation since June 10, 2015 when the prosecution executed a search seizure warrant against Lotte. Shin was suspected of causing 100 billion won (some 90 million US dollars) of loss in Lotte companies's share trading and asset transaction process. He was also suspected of embezzling 10 billion won (some 9 million US dollars) of company money under the pretext of employees' payment.Last year Shin made lots of fuss by kicking out of Lotte his older brother Shin Dong-Ju and his own 95-year-old father Shin Kyuk-Ho, founder of Lotte Group.