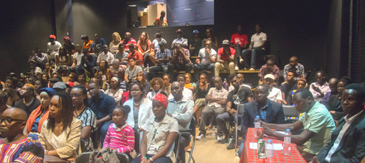 Kenya Community in Korea (KCK) held an Annual General Meeting (AGM) during the Chuseok holiday on Sept. 16 (Friday), 2016, in Seoul.
Kenyans in Korea have elected their first female chairperson to lead the association for the next two years. Ms. Joy Mworia, the new chair, takes over from Dr. Benson Kamary whose term has ended. Ms. Mworia's election seemingly follows a trend of "rising women" in leadership such as England's Teresa May, Germany's Angela Merkel, Korea's Park Geun Hye and America's Democratic Party candidate Hillary Clinton.Kenya Community in Korea (KCK) held an Annual General Meeting (AGM) during the Chuseok holiday on Sept. 16 (Friday), 2016, in Seoul. This year, more than150 Kenyans and friends gathered including Kenya's Ambassador H.E. Mohamed Gello, Deputy Head of Mission, Amb. Gathoga Chege, Embassy staff and their families. The meeting took place at Seoul Citizens Hall in City Plaza.In his address, H.E Amb Mahamed Gello reminded Kenyans that they are the best 'ambassadors' for Kenya. He encouraged them to be good representatives of the Kenya community at personal levels. This, he said, would make people who do not know Kenya to understand Kenya well form their interactions. He further promised full support for the Kenyans asserting that he will put all efforts to ensure that he attends to as many activities as possible where Kenyans are actively involved.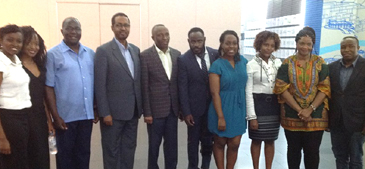 Kenyan Ambassador to S. Korea Mohamed Gello (4th from left) poses with others at Kenya Community in Korea (KCK)'s Annual General Meeting (AGM) in Seoul.
The outgoing KCK Vice-Chairman who has been the Acting Chairperson, Mr. Jackson Ngari, thanked the members for their active participation in various activities and contributions leading to a very successful end of term. He outlined the achievements that the team has been able to realize, based on the firm foundation that was laid by the founding fathers on KCK since 2009. During the meeting members congratulated students who have graduated during the year in term, 1. Joy Mworia-International and Area Studies Pukyong National University, 2. Cindy Seda-Psychology Ehwa Womans University 3. Beatrice Anyango Oketch- Film Industry- Kyungsung University, 4. Mark Brian Otieno-Information Security- Pukyong National University, 5. Juliet Akoth- Computer Science- Sookmyung University, 6. Anntisiana Wacheke Kiarie-International and Area Studies (Trade)- Dong-A University, 7. Leonard Murungi-MBA Hoseo University.On a KCK member Juma Nicholas Ochieng is admitted at Suncheongnyang University Hospital at cheonan and has a huge hospital bill and KCK continues to seek any form of support by well wishes. The members raised 1.5M on this day in support of Nick Medical bill.Some of the KCK achievements in the last two years include: launching of official website, collection of comprehensive data of Kenyans in Korea, publishing "The Big Book", a collection of academic papers by KCK members, strengthen regional branches by recognizing leaders and their committees and expanding KCK activities to regions, amending constitution to introduce Governing Council and collaborative marketing activities with the Kenya embassy through exhibitions. KCK also initiated dialogue with other Diaspora groups to form an Alliance of Asia Chapter with KIJA (Kenyans in Japan) and Kenyans in China.KCK is governed by an executive board democratically elected by the members after every two years. The Outgoing Executive Board comprised of: Dr. Benson Kamary – Chairperson, Jackson Ngari – Vice – Chairperson, Gathuka George – Secretary General, Ann Wambui – Secretary General, Kitetu Geoffrey – Treasurer, Kwamboka Ngoko – Projects Coordinator, Cindy Seda – PR Officer, Egerton Omwondo – Assistant Treasuer, Pierrinah Kagweni – Assistant Projects Coordinator and (2) Ex-Officio, Dr. Patrick Ntonja and Christine Kathurima LeeThe KCK Election Board instituted in February 2016 was led by Joshua Wera who spearheaded the elections during the AGM. The incoming Chairperson Joy Clara Mworia won the hotly contested seat with 58% of the votes cast, The Executive office bearers who were declared winners on the same day, are Vice-Chair, Leonard Murungi Lenny, Secretary General Jane Wanjiru Mbagara, Treasurer Creavhon Okech, Projects Coordinator Hillary Were, Dep. Secretary General Abulua Opola, PR Officer Valentine Wanjiku, DEP. PR Officer, Daniel GathumaThe Kenyan gathering coincided with the Korean Chuseok or "Thanksgiving Holiday" and had a lot of similarities with the purpose of Chuseok. During Chuseok, Korean family members gather from far and wide, even from abroad, to come and celebrate what is traditionally understood as harvest celebrations. KCK members too travelled from far and wide to come and participate in this meeting. KCK officially has five branches including Seoul, Cheonan, Busan (and Ulsan co-opted), Daejeon, Daegu, Gwangju and other cities.Noting that during this holiday many Koreans visit families and journey to their hometown in order to have quality family time. There are many cultural customs that go into celebrating Chuseok, including special food preparation. As for Kenyans, the AGM was a place to feel at home meeting fellow countrymen and women and internalizing true value for being a Kenyan family abroad. Throughout the year KCK members have come together for various activities that were reported during the AGM. Some of the previously held events include: Seollal (Lunar New Year) meeting when the elections board was formed, Tujuane Festival where Kenyan had a chance to go for a picnic at Cheonan Branch, the East African Sports day at Seoul National University of Education and the Annual Retreat in Busan which was seen by many as the highlight of the yearly calendar. Other activities that were captured by the executive report were the KCK-Embassy Exhibitions that have taken place since February, African Innovation conference at KDI, dinner and concert at Bethany all within the season in report. About the Author, Jackson Ngari, the Vice Chairman of KCK-Executive Board is a Ph.D. student at Torch Trinity Graduate University, Seoul Korea.
You can reach Jackson on jackngari2010@gmail.com