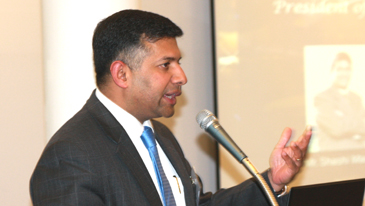 Indian Ambassador to South Korea Vikram Doraiswami
The Chairman Dilip Sundaram of the Indian Chamber of Commerce in Korea (ICCK) will host a seminar "Investment Opportunities in Gujarat" at Shilla Hotel in Seoul on Oct. 20, 2016, ICCK announced recently.The seminar will begin at 9:30 a.m. on the day and the welcome address will be made by Chairman Sundaram.At 10 a.m. a video film on "Investment Opportunities in Gujarat" will be shown to be followed by a special address by Indian Ambassador to Seoul Vikram Doraiswami.At 10:30 a.m. "Presentation on Destination Gujarat" will be made by Manoj Kumar Das, IAS principal secretary of Food, Civil Supplies & Consumer Affairs Department of Government of Gujarat.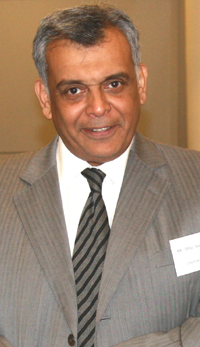 ICCK Chairman Dilip Sundaram
At 11 a.m. an address will be made by Arun Kumar Jagatramka, chairman and managing director of Gujarat NRE Coke Ltd.
At 11:20 an address will also be delivered by K R Srivastava, CEO of Specialty Chemicals Division, UPL Ltd.
After 15 minutes of interaction a concluding remarks will be made by Park Jong-Baek, partner of Bae, Kim & Lee LLC (BKL).The networking lunch hosted by the government Gujarat will follow the brief photo session.After the lunch B2B meeting will be held at Lilac Room of the hotel.The seminar will be held under the title of "Vibrant Gujarat Road Show."The Indian business delegation from the Indian state of Gujarat visited Japan before they headed for Seoul, Korea.The delegation is aimed at meeting leading companies and senior government officials in both Japan and South Korea.The government of Gujarat has institutionalized a biennial event "The Vibrant Gujarat Global Summit" which offers a common platform for knowledge sharing, strategic partnerships and investment inflows.The high-level delegation are visiting Japan and South Korea on Oct. 17-21, 2016 as part of the international outreach program.In South Korea the delegation focuses on automobiles and auto components, electronics, heavy machinery, chemical and petrochemicals, ports & maritime, shipbuilding, healthcare and education.The "Vibrant Gujarat Delegation" is composed of representatives from various Indian organizations and various sectors of industry including mining and energy, chemicals, tourism, banking and financial services. The delegation also include representatives of the government of Gujarat and Indian chambers.The "Vibrant Gujarat Road Show" is aimed at strengthening the economic and social ties between the countries and to promote "Vibrant Gujarat Global Summit 2017."With the theme of "Gujarat - Connecting India to World," the road show will feature various activities involving leading Japanese and South Korean companies, industry associations and government officials, strengthening the cause of development and promote cooperation between Japan, South Korea and the state of Gujarat.
About Vibrant Gujarat Global Summit:
The Vibrant Gujarat Global Summit, which started in 2003 to rekindle the pace of investments in the state, has since established itself as one of the most important business events in the country.Vibrant Gujarat Global Summit is an example of the visionary approach of the then Chief Minister and now Prime Minister of India towards inclusive and sustainable development by ensuring policy coherence and effective investment promotion.Far from the regional investment fair that characterized the first Summit in 2003, the biennial Summit has today become a unique forum for ideation, knowledge sharing, networking, explore business opportunities, sign cooperation agreements and partnerships, while setting the policy agenda to meet some of the current national challenges.Having successfully organized seven constructive summits, government of Gujarat, as part of its journey towards sustainable long-term growth and inclusive development is organizing the 8th edition of the Vibrant Gujarat Global Summit from the10th to 13th of January 2017 at Mahatma Mandir, Gandhinagar.The Summit will bring together Heads of States and Governments, Ministers, executives from the corporate world, senior policy makers, heads of international institutions and academia from around the world to further the cause of development and promote cooperation.