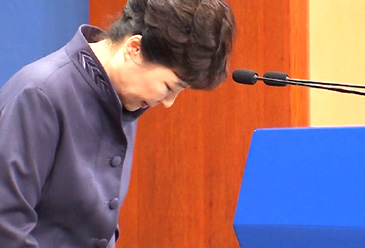 South Korea's beleaguered President Park Geun-Hye was making a deep bow while she was making an official apology to the public over the case of "Choi Sun-Sil Gate" at her presidential office of Blue House on Nov. 4, 2016.
Former Chairman of the ruling Sanuri Party Kim Mu-Sung demanded that the staggering current President Park Geun-Hye relinquish her party membership in a press conference held at the National Assembly on Nov. 7, 2016.He and other senior members of the conservative party have been pressuring Park to step down from power over the so-called "Choi Sun-Sil Gate," where the Choi, presidential confidant, abused presidential power.Faced with strong pressure to step down from the South Korean masses and opposition parties Park's government has been driven to the point of paralysis or total collapse.On Nov. 4, 2016 Park made the second official apology to the public at press conference televised nationwide, failing to soothe the public's boiling anger and demand for Park to resign.
Kim, a strong presidential hopeful for 2017 election, has long been sidelined from the inner politics of Park's cronies represented by Choi, whose religious father greatly influenced the late strongman Park Chung-Hee and his daughter Park Geun-Hye.In the press conference Kim asked for Park's immediate resignation as the Saenuri party member to save the total collapse of the conservative camps. "President Park destroyed the spirit of our Constitution whereas she should be the one who protect it," Kim roared in a prepared address. " Kim also demanded that Park step down from the power immediately and accept the proposal of bilateral neutral cabinet asked by the opposition parties and even some of the Saenuri members."Impeaching Park who violated the constitutional values could lead to the catastrophic results for both Park and for the people," Kim warned. "Park should immediately accept the notion of neutral cabinet proposed by the opposition parties.He also demanded that Park cancel her recent appointment of Prof. Kim Byung-Jun as the prime minister and give her appointment right to the opposition partieis at the National Assembly.In the last presidential election Kim played a leading role in electing the current President Park Geun-Hye.Last Saturday (on Nov. 5, 2016) as many as 200,000 South Korean men and women including middle school students poured out on the downtown street at Seoul's Gwanhwamun in anti-Park demonstration.Over a flurry of endless revelations of wrongdoings and illegal abuse presidential powers the job approval rating for Park plummeted to as low as 5 percent, the lowest in the history of South Korea.