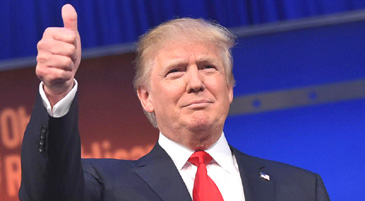 US President-Elect Donald Trump
The US President-Elect Donald Trump is a billionaire, the owner of countless real estate properties, and a man best-known by the American population as a reality television star. In 2016, he was elected the 45th president of the United States.Though few would guess it, Donald John Trump was born in Queens, New York City. This was, of course, not the Queens most people would think of today. This was 1946 Queens, part of a vastly different New York City and a vastly different America. It is to this America that Trump has hearkened throughout his presidential campaign, with "Make America great again" becoming nothing less than his rallying cry and campaign motto.In the early 70s, Trump began his foray into Manhattan real estate development with, as he has infamously noted, a "small" million-dollar loan from his father, a real estate mogul in his own right. Within a decade, he had opened the Grand Hyatt, becoming NYC's premiere real estate developer. Though this of course made him quite well-known, he would not become a household name in America until more than two decades later.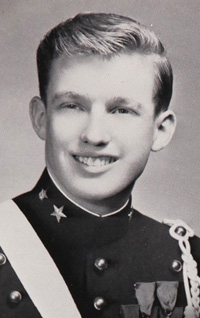 A young Donald Trump
It was not his massive wealth, massive buildings, or massive ego that made the words "Donald Trump" produce a face in the mind of the average American. In a plot twist worthy only of contemporary American politics, the 45th president of the United States came to fame as nothing other than a reality television star.Premiering in 2004, NBC's "The Apprentice" became something of a cult classic among America's TV-glued populace, where its many colorful personalities, including Trump himself, attracted viewers and schadenfreude alike as competitors sought to show themselves the savviest businessperson in the room.I doubt anyone could have guessed Trump would become a contestant in America's political remix of "The Apprentice", otherwise known as the 2016 presidential race.In 2015, Trump, a lifelong Democrat and friend of the Bill and Hillary Clinton, became Republican almost overnight, entering into a dogfight with Hillary, wherein he was seen as the political equivalent of Marmaduke.But, as the months wore on, one by one each Republican hopeful for the presidential nomination heard something along the lines of "You're fired." Trump would be named the nominee in July 2016, as would Hillary among the Democrats.If Trump was Marmaduke, a bumbling, sloppy excuse for a populist, Hillary was Cujo, a ruthless career politician and favorite in this fight. A killer, in at least a figurative political sense.But as killers go, their ability to keep their hands clean is always a concern. While Trump's past sins of misogyny and sexual misconduct came to light, Hillary's indiscretions seemed to be of a different kind altogether, putting national security and countless lives in mortal danger. This would eventually undo her.As an African-American man myself, the expectation is that I fear Trump, especially now that he has accomplished his goal of presidency on the wings of unfiltered pandering, often at the expense of minorities, women, and anyone else who stood in his way. It was a sight to behold, but nothing American politics hadn't seen before, at least from my perspective. So I did not fear him as much as I was uncertain of his true motives.Today, as I hear his victory speeches contrasted against the somewhat alarmist reaction from his opponents, I am conflicted. Is Trump the liberal billionaire looking to join whatever entity he must in order to maximize his power and profits, including reality television or the Republican party?Or is he truly the madman that he is often accused of being, a bigot who will turn back the clock in American government and culture to a time that was particularly precarious for minorities, women, and all other disadvantaged people?Only time will tell.