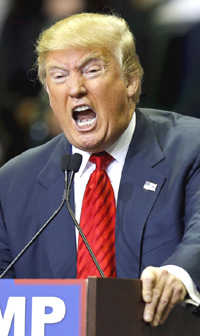 Donald Trump
Donald Trump's victory in the US presidential election is expected to significantly change the US-South Korean relations, including its military alliance, according to the local South Korean experts and pundits.First, the former real estate mogul and TV personality has several times vowed that he would change the US-South Korean military ties drastically.
In reality, Trump said that he would withdraw US forces from South Korea unless the Seoul government increases its portion of military expenditure for stationing American soldiers in South Korea.Trump went to say that even if war breaks out on the Korean Peninsula, the US will not involve itself in the war.His comments, if they come to fruition, would seriously damage or change the basis of the military alliance between US and South Korea that has existed since the days of the Korean War (1950-53).Currently, South Korea pays 920 billion won to the US as its portion of the joint military expenditure for stationing US forces in South Korea. This sum is about half of the total amount.Second, with his victory in the election, the role of China regarding the North Korean nuclear issues will sharply increase, local experts warn. They say that US government under Trump's leadership would use China as leverage for influencing North Korea and solving its nuclear problems.While Trump was campaigning as the Republican candidate, he excoriated North Korean leader Kim Jong-Un, calling him "a maniac or a lunatic." Trump was unwilling to recognize Kim as the country's leader.But pundits expect that Trump might show a totally different approach toward North Korea after being elected.They say that Trump might make the surprising suggestion to meet with Kim.
Lastly, Trump would overhaul the basics of economic agreement reached between US and South Korea. The Free Trade Agreement (FTA) took effect in 2012.
.
The local Washington watchers worry that Trump would try to even nullify the whole FTA altogether.Actually, Trump in the past said that he would decare the FTA null and void as soon as he gets elected, calling it a "perfect and total disaster."Trump argued that the US-South Korea FTA is leaving American manufacturers without jobs.