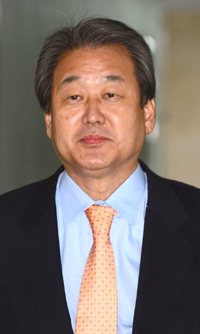 Rep. Kim Moo-Sung
Former Chairman Kim Moo-Sung of South Korea's ruling Saenuri Party declared on Nov. 23, 2016 that he would not run for 2017 presidential election instead he said that he would do his best to impeach President Park Geun-Hye.In a press conference held on the day at the National Assembly Rep. Kim said that he would reform the current Constitution under which too much powers are concentrated on president."I will stop dreaming about becoming president, my last dream, to shoulder the grave responsibility for the current political turmoil caused by President Park," Kim said.Kim contributed greatly to the election of the current President Park four years ago and became chairman of the Saenuri Party.But, he distanced himself from President Park over the rights to appoint Saenuri members as official party candidates in the past General Election held on April 13, 2016. He complained that president overly influenced her power on his rights to choose the parliamentary candidates in violation of the democratic rules of the party.
Kim cited his immense responsibility for the current political chaos and national catastrophe as the reason for his announcement for his not seeking presidency."I will dedicate myself to making the nation not to fall into the failure even though President Park messed with her presidency," he said.He also mentioned that he would do his utmost to remedy the corrupt parts of conservative camps caused by President Park."President Park should be impeached because she violated the Constitution," he roared. "I will lead the impeachment process at the National Assembly"He also apologized to the general public for their confusion and pain caused by so-called "Choi Sun-Sil Gate," committed under Park's presidency.His responsible behavior contrasts with that of the current Saenuri Chairman Lee Jung-Hyun, who still refuses to resign under the mounting pressure from the news media, general public, and even from his own party members. Lee is a close confidant of President Park.Amid the extreme internal feud over "Choi Sun-Sil Gate," the ruling Saenuri Party was split between pro-Park members and other members.On Nov. 22, 2016 two Saenuri lawmakers bolted from the party, blaming President Park and her confidants for the national chaos. They are Gyeonggi Province Gov. Nam Kyung-Pil and Rep. Kim Yong-Tae. Nam is also hailed as one of the presidential candidates in the conservative camp.But some 20 other Saenuri lawmakers including Kim Moo-Sung are expected to bolt from Saenuri and to form a new conservative political force within the National Assembly.
Former Saenuri Chairman Kim Moo-Sung, six-term lawmaker, has been widely received as the most likely presidential candidate among the ruling conservative camp.