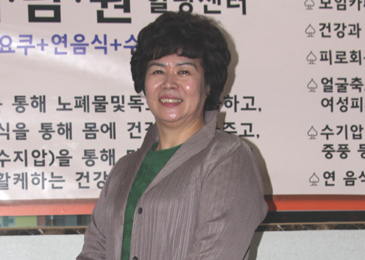 Madam Kim Yon-Soon at her "Fine Healing" bath house in Seoul
Fine Healing Center is the mecca of health, healing and beauty for both local Koreans and foreigners in need of relaxing and reinvigorating their body and soul. It is run by Madam Kim Yon-Soon, owner of the center."For the first time in Korea, we established a new type of healing
center, named Fine Healing Center, in Shillim-dong, Gwanak-gu, Seoul in February this year," Madam Kim said in an interview with The Seoul Times."Most of the modern people who are physically and mentally tired, regardless of their age and sex, need to recover their health and regain vitality through a three-step system offered by our center," she stressed.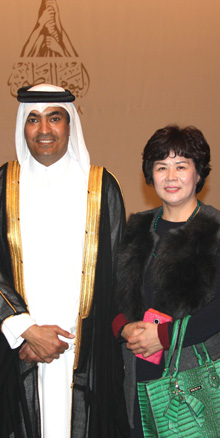 Madam Kim Yon-Soon (right) of "Fine Healing" bath house in Seoul poses with Qatari Ambassador to Seoul Mohamed Abdulla Al-Dehaimi at its National Day reception held at Shilla Hotel in Seoul
The first step is the "ganbanyoku" (bedrock) bath that means fomenting body on various bedrocks and wave rocks.The "ganbanyoku" refers to the Japanese expression of bedrock bath, which started from Tamagawa (玉川) in Akita Prefecture in northern Honshu, Japan."If customers repeat dry and wet fomentations, far-infrared radiation and negative ion penetrate their bodies, helping them eliminate toxin and body wastes," Madam explained. "The second step is to eat "lotus" food, a health food made by using lotus root and lotus leaf flour. It is one of the temple foods famous for good for health and beauty."Madam went on to say that the third and last step is to receive the hydropneumatic treatment that helps customers ease pains and activate their body comprising eight elements, including spirit, moisture, heat, vigor, air and apophysis, by putting hands' pressure to meridian system and spots on the body.A 70-year-old woman, named Kim, said, "I have visited this healing center everyday since its opening in February. By using this center, I felt that long-lasting pains had disappeared completely and my skin seemed to be more flexible and softer than before."Meanwhile, another woman called only by her last name Park, in her 30s, said, "This healing center is widely different from sauna or spa. Before entering this center, I always look at myself in mirror and check my face after finishing. On all such occasions, I found that my face has changed to be look healthy and reddish like peach."The healing center is located on the third floor of Green Mart at
409-100 Sillim-dong, Gwanak-gu, Seoul. For more information, call 02-716-5030.